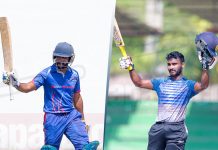 The last two semi-final slots of the 25th Singer - MCA Premier League T20 Tournament were decided today(16), with Teejay Lanka and LB Finance...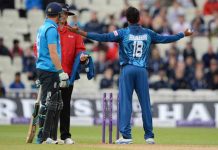 Possibly the most contentious mode of dismissal in the game of Cricket, the Mankad is a maneuver that will be easier for bowlers to...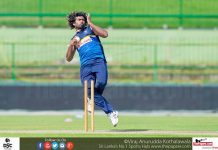 වෙළඳසේවා ක්‍රිකට් තරගාවලියේ අවසන් මහා තරගය, ටීජේ ලංකා සමාගම හා එල්. බී ෆිනෑන්ස් කණ්ඩායම අතර පසුගිය 29 වැනිදා වෙළඳසේවා ක්‍රිකට් පිටියේ දී පැවැත්විය. එහි...
[contact-form-7 id="2117754″ title="SLvAUS Live Updates"]
Fixtures – Division A
| No | Date | Team 1 | Team 2 | Result | Venue |
| --- | --- | --- | --- | --- | --- |
| 1 | 10.09.2016 | Dimo | MAS Active | Dimo won by 6 wickets | FTZ Katunayake |
| 2 | 10.09.2016 | Sampath Bank | Textured Jersey | Sampath Bank won by 6 wickets | Surrey Village |
| 3 | 11.09.2016 | MAS Unichela | H.N.B | MAS Unichela won by 167 runs | P.Sara Oval |
| 4 | 11.09.2016 | Commercial Credit | John Keells | Commercial Credit won by 4 wickets | Moratuwa Stadium |
| 5 | 14.09.2016 | Sampath Bank | Commercial Credit | Sampath Bank won by 47 runs | P.Sara Oval |
| 6 | 14.09.2016 | Dimo | John Keells | John Keells won by 54 runs | MCA |
| 7 | 14.09.2016 | H.N.B | Textured Jersey | Textured Jersey won by 122 runs | FTZ Katunayake |
| 8 | 14.09.2016 | MAS Active | MAS Unichela | MAS Unichela won by 10 runs | NCC |
| 9 | 17.09.2016 | Textured Jersey | Dimo | Dimo won by 7 wickets | FTZ Katunayake |
| 10 | 17.09.2016 | Commercial Credit | MAS Active | Commercial Credit won by 8 wickets | Surrey Village |
| 11 | 18.09.2016 | John Keells | H.N.B | John Keells won by 8 wickets | Surrey Village |
| 12 | 18.09.2016 | MAS Unichela | Sampath Bank | MAS Unichela won by 3 wickets | FTZ Katunayake |
| 13 | 21.09.2016 | Textured Jersey | MAS Unichela | MAS Unichela won by 1 wickets | Colts |
| 14 | 21.09.2016 | Sampath Bank | Dimo | Dimo won by 3 wickets | Moratuwa Stadium |
| 15 | 21.09.2016 | MAS Active | John Keells | John Keells won by 2 wickets | FTZ Katunayake |
| 16 | 21.09.2016 | H.N.B | Commercial Credit | Commercial Credit won by 87 runs | NCC |
| 17 | 24.09.2016 | MAS Unichela | Commercial Credit | MAS Unichela won by 6 wickets | Colts |
| 18 | 24.09.2016 | MAS Active | Sampath Bank | Sampath Bank won by 36 runs | Moratuwa Stadium |
| 19 | 25.09.2016 | Textured Jersey | John Keells | John Keells won by 6 wickets | P.Sara Oval |
| 20 | 25.09.2016 | Dimo | H.N.B | HNB won by 1 wickets | Moratuwa Stadium |
| 21 | 28.09.2016 | Sampath Bank | H.N.B | Sampath Bank won by 45 runs (D/L method) | Colts |
| 22 | 28.09.2016 | MAS Active | Textured Jersey | Textured Jersey won by 211 runs | P.Sara Oval |
| 23 | 28.09.2016 | John Keells | MAS Unichela | John Keells won by 2 wickets | Moratuwa Stadium |
| 24 | 28.09.2016 | Dimo | Commercial Credit | Commercial Credit won by 5 wickets | FTZ Katunayake |
| 25 | 01.10.2016 | MAS Unichela | Dimo | MAS Unichela won by 4 wickets | P.Sara Oval |
| 26 | 01.10.2016 | John Keells | Sampath Bank | John Keells won by 5 wickets | FTZ Katunayake |
| 27 | 01.10.2016 | H.N.B | MAS Active | HNB won by 3 wickets | Colts |
| 28 | 01.10.2016 | Commercial Credit | Textured Jersey | Commercial Credit won by 6 wickets | Moratuwa Stadium |
Fixtures – Division B
| No | Date | Team 1 | Team 2 | Result | Venue |
| --- | --- | --- | --- | --- | --- |
| 1 | 27.08.2016 | Hayley's Group "A" | PABC "A" | Hayleys won by 5 wickets | Moratuwa |
| 2 | 27.08.2016 | John Keells "B" | Kanrich Finance "A" | Kanrich Finance won by 57 runs | FTZ |
| 3 | 28.08.2016 | Commercial Bank"A" | Mobitel "A" | Mobitel won by 161 runs | Moratuwa |
| 4 | 28.08.2016 | Seylan Bank | LB Finance"A" | LB Finance won by 4 wickets | FTZ |
| 5 | 31.08.2016 | LB Finance"A" | Hayley's Group "A" | LB Finance beat Hayleys by 177 runs | P.Sara Oval |
| 6 | 31.08.2016 | Mobitel "A" | John Keells "B" | John Keells "B" beat Mobitel by 2 wickets | NCC |
| 7 | 03.09.2016 | PABC "A" | Seylan Bank | Seylan Bank beat PABC by 5 wickets | FTZ |
| 8 | 03.09.2016 | Kanrich Finance "A" | Commercial Bank "A" | Kanrich Finance beat Commercial bank by 6 wickets | MCA |
| 9 | 03.09.2016 | MAS Silueta "A" | LB Finance"A" | LB Finance beat MAS Silueta by 63 runs | Surrey Village |
| 10 | 03.09.2016 | Singer "A" | John Keells "B" | JKH 'B' beat Singer Sri Lanka by 5 runs | Mattegoda Army |
| 11 | 07.09.2016 | John Keells "B" | Commercial Bank "A" | John Keells "B" won by 3 wickets | Moratuwa |
| 12 | 07.09.2016 | Hayley's Group "A" | MAS Silueta "A | MAS beat Hayleys by 84 Runs | Mattegoda Army |
| 13 | 07.09.2016 | Mobitel "A" | Singer "A" | Mobitel beat Singer Sri Lanka by 94 runs | MCA |
| 14 | 10.09.2016 | PABC "A" | MAS Silueta "A | MAS Silueta beat PABC by 90 Runs | MCA |
| 15 | 10.09.2016 | Kanrich Finance "A" | Mobitel "A" | Kanrich Finance beat Mobitel by 54 runs | Moratuwa |
| 16 | 11.09.2016 | Commercial Bank" | Singer "A" | Singer "A" won by 4 wickets | FTZ |
| 17 | 11.09.2016 | LB Finance"A" | PABC "A" | LB Finance beat PABC by 199 Runs | Mattegoda Army |
| 18 | 11.09.2016 | Seylan Bank | Hayley's Group "A" | Hayleys beat Seylan Bank by 85 runs | MCA |
| 19 | 14.09.2016 | MAS Silueta "A" | Seylan Bank | MAS Silueta "A" won by 3 wickets | Surrey Village |
| 20 | 14.09.2016 | Singer "A" | Kanrich Finance "A" | Kanrich Finance won by 3 wickets | Moratuwa |