The 3rd edition of ThePapare Football Championship, powered by Sri Lanka's No. 1 Sports Hub, ThePapare.com, will be conducted from 29th September to the 6th of November 2022.
Being held after a lapse of nearly 3 years, the premier schools U20 competition in the Island will feature twenty of the best schools' teams from all over the country. The Kings of Football, Zahira College, Colombo are the defending champions, having beaten St. Peter's College, Colombo in the Final of the 2nd edition of the tournament in early 2020.
The teams will be divided into four groups of five in the round robin stage, with the top two from each group progressing onto the quarterfinals of the tournament.
Group A – Zahira College – Colombo, Jaffna Central College, Baduriya Central College – Mawanella, St. Sebastian's – Katuneriya, Muslim Central College – Kalutara
Group B – St. Peter's College – Colombo, Al Aqsa College – Kinniya, Maris Stella College – Negombo, St. Benedict's College – Colombo, Dharmadutha College – Badulla
Group C – St. Joseph's College – Colombo, De Mazenod College – Kandana, Royal College – Colombo, Hameed Al Husseinie – Colombo, Kingswood College – Kandy
Group D – St. Patrick's College – Jaffna, St. Henry's College – Jaffna, Gateway College – Colombo, Gampola Zahira College, Thurstan College – Colombo
Read More
The key aim of initiating a tournament of this nature back in 2018 was to grow the game of Football amongst the younger generation of players in the island. ThePapare.com saw great success in this endeavor during the 1st two editions of the competition, however, progress was halted over 2020 and 2021 due to the Covid 19 pandemic.
This year, we hope that the reinitiation of the tournament will ignite the passion for the 'beautiful game' in the country. To further support this, selected games from the 1st round will be streamed live on ThePapare.com's platforms, along with all games from the quarterfinal stage onwards.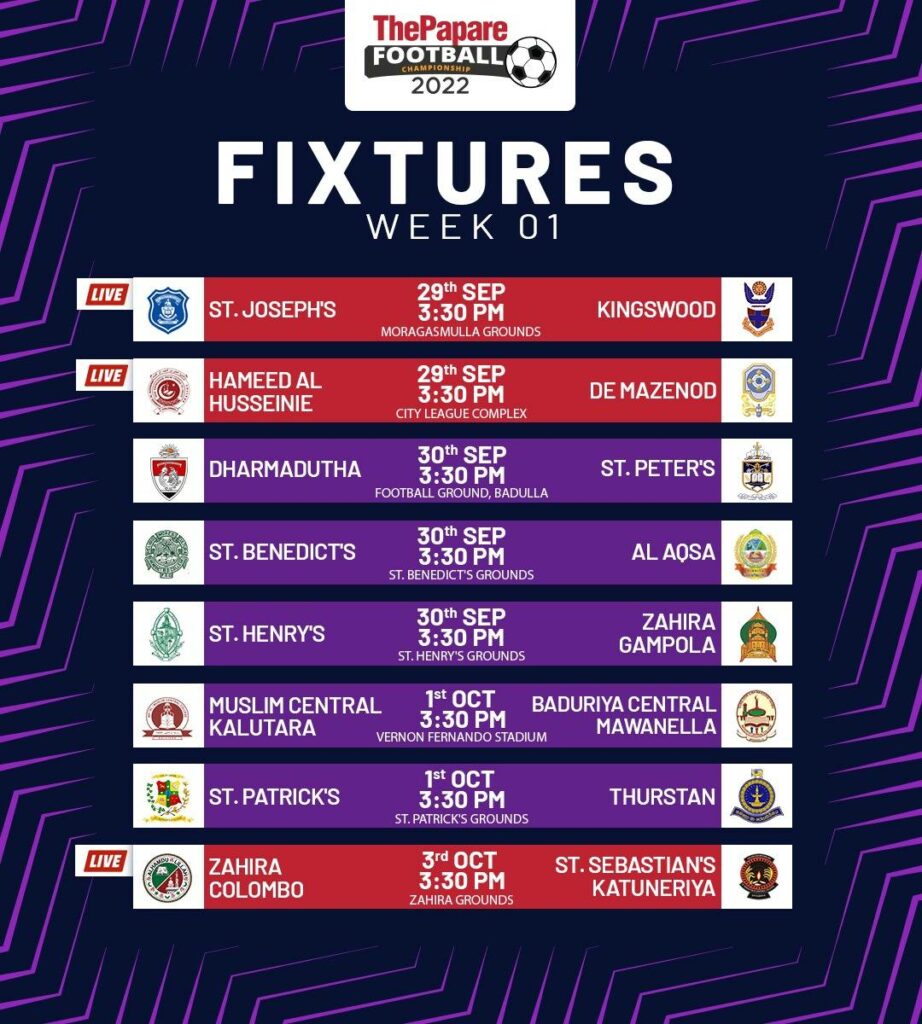 >> Click Here For more Football News <<