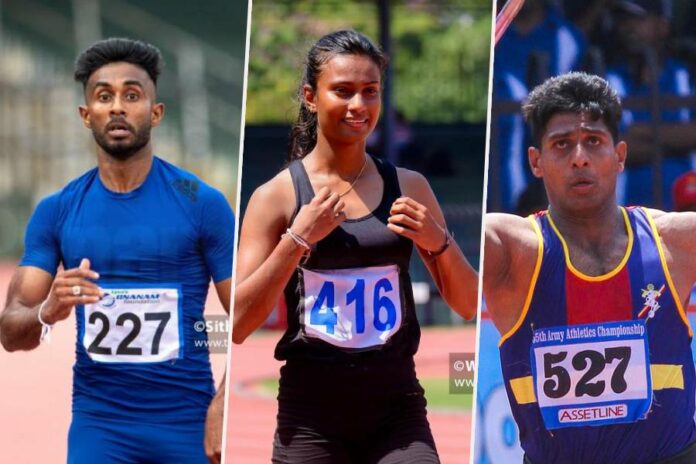 Sri Lanka's best athletes will be rubbing shoulders with international stars in the coming weeks hoping to improve their World Rankings to qualify for the World Athletics Championships 2022.
Star jumper, Lakshini Sarangi Silva who is currently ranked number 2 in the Asian region, will be having a busy time as she will be competing in three competitions on June 5th, June 11th and June 14th. She had a stellar season so far, as she improved the National Record for Long Jump (6.65m) and the National Athletics Championship Record for Long Jump (6.52m).
Read : Sarangi de Silva renews National Long Jump record
The SAG 2019 gold medalist have already competed in the Austrian Open Meet on June 2nd but couldn't register a valid jump to get on the board. On June 5th, Silva will be participating in the highest-ranked Meet of her career so far, 68° ORLEN Janusz Kusociński Memorial (World Athletics Continental Tour – Gold) in Chorzów, Poland which is a category A competition.
Later, Silva will be joined by Kalinga Kumarage, Sumedha Ranasinghe and Gayanthika Abeyratne who are the Sri Lanka National Champions in 400m, Javelin and 800m/1500m respectively in Switzerland. The Lankan squad will be competing in ATLETICAGENEVE Meet in Genève on June 11th and in CITIUS Meeting in Bern on June 14th. Both Meets are part of the World Athletics Continental Tour – Bronze and are ranked under category C.
Read More : Five Athletes in the running to qualify for World Athletics Championships
Jumpers Ushan Thiwanka (High Jump) and Dhanushka Sandaruwan (Long Jump) are also set to compete on June 11th in USA. The details of this competition will be updated later.
Last month, the fastest man in South Asia Yupun Abeykoon has made headlines this week as he broke South Asian records for 100m (10.06s) and 200m (20.37s) while clocking an impressive 10.08s (-1.2m/s) to finish 5th in the Men's 100m at the Ostrava Golden Spike – Continental Tour Gold in the Czech Republic. These massive performances have propelled him to the 35th position in the "Road to Oregon" rankings which will determine the qualification for World Athletics Championships 2022 which will be held in the USA from 15th -24th July. Sri Lanka Athletics will be hoping that these upcoming competitions will help the other athletes to enter and stabilize their positions in their respective "Road to Oregon" rankings.
Read : Yupun Abeykoon registers fastest ever 100m time by a Sri Lankan
Another 11 national athletes will be participating in the Indian Interstate Championship from 10th-14th June to gain much-needed preparation before the Asian Games 2023. The squad consists of 4x100m women's team (Amasha De silva, Rumeshika Rathnayake, Selinda Jansen, Medhani Jayamanne & Lakshika Sugandhi), 4x400m men's team (Aruna Dharshana, Isuru Lakshan, Pabasara Niku, Dinuka Deshan & R.M. Rajakaruna) and the Triple Jumper Chamal Kumarasiri.
Read Also : Twelve Lankan Athletes to take part at the Indian Inter-State Championship
Meanwhile the seniors are in action abroad, the Junior athletes will take part in their premier national competition of the year, National Junior Athletics Championship which will be worked out from 7th-10th June.  Championship was postponed last month due to the sudden imposition of curfew in the Island. This will be the last opportunity for junior athletes to qualify for the World Junior Athletics Championship which will be in Cali, Colombia on 1-6 August.
Read : Athletes in red hot form for World Junior Championship 2022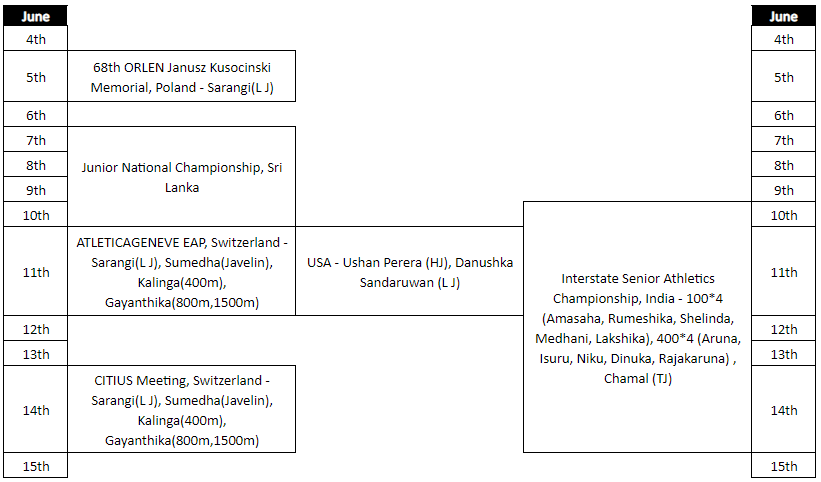 >>Click Here For More Athletics News<<