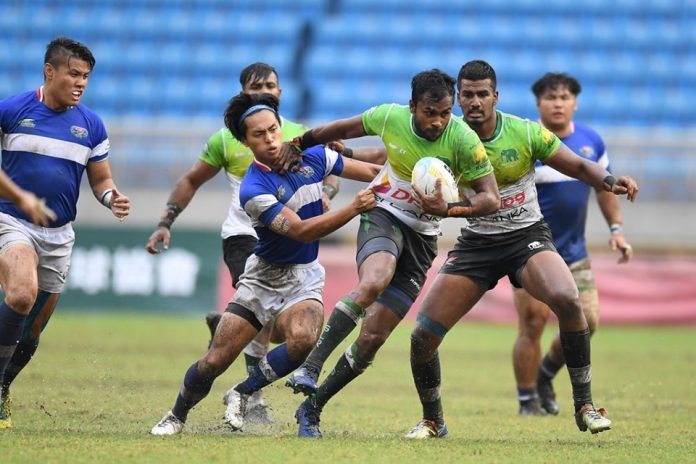 Despite bouncing back from their semi-final defeat to the eventual champions, with an impressive 72-17 win over hosts Chinese Taipei, the Sri Lankan Tuskers dropped a couple of spots in the rankings with a reduced rating of 46.70 points.
It was one-way traffic as Sri Lanka beat Chinese Taipei to claim the third place and remain in the Asia Rugby Division 1 Championship, to only just survive from the jaws of relegation. However, as always, surviving comes with a price – as for the Tuskers, it affected their position in the world rugby rankings.
Read More: How a Flower stole a Tusker's spotlight!
A team that once dominated the division 1 arena (2012 till 2015) has now been dethroned and stripped off its place in the world rugby rankings. Sri Lanka plummeted down from rank 43rd to 44th a few weeks earlier following their loss to the Philippines. Taking into account their 39-22 semi-final win over Sri Lanka, the Volcanoes picked up 2.61 rating points over the five days of the 2019 Asia Rugby Division 1 Championship.
Read More: Omalka's last-minute heroics go in vain
This is by far the biggest failure for Sri Lanka in the recent past since their drop from the 38th position to the 43rd mid last year. However, from thereon, after a few hiccups along the road, the Tuskers went down once again from 43rd place to 44th following their loss to Malaysia last month.
Read More: 18-freshers for Sri Lanka Rugby; Squad announced
However, their performance against Chinese Taipei showed great potential for a young side with over 15 debutants and the youngest ever Sri Lankan captain, Omalka Gunarathna. If Sri Lanka Rugby implements a better system to take care of these young players, there is no doubt that the Tuskers could work their way up the rankings yet again.
Read More: Sri Lanka appoint youngest ever Captain