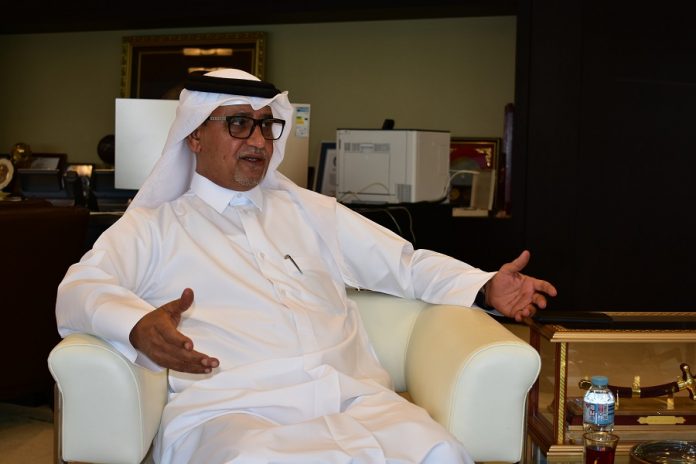 The FIFA World Cup 2022 will not only be Qatar's World Cup but belongs to the entire Arab world and the Middle East and the success of the World Cup will be the success of Asia said Saud Al Mohannadi the Vice President of Qatar Football Association & the Asian Football Confederation.
The Football Federation of Sri Lanka (FFSL) announced a pool of
He also said the FIFA World Cup in Qatar 2022 will be the first in an Arabic State and the second in Asia, and assured that all stadiums will be ready one and half years ahead of the World Cup, pointing that unlike in the previous World Cups where the stadiums had some finishing touches even on the opening day of the tournament which he assured won't happen in Qatar.
Saud Al Mohannadi was elected as a member of the International Association of Football FIFA and retained the post of Vice President of the Asian Football Confederation (AFC) at the AFC Congress held in the Malaysian Capital Kuala Lumpur last month.
QFA has invited Minister of Telecommunication, Foreign Employment and Sports Harin Fernando for the final of the Amir Cup to be held in Al Wakrah Stadium which is also a venue for the World Cup.
Saud Al Mohannadi expressed his thoughts during the 23rd Asian Athletic Championship at the Al Bidaa Tower, Doha, the home of the Supreme Committee for Delivery & Legacy, Qatar Football Association.
Q. Qatar became champions of the Asia Cup 2019 beating strong opponents such as Saudi Arabia and Japan to name a few. Qatar will also be the next FIFA World Cup host. How are the preparations for that event?
A. That's right. Qatar will head into the 2022 FIFA World Cup as Asian Champions. It will be a proud moment for the entire country when our National Team is led out onto the pitch at Lusail Stadium on 21st November in 2022.
Regarding 2022 World Cup preparations, everything is progressing to schedule and on budget. We're now the official next host nation so after seeing Brazil and now Russia deliver successful tournaments we're excited for our own.
We have already launched one tournament ready venue, opening the doors to Khalifa International Stadium in May 2017 when we hosted the Amir Cup final and welcomed over 40,000 fans to the new stadium.
2019 is going to be one of our biggest years yet though, with two stadiums being launched. We will launch Al Wakrah Stadium, a brand new 40,000-seater stadium in the southern city of Al Wakrah. Then later this year we will be launching Al Bayt in Al Khor City, a 60,000-seater stadium.
By 2020 all eight venues will be complete, as well as all of the training sites that we need for the 32 traveling teams. We have to thank the people of Sri Lanka for this as well. We have hundreds of thousands of Sri Lankans here working on projects either directly or indirectly linked to the World Cup and they are helping Qatar realize its dream of hosting an amazing tournament.
Our tournament delivery partners are all also progressing well on their national projects. The new metro will open this year, which will ensure fans can watch up to two games per day and travel times of no longer than one hour.
The new road networks and expansions are all nearly complete, the airport expansion is coming along well and the hotels required for the one million fans we expect in 2022 are opening their doors. By 2020, we fully expect we will be ready to host national test events. It's a very exciting time on the project.
Q. There is speculation that the 2022 World Cup shall be increased to 48 teams from the current 32 teams with other countries being considered for co-hosting. Is Qatar prepared to host all 48 teams in Qatar itself?
A. We have been open to the process of discussing a potential expansion of the World Cup in 2022 to 48 teams since discussions started in Moscow and continued in Kigali at the various FIFA Council Meetings.
Our openness was based on our commitment to hosting a FIFA World Cup that benefits our region and its people in the best way possible. It has always been our mission to ensure that this World Cup belongs to the entire Arab world and the Middle East.
We will work with FIFA to determine whether or not a viable operating model does exist and importantly, whether it is in the best interests of football and for the tournament, and for Qatar as the host nation.
After these consultations, the final decision will be made by Qatar and FIFA. We can expect the final decision to be given at the FIFA Congress on 6th June 2019 after Qatar and FIFA have come to a decision.
Until we reach that conclusion, we will continue to work toward hosting a 32-team World Cup in 2022 hosted in the State of Qatar and make sure that the tournament we deliver is one of the best World Cups ever.
Q. FIFA declared that the 2018 FIFA World Cup in Russia was the best ever, so it's a huge challenge for Qatar to match it or do better in 2022. How would you explain this?
A. Qatar sent over 200 observers to Russia to learn from both FIFA and the host country during the 2018 FIFA World Cup. It's a model we have been following since we were awarded the hosting rights to the World Cup back in 2010.
We have had employees at every major sporting event since 2010, ensuring we see what is good, what is bad and what we should do in Qatar to make sure the 2022 tournament is one of the best tournaments ever. So, Olympics, Champions League Finals, EURO Championships, U-21 World Cups, we have been to them all to learn with hands on experience.
I can confirm that Russia was truly amazing. I was there myself and saw the organization of the host cities and the way volunteers interacted with fans. One thing Russia had was amazing action on the pitch. So long as it's exciting on the pitch the rest will follow for the fans.
But every host nation has its unique tournament aspects and I think fans expect a different tournament every time.
Russia for example is the biggest country in the world where some venues were over 3,000 km apart. The longest distance between Qatar's venues is just over 70km. That means fans and players can expect maximum travel times of just one hour, which means more live games and leisure time for fans and more rest time for the teams in between matches. Qatar is also just a four-hour flight for over three billion people so it's not long haul travel for a lot of fans to get here.
The tournament will also be in November and December meaning it will be the perfect weather for beaches, desert trips, water sports or outdoor leisure time. So those in the US and Europe can head here during their winter and experience great football and amazing weather. They can also experience Arab's famed hospitality and Qatar's world class dining.
I am 100% confident in Qatar's ability to host a truly memorable tournament in 2022 that will make the entire Arab world proud.
Q. You may be aware that the European countries were complaining about the humid conditions and the high temperatures during the 2022 World Cup. But it's amazing to note that the Khalifa Stadium has been installed with cooling technology.
A. FIFA decided to move the tournament from June/July to November/December back in 2015 after consulting the global football family (leagues, fan groups and confederations etc.).
Fans, team and officials need not worry about hot and humid conditions in 2022. The tournament will be played in November and December when the average temperature is 24 degrees. Perfect for players and fans.
Whist we do not need to rely on our cooling technology any more due to the tournament's time change, we are still committed to investing in its development and installing it at our venues so they can be used year-round once the tournament has finished in 2022.
When we launched Khalifa International in May 2017, it was over 40 degrees outside and a cool 20 degrees in the bleachers and 18 degrees on the pitch. It's amazing technology that will benefit not only Qatar but other countries with similar climates who wish to use state of the art technology to ensure they can also use their venues year-round.
Also Read;
BUDGET IS ROUGHLY 6.6 BN USD
Q. And how much are you expecting the total cost for the new stadiums and how many stadiums will be built for 2022?
A. We are estimating a tournament budget of around 23bn QAR, roughly 6.6bn USD. We are still over three years away though, so we can't say for sure what the final budget will be.
We can confirm we are building eight venues though. We have already launched one, Khalifa International Stadium, and will be launching two in 2019, with Al Wakrah and Al Bayt opening their doors.  All will be complete by the end of 2020.
The other venues are Al Rayyan, Al Thumama, Ras Abu Aboud, Education City and Lusail. Six will have seating capacities of 40,000, Al Bayt 60,000 and Lusail over 80,000.
Ras Abu Aboud is one of our most interesting stadiums being built and a world first for FIFA World Cups. Constructed using shipping containers, removable seats and other modular "building blocks", the 40,000-seat venue will be entirely dismantled and repurposed after the 2022 FIFA World Cup Qatar.
Its parts will be used in other sporting or non-sporting projects, setting a new standard in sustainability and introducing bold new ideas in tournament legacy planning.
All of our venues have strong Arab influenced designs and will remain some of the most striking stadiums the world has ever seen long after the last ball has been kicked in 2022.
AFC CONGRESS AND ELECTION
Q. How was the election tension you had during the AFC election for FIFA Council Member from Asia and what strategy brought you a grand victory in April 2019?
A. Elections times are always tense, but always good fun. I always enjoy them as it gives me a chance to meet with some of my oldest friends and do what I do best, which is talk about Asian football and how we can take it to the next level.
We always go into elections with a degree of confidence though, and a lot of that comes from the leadership we have and the self-confidence in the work we are doing.
Qatar's very lucky to have such wise leaders across government and all its sporting organizations. I am particularly lucky to have been supported by H.E. Sheikh Hamad bin Khalifa bin Ahmed Al Thani, President of Qatar Football Association, who was with me all the way.
We also know we have a common vision with our neighbouring countries, which is to develop Asian football and see it succeed to the level we all know it can. Qatar obviously came away from the last AFC elections in a very strong position. I gained a seat on FIFA's ruling committee, the FIFA Council, and retained my AFC Vice-Presidency.
The victory reflects the outstanding position of the State of Qatar in Asian and world football and the high level of competence exhibited by the QFA over the years.
We obviously speak to FIFA on a daily basis about our 2022 World Cup preparations but being voted on to the FIFA Council is a sign of the times and demonstrates how far Qatar has come as a footballing nation over the last two decades.
My victory was not a personal one but instead for the country and it was teamwork that got us where we are today. I will continue to focus on football development across Asia in the next few years as Qatar looks forward to hosting the first FIFA World Cup in the Middle East.
Q. AFC President Sheikh Salman had victory without contest. How do you see it from Qatar's view and in your own analysis, how his leadership will help grow Asia football fast?
A. I was very happy to see my brother Sheikh Salman re-elected. He's done a great job since taking the position in 2013.
Football in Asia over the last few years has grown so much. China and India are now developing some of the strongest footballing scenes in all of Asia and Asian leagues in Japan, Korea and across the Gulf go from strength-to-strength.
That's in part thanks to the role the AFC has played in positioning the game and its potential for human, social and economic growth, as well as investing heavily in the game itself and the infrastructure required to support grass roots development.
I think Sheikh Salman has also witnessed a golden age of Asian football. You just need to take a look at some of the biggest leagues in the world to see how Asian players are now traveling into the biggest European leagues and making a big impact.
Sheikh Salman has also helped grow the Asian Cup into what it is today. We have just concluded the biggest ever Asian Cup in the UAE with a record 24 teams. A tournament that Qatar obviously did very well in.
>>for more Football News Click Here<<