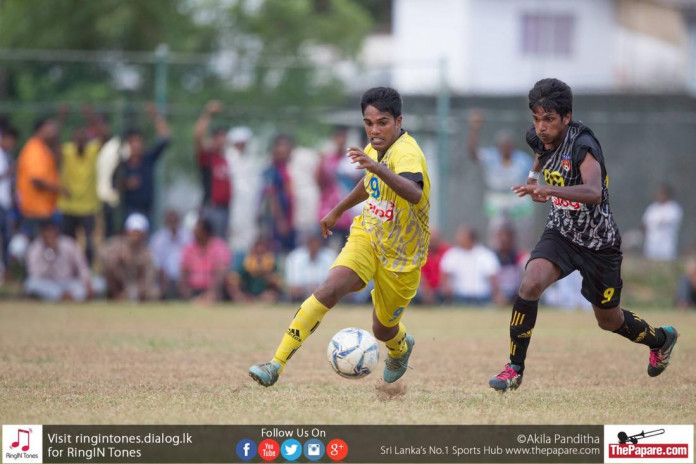 Army SC opted to rest several key players but were still able to overcome a strong Colombo FC team as they maintained their undefeated streak with a 2-0 win at the City League Football Complex.
Both teams had already qualified for the Super 8s and two contrasting tactics were employed by the coaches for this game with Army opting to rest some of their key players like Nilanka Kumara, Bandara Warakagoda, Mohamed Issadeen, Sanka Dhanushka and Nadeeka Pushpakumara, keeping their Defense Services Final in mid-week, for the clash, whilst Colombo FC went in with a strong line up to try and enter the Super 8s with some momentum.
It was Army who settled into the game better and constantly threatened with the likes of Sajith Kumara and Punsara Thiruna down the right flank, and it was from the flank that they created the first chance of the game, where Madhushan De Silva was unable test the keeper from a cross from Thiruna.
They scored the opener through Sajith Kumara after he turned home a Thivanka Chandrsekara cross from the right in the 15th minute.
Colombo FC struggled to create much throughout the first half and their best chance came on the brink of half time when Afeel Mohamed was found at the far post by a Raume Mohideen free kick. Unfortunately Afeel was unable to direct his header goalwards, as Colombo went into the break a goal down.
Half time: Colombo FC 0 – 1 Army SC
Colombo FC made some attacking changes in the second half bringing on Afis Olayemi, Niran Kanishka and Ahamed Shazny to try and find the equalizer but they continued to struggle to break down a very disciplined Army defence.
The pattern of the game started to change as Colombo FC started to commit more men forward whilst Army were happy sit back, absorb the pressure and attack on the counter.
Army had the better opportunities of the second half as well with Chandrasekara forcing Imran into a brilliant save after spinning away from his man and getting a shot off on goal from just outside the box. The tall center forward then hit the woodwork on another occasion after being played clean through on goal.
He was third time lucky though as in the dying moments of the game he beat Imran to a bouncing pass and the lobbed the keeper to seal all three points for Army and put the icing on a brilliant team performance.
Full time: Colombo FC 0 – 2 Army SC
ThePapare.com Player of the Match: Thivanka Chandrasekera (Army SC)
Speaking to the coaches after the game they had this to say;
Army coach Fawmy;
"I don't want to make any predictions about the Super 8s, and despite our injury list I'm happy that all my players were able to get a game or two in the league. (On his squad depth) I think it's very important to have very good pool of reserve players, many of those who join the Army will not have as much experience as the club players, but we make sure we have good back up players for our squad."
Coach Roomy of Colombo FC;
"I had a few names out injured but still went out to get the win believing it would be good for us to carry that confidence forward. Unfortunately we had a lot of players playing out of position today which was one of the reasons we were unable to do that. I believe an additional week of rest between the Group stage and the Super 8s would be useful, especially considering that the players are not professionals and with other commitments it is difficult to get the rest required to recover from injuries sustained over 2-3 months of football."
Goal Scorers
Army SC – Sajith Kumara 15', Thivanka Chandrasekara 90+1'
Bookings
Army SC – Mohamed Fazil 30', Lakshitha Jayathunga 51', Asikoor Rahuman 73'