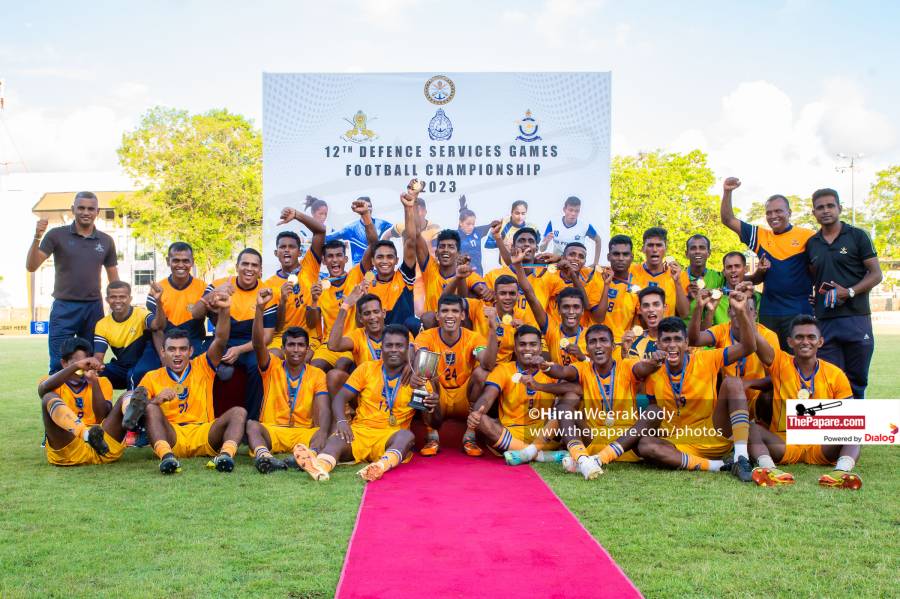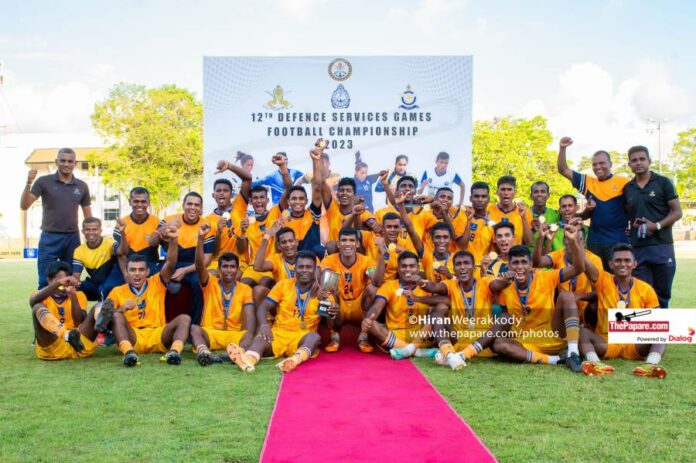 Sajith Kumara and Asikur Rahuman scored two goals in the last 10 minutes as Army came from a goal down to defeat Navy and retain the Defense Services Games Men's Football Championship 2023 at the Racecourse International Stadium.
From the first whistle it was an intense tussle between the two teams. Army looked to keep possession and create chances while Navy relied on their wingers to attack on the counter.
It was Navy who took the lead in the 11th minute benefiting from a counterattack. They attacked from the left through Chathura Ponnamperuma whose cross in search of Mohamed Hasmeer was met by the outstretched leg of Army's Roshan Appuhami who could only hammer it to his own net.
Navy did have a few chances to score more, two of which from Ponnamperuma crashed off the far post and the other was skied over from close range. Army too created a couple of opportunities but was unfortunate not to get a goal. One such chance saw a header from Asikur Rahuman beat the goalkeeper Udayanga Perera but bounced off the crossbar while Rifkhan Mohamed missed a couple due to poor finishing.
MORE COVERAGE:
After the break both sides played with the same intensity. Army looked frustrated until Sajith Kumara's intended cross somehow creeped between the near post and a diving Perera for the equalizer in the 80th minute.
After the goal tempers flared as well on a couple of occasions with the benches and officials also getting involved. However, with momentum on their side Army attacked in search of a winner. They got it in the 89th minute when Asikur Rahuman headed in a Sajith Kumara cross pass a diving Perera.
Group Stage
Navy 2-1 Air Force
Army 1-1 Air Force
Army 2-0 Navy
>>Click Here For more Football News <<