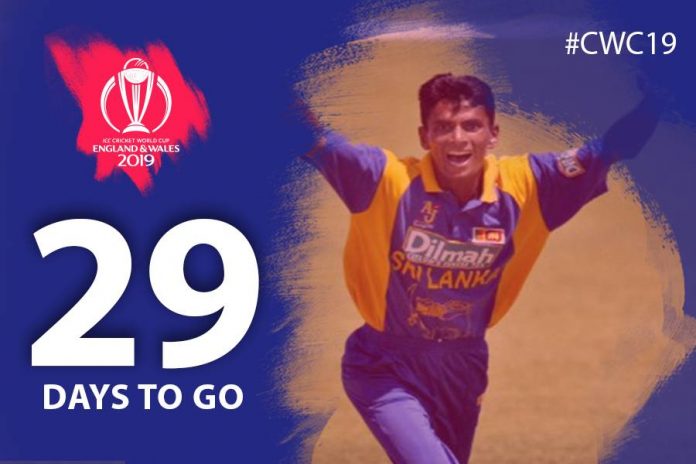 Upul Chandana is a remarkable cricketer. His stats prove it. The only Sri Lankan to take a match bag of ten wickets in Australia, people will only know half the story if they merely rely on stats. A fine team man, one of the best fielders produced by the country and someone who cares for the game deeply, Chandana is Sri Lanka Under-19 side's fielding coach at the moment.
Chandana's inclusion in the 1996 World Cup squad was probably debated more than anything else.  While there were better spinning options, the team management and the selectors felt that the presence of a leg-spinner will come in handy against teams that don't play wrist spin well. The advantage that Chandana had over the other wrist spinners in the country was that he was a brilliant fielder as well. Even if he doesn't play, the think tank agreed that he could make an impact as a substitute fielder.
Sri Lanka had cruised to the knockouts of the World Cup having topped their group. The day before the quarter-final in Faisalabad it was decided that the team will strengthen the bowling options. The Iqbal Stadium in Faisalabad is a batting paradise and the Sri Lankans have always done well there.
The decision had been made that  Chandana was going to play the quarter-final but the team had not been announced yet. When the word went across to Chandana, he walked up to captain Arjuna Ranatunga and asked whether the team management was making the right call?  
Read – Time for Upul Chandana to take charge
Ranatunga and Manager Duleep Mendis, who was also the Chairman of Selectors, were confused. Nobody would back out from playing a World Cup game? Both asked Chandana whether he was feeling the pressure. While assuring Ranatunga and Mendis that there was no pressure on him, Chandana urged the team management to stick to the winning combination.
The man Chandana was going to replace for the quarter-final was Roshan Mahanama – one of the senior-most players in the side and an ex-captain.
Despite his reputation as a tough leader, Arjuna listened to his players and often softened his stance if he felt that someone were trying to drive home a point. Sri Lanka retained Mahanama and it proved to be the right decision. Chassing 236 to win, Sanath Jayasuriya just squashed England bowlers, smashing 82 off 44 balls. Then there was a mini collapse. From 165 for two, Sri Lanka slumped to 198 for five. They were down to the last recognized pair and needed 38 more runs.
Watch – මුල්ම ක්‍රිකට් ලෝක කුසලානය රැගෙන ආ නායකයා – අර්ජුන රණතුංග
There were plenty of overs left, but another wicket would have exposed Sri Lanka's tail. Mahanama stitched a crucial 38 run unbroken stand with Hashan Tillakaratne (19) to see Sri Lanka through. Mahanama was unbeaten on 22. In the end, there was a sigh of relief and everyone was thanking Chandana, a man with a golden heart.
Chandana had two high points in his career. The first one was in 1998 when Sri Lanka recorded their maiden Test win over England at London Oval. Chandana's contribution was significant because he wasn't even playing that Test match.
In England's second innings, with the hosts desperate to bat out time, Chandana coming in as a substitute fielder effected the stunning run out of captain Alec Stewart with a direct hit. Had Stewart not been dismissed there were two results possible – Muttiah Muralitharan, who took nine wickets in the innings would have gone onto claim all ten wickets or England would have saved the Test match.
>> Pick your Lions for the 2019 Cricket World Cup
The other high point in Chandana's career came in 2004. After his friend Murali had refused to go to Australia with his bowling action being questioned by the Australian Prime Minister John Howard, Chandana became the premier spinner of the team.
Australia had opted to host this series at the top end and in the Cairns game Chandana took a match bag of ten wickets. It was proof that with more opportunities he could have done better.