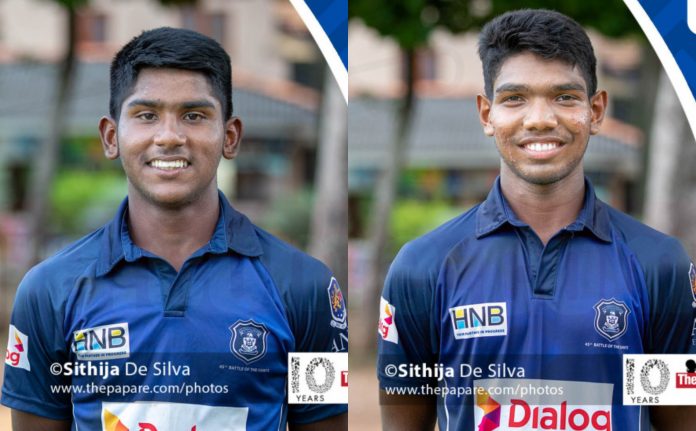 Eight matches in the Singer Schools 'Under 19 Division 1' Two Day Cricket Tournament 2019/20 were conducted today (21).
The highlight of the day belonged to two Josephians who smacked centuries against Ananda College; Shevon Daniel and Sheran Fonseka. Pair scored 117 and 102 respectively, guiding Saints to a mammoth 377 total for 1st innings in just 62.4 overs.
Responding to the Josephian challenge Ananda College was on 104/3 at the stroke of the Stumps.
Out of the two matches to play on day 02, the traditional fixture between St. Sylvesters College, Kandy vs St. Annes College, Kurunegala ended as a low-scoring draw with the former winning the first innings.
Two giants in the school decision 01 set-up Nalanda-Mahinda battle also concluded as a no result but the players from both teams shined throughout the game with impressive performances.
Avishka Perera of Nalanda College registered his 2nd consecutive 1000 runs for the season, with a ton while Sri Lanka U19 cap Navod Paranavithana ruined the rest of the Nalanda batting line-up with a 5-fer.On the 1st day of the contest, Nalandian Mahima Weerakoon also secured 7-fer restricting Mahinda College for just 152 runs.
St. Josephs College, Colombo vs Ananda College, Colombo
Group – TRADITIONAL
Venue – St. Josephs College Ground
Toss – St. Josephs College

Brief scores
St. Josephs College – 377/8d (62.4) Shevon Daniel 117, Sheran Fonseka 102, Dunith Wellalage 70, Dineth Jayakodi 44, Deneth Nissanka 3/77, Janidu Jayawardena 2/53, Dasun Tharuka 2/67 
Ananda College – 104/3 (26)Thushal Dharmarathne 27, Nethma Karunarathne 26*, Hansaja Jayasinghe 24*, Anuda Jayaweera 20
STUMPS – DAY 1

St. Sylvesters College, Kandy vs St. Annes College, Kurunegala
Group – Traditional
Venue – at St Anne's College Ground
Toss – St. Sylvesters' College

Brief scores
St. Sylvesters College – 142 (55.5) Abhishek Kumar 41, Sathsara Gamage 29, Chandula Jayakodi 20, Manaan Musammil 3/41, Pasindu Thennakon 3/52, Kalindu Wijesinghe 2/21 
& 149 (73.5) Abhishek Kumar 48*, Chandula Jayakodi 29, Kavindu Ekanayake 3/13, Manaan Musammil 3/49 
St. Annes College – 136 (60.1) Lasith Warnakulasuriya 59, Muiz Raffeel 26, Abishek Kumar 2/08, Thathsara Gamage 2/34
MATCH DRAWN

Mahinda College, Galle vs Nalanda College, Colombo
Group – Traditional
Venue – Mahinda College Ground
Toss – Mahinda College

Brief scores
Mahinda College – 152 (52.4) Sandew Induwara 46, Kavindu Lakshan 26, Sithira Helitha 20, Mahima Weerakoon 7/33 
& 280/8 (85) Kawshitha Kodithuwakku 74, Navod Paranavithana 69, Sithira Helitha 30, Kosala Udayanga 26, Raveen De Silva 4/76, Dineth Samaraweera 2/38 
Nalanda College – 199 (55.3) Avishka Perera 114, Ranindu De Sliva 21, Navod Paranavithana 5/48, Kushan Madusha 4/64
MATCH DRAWN
>>Photos: St. Joseph's College Cricket Team Preview 2019/20<<
Apart from those three fixtures, another 5 matches were commenced today as well. Here are few notable performances on the day.
Sakindu Wijethilake 5/65
Imtiaz Slasa 6/08
Mohamed Shamaaz 115
Maliyadeva College, Kurunegala vs St. Anthonys College, Kandy
Group – PRE-QUARTER FINALS
Venue – St. Anthony's College Ground
Toss – Maliyadeva College

Brief scores
Maliyadeva College – 109 (47) Matheesha Weerasinghe 46, Gihan Ebert 4/29, Nimnaka Jayathilake 4/29
St. Anthonys College – 175/9 (45.2) Chamidu Wickramasinghe 49, Anjala Bandara 42*, Sakindu Wijethilake 5/65, Pasindu Thennakon 3/43
STUMPS – DAY 1

Kingswood College, Kandy vs Zahira College, Colombo
Group – TRADITIONAL
Venue – Zahira College Ground
Toss – Kingswood College

Brief scores
Kingswood College – 77 (27) Imtiaz Slasa 6/08, Ishan Ruhaim 2/19 
Zahira College – 257/8 (53) Mohamed Shamaaz 115, Ishan Ruhaim 30*, Mohamed Raahidh 28, Mohommed Mahdi 24, Keshan Kevin 3/40, Amesh Rupasinghe 3/70, Chamudika Abeyrathna 2/27
STUMPS – DAY 1

Trinity College, Kandy vs S. Thomas College, Mount Lavinia
Group – TRADITIONAL
Venue – Trinity College Ground
Toss – Trinity College

Brief scores
Trinity College – 281/9d (71.2) Pasan Ganegoda 87, Thevin Amarasinghe 62, Ranuda Somarathne 42, Diren De Silva 3/52, Yasiru Rodrigo 3/56 
S. Thomas College – 76/2 (21) Shalin De Mel 37, Dilmin Rathnayake 29
STUMPS – DAY 1

Gurukula College, Kelaniya vs Moratu Maha Vidyalaya, Moratuwa
Group – TRADITIONAL
Venue – Moratu Maha Vidyalaya Ground
Toss – Gurukula College

Brief scores
Gurukula College – 189 (55.3)Praveen Nimesh 86, Rashmika Mewan 36, Shashika Ashan 24, Dinith Chamara 24, Madura Gimhana 3/26, Dulshan Gavesha 2/10, Rashan Kavishka 2/42, Eran Hansamal 2/52 
Moratu Maha Vidyalaya – 101/9 (38)Susitha Dewthilina 23, Dulshan Gavesha 22*, Isuru Vidarshana 20, Thushara Madushan 3/17, Likshan Sasanga 2/18, Rashmika Mewan 2/18
STUMPS – DAY 1

D.S. Senanayake College, Colombo vs St. Thomas College, Matara
Group – PRE-QUARTER FINALS
Venue – Uyanwatta Stadium, Matara
Toss – D.S. Senanayake College

Brief scores
D.S. Senanayake College – 107 (36.1) Manura Peiris 27, Sachira Rashmika 3/10, Sineth Sithara 3/23, Hirusha Jeewadith 2/30 
St. Thomas College – 200/6 (56) Hirantha Lakshan 77, Sanjaya Maduranga 24, Saniru Dissanayake 2/16
STUMPS – DAY 1