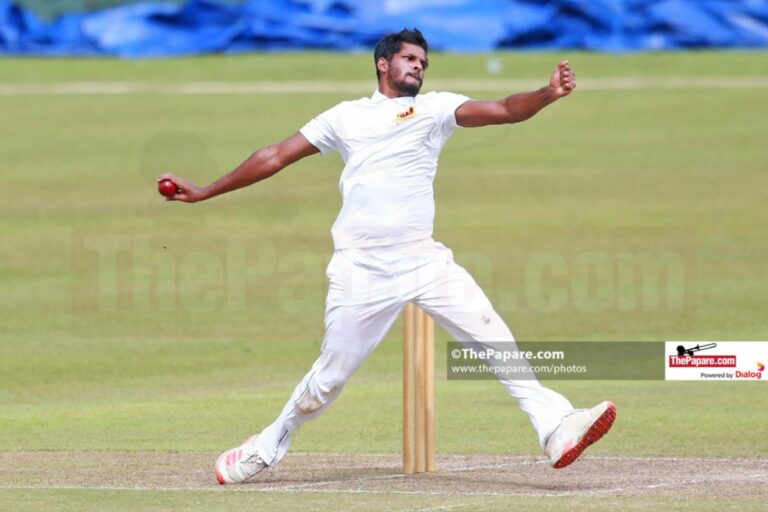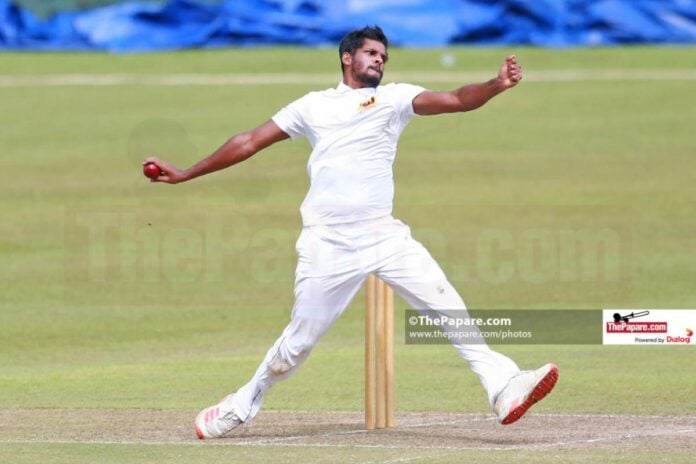 The twelve 4th week matches of the SLC Major Club Emerging 3-Day Tournament 2022 resumed today for the 2nd day as Colts CC and Police SC recorded wins ending their games with a day to spare.
At Colts, the home team recorded yet another win extending their winning streak to 4 wins in 4 games. After posting a formidable 400 runs for the 1st innings on day 1, they bowled out Ace Capital CC twice today as their experienced speedster Mohamed Shiraz claimed 9 wickets including 6 in the 1st innings. This is his first game of the tournament.
Police SC recorded a stunning win coming from behind over Panadura SC at Police Park, as they chased down a target of 96 after bundling out the visitors for a mere 87 in the 2nd innings. Panadura Skipper Sasanka Nirmal's 6-wicket haul in the 1st innings, which ensured them an 8-run 1st innings lead went in vain, as their batters could not capitalize on it.
The 6th double ton of the tournament was achieved today by Ragama CC's Avishka Tharindu as he continued from his unbeaten 159 yesterday. He remained unbeaten on 210, his 2nd score above 200 in this tournament, as his partner Dellon Peiris was unfortunately dismissed for 99 before Ragama CC declared on 451/7. Tharindu and Peiris put on 268 for the 7th wicket. Peiris continued to enjoy a good day at office as he picked up 4 wickets to restrict Nugegoda S & WC for 131 before they were enforced to follow on.
Peterite pacie Danal Hemananda starred for BRC with impressive figures of 7/71 at Panagoda against Army SC as he led the BRC attack following a poor 1st innings outing with the bat, in which they scored only 151. However, Army managed to put on 281 to claim a healthy 1st innings lead thanks to a brilliant 109 by Ashan Dilhara late down the order batting at number 9.
SSC continued their dominance over Lankan CC in their own backyard as seamers Kalana Perera and Keshan Wijerathne shared 5 wickets apiece, demolishing the Lankan batting lineup bowling them out for just 52 runs in the 1st innings. SSC Skipper Kavindu Nadeeshan completed his century early in the day helping SSC post 361 runs on the board for the 1st innings.
While SSC were having a good time, their neighbours NCC were in a spot of bother at home. After managing just 185 runs in reply to Negombo CC's 235 in the first innings, NCC ended the day 180 runs behind the visitors as Negombo scored 130, losing just 3 wickets. The only takeaway for NCC was Skipper Ahan Wickramasinghe's fighting knock of 122.
Spinners Suresh Fernando (6/46), Kavika Dilshan (5/35) & Bishan Mendis (5/42) impressed for Air Force SC, Saracens SC and CCC respectively.
The 3rd and final day of the ongoing 10 matches will commence tomorrow.
GROUP A
Moors SC vs CCC at Moors Grounds, Colombo
CCC – 241 (80) Malinga Amarasinghe 91, Amshi De Silva 43*, Anjala Bandara 38, Theesan Vithusan 4/76

Moors SC 209/8 (76.4) Pasindu Sooriyabandara 64, Adeesha Thilanchana 38, Dinuka Dilshan 35, Bishan Mendis 5/42

Stumps Day 2 – Moors trail by 32 runs
---
Sebastianites C & AC vs Air Force SC at De Zoysa Stadium, Moratuwa
Air Force SC – 193 (60.4) Movin Subasingha 55, Tharindu Ratnayake 6/95 & 130/1 (34) Kemira Wijenayake 50*, Udayawansha Parakrama 40, Kalana Wijesiri 33*

Sebastianites C & AC – 217 (73.4) Manelker De Silva 87, Suresh Fernando 6/46

Stumps Day 1 – Air Force lead by 106 runs
---
SSC vs Lankan CC at SSC Grounds, Colombo
SSC – 361 (110.1) Kavindu Nadeeshan 111, Kavishka Senadeera 71, Tenushka Nanayakkara 43*, Omesh Mendis 40, Punthila Kumara 4/91

Lankan CC – 52 (31.3) Yasiru Rodrigo 22, Keshan Wijerathne 5/17, Kalana Perera 5/19 & 26/1 (9.4) F/O Lahiru Dilshan 15*, Kalana Perera 1/12

Stumps Day 2 – Lankan trail by 283 runs
---
GROUP B
NCC vs Negombo CC at NCC Grounds, Colombo
Negombo CC – 235 (71.4) Sandaruwan Chinthaka 63, Dimuth Sandaruwan 42, Yugeesha Dishan 7/77 & 130/3 (55) Amoda Widanapathirana 62, Rashmika Mevan 61, Thiwanka Kekuluwala 2/20

NCC – 185 (41.5) Ahan Wickramasinghe 122, Pasindu Ushetti 4/78, Nishan Peiris 3/44

Stumps Day 2 – Negombo lead by 180 runs
---
Kurunegala Youth CC vs Saracens SC at Welagedara Stadium, Kurunegala
Saracens SC – 227 (68.3) Sandun Mendis 52, Chamalka Fernando 49, Praveen Sandamal 35, Thaveesha Kahaduwaarachchi 35, Gihan Anjana 3/45 & 120/3 (36) Chamalka Fernando 44, Sasith Palliyaguru 36, Kavindu Ekanayake 2/27

Kurunegala Youth CC – 112 (36) Dulaj Ranatunga 38, Muditha Premadasa 35, Kavika Dilshan 5/35, Praveen Sandamal 3/6

Stumps Day 2 – Saracens lead by 235 runs
---
Bloomfield C & AC vs Chilaw Marians CC at Bloomfield Grounds, Colombo
Bloomfield C & AC – 342 (106.1) Sanoj Darshika 85, Chihan Kalindu 67, Kavian Naress 62, Irushika Thimira 6/111, Sheshan Silva 3/63

Chilaw Marians CC – 267/9 (67.1) Raveen Yasas 78, Irosh Fernando 62, Dileepa Jayalath 4/86, Rajendran Aravinth 3/108

Stumps Day 2 – Chilaw Marians trail by 75 runs
---
GROUP C
Police SC vs Panadura SC at Police Park Grounds, Colombo
Panadura SC – 140 (47) Dunith Jayatunga 50, Dumindu Damishka 33, Asel Sigera 6/28 & 87 (30.5) Iwanka Sanjula 36, Nadeera Balasooriya 3/14, K Karunathilake 3/15

Police SC – 132 (64.5) G Kotuwegoda 62*, Sasanka Nirmal 6/44 & 97/3 (22) (Target 96) Asel Sigera 49

Police won by 7 wickets
---
Nugegoda S & WC vs Ragama CC at Thurstan Colege Grounds, Colombo
Ragama CC – 451/7d (112) Avishka Tharindu 210*, Dellon Peiris 99, Sahan Nanayakkara 3/119

Nugegoda S & WC – 131 (41.2) Maneendra Jayathilaka 35, Dinan Senuka 31, Dellon Peiris 4/45 & 20/2 (8) F/O Kevin Perera 10*, Nipun Malinga 2/7

Stumps Day 2 – Nugegoda trail by 300 runs
---
Badureliya CC vs Tamil Union C & AC at Surrey Village Grounds, Maggona
Tamil Union C & AC – 425 (110.4) Navod Paranavithana 99, Sithara Hapuhinna 88, Damith Perera 75, Kavindu Pathiratne 44, Nirmala Rathnayake 3/61

Badureliya CC – 154/7 (57.5) Umayanga Suwaris 70, Ranesh Silva 35, Dilum Sudeera 4/58

Stumps Day 2 – Badureliya trail by 271 runs
---
GROUP D
Colts CC vs Ace Capital CC at Colts Grounds, Colombo
Colts CC – 400 (80.4) Sheran Fonseka 85, Avishka Perera 66, Muditha Lakshan 57, Kavishka Anjula 49, Kavindu Amantha 46, Nimasara Atharagalla 4/80, Thanuka Dabare 3/62

Ace Capital CC – 114 (32.2) Amitha Dabare 34, Mohamed Shiraz 6/54 & 158 (35.5) F/O Teron Baskaran 56, Amitha Dabare 36, Kavindu Amantha 4/36, Mohamed Shiraz 3/25

Colts won by an innings and 128 runs
---
Army SC vs BRC at Army Grounds, Panagoda
BRC – 151 (45.3) Danal Hemananda 39, Pubudu Bandara 28*, Lakshan Gamage 5/51, Asanka Manoj 4/42 & 29/1 (8.3) Minhaj Jaleel 14*

Army SC – 281 (81) Ashan Dilhara 109, Pathum Botheju 42, Danal Hemananda 7/71

Stumps Day 2 – BRC trail by 101 runs
---
Galle CC vs Kalutara Town Club at Galle International Cricket Stadium
Galle CC – 207 (67.5) Dilshan Kanchana 70, Dulash Udayanga 40, Themal Bandara 3/97 & 169/9d (55) Prabath De Zoysa 72, Inshaka Siriwardena 4/51, Kanishka Maduwantha 3/33

KTC – 74 (33.5) Kawshan Kulasooriya 16, Sandun Madushanka 4/11, Kavindu Dilhara 4/32 & 17/4 (17) (Target 303) Kavindu Dilhara 4/4

Stumps Day 2 – KTC need 286 runs to win