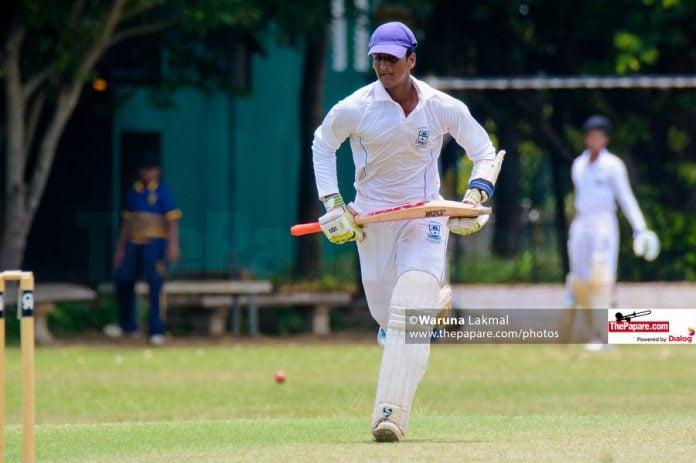 Five matches in the Singer Schools 'Under 19 Division 1' Two Day Cricket Tournament 2019/20 were conducted today (17), but the day belonged to Sri Lanka U19 cap Avishka Tharindu, who slammed an unbeaten double century against Lumbini College.
St. Anthony's College, Wattala vs Lumbini College, Colombo
Group – Traditional
Venue –St. Anthony's College Grounds
Toss – Lumbini College
One of the most brutal knocks in the history of Sri Lanka School Cricket was witnessed today at the St. Anthony's College Grounds, as the host racked up 434 in 92 overs at the cost of 8 wickets thanks to Avishka Tharindu's blistering knock.
Fresh from another mammoth knock of 181 in the last match, Avishka Tharindu continued his streak against the Lumbini bowlers, smashing 45 boundaries and 3 sixes in his 202-ball stay at the middle. Tharindu was unbeaten at 278 at the stumps of day 01, and will need the support of his team's No. 10 and 11 batsmen to reach the magical mark of 300 tomorrow.
Read more : Upendra and Shamaaz shine in traditional affairs
U19Cricket | Avishka destroyed the Lumbini bowling attack today in Wattala scoring …
Brief Scores
St. Anthony's College – 434/8 (92) Avishka Tharindu 278*, Kaveesha Dulanjana 59, Kanishka Gimhan 25, Yasiru Yugath 3/126, Prabashana Gamlath 2/84
Lumbini College, Colombo
STUMPS – DAY 1
Zahira College, Colombo vs Moratu Maha Vidyalaya, Moratuwa
Group – Traditional
Venue – Moratu Maha Vidyalaya Grounds
Toss – Zahira College
Zahira College registered the only outright win of the day as they toppled Moratu Maha Vidyalaya, who will be demoted to division 02 at the end of this season.
Replay – Prince of Wales' College vs Isipathana College – Singer U19 Cricket Tournament 2019/2020
Imitiaz Slaza was the boy who made things happen for Zahira as he picked up 6 wickets in the 2nd innings of Moratu Maha Vidyalaya, restricting them to 201 and securing his school a victory by 86 runs.
Brief Scores

Zahira College – 234 (47.4) Mohomad Shamas 79, Rizwan Raahid 42, Mohomad Mahdhi 33, Imithiyas Slasa 24, Abdul Majid 22, Eran Hansamal 4/53, Rashan Kavishka 2/41, Vishwa Didulana 2/52
& 203/9d (49.3) Aravinth Rajendran 70, Rizwan Raahid 39, Imithiyas Slasa 32, Rashan Kavishka 3/56, Eran Hansamal 2/43

Moratu Maha Vidyalaya – 150 (34.4) Eran Hansamal 39, Nipun Kaushalya 32, Madura Gimhana 25, Mohomad Shamas 3/29, Imithiyas Slasa 3/48, Rizwan Raahid 2/15
& 201 (42) Chamalka Pushpakumara 65, Niraj Kavishka 53, Madushan Dilakshana 29, Imtiaz Slasa 6/59, Mohamed Mahdhi 2/45, Mohamed Shamaaz 2/70
ZAHIRA COLLEGE WON BY 86 RUNS
Photos: Moratu Maha Vidyalaya Vs Zahira College | U19 Cricket Tournament 2019/20
Isipathana College, Colombo vs Prince of Wales College, Moratuwa
Group – Traditional
Venue – POW College Ground
Toss – Prince of Wales College
The younger brother of Kusal Mendis, Omesh Mendis, hit his 1st century for his school's first XI team in the first innings. The Cambrians bowled out Isipathana College for 380 and ended the second day on 251/8 at stumps, as the match was concluded as a draw.

Brief Scores

Isipathana College – 380 (143)Lisura Vinath 76, Themiya Gunarathna 66*, Saveen Dantha 59, Leshan Amarasingha 40, Thiwanka Lakruwan 39, Sithuka Gunawardena 28, Ravindu Rathnayaka 26, Naduka Fernando 3/44, Ravindu Janith 3/101

Prince of Wales College – 251/8 (60) Omesh Mendis 109, Pasindu Pathum 41, Ravindu Janith 28*, Naduka Fernando 22*, Dinath Dissanayake 2/40
MATCH DRAWN
Photos: Prince of Wales' College Vs Isipathana College | U19 Cricket Tournament 2019/20
Apart from these three fixtures, 2 other matches commenced today as well. Here are a few notable performances of the day. 
Pavan Rathnayake 123*
Kasun Edirithilaka 4/70
Mahanama College, Colombo vs Trinity College, Kandy
Group – Traditional
Venue – Asgiriya International Stadium, Kandy
Toss – Mahanama College
Brief Scores

Mahanama College – 316 (83.3) Pavan Rathnayake 123*, Pulshan Rohana 60, Pawantha Weerasingha 34, Sonal Dinusha 29, Uvindu Wimaladarma 2/46, Abhishek Anandakumar 2/56, Ruvin Peiris 2/59
Trinity College – 37/0 (9) Shane Gunathilake 25*
STUMPS – DAY 1
St. Thomas' College, Matara vs St. Sylvester's College, Kandy
Group – Traditional
Venue – Uyanwatta Stadium, Matara
Toss – St. Thomas' College


Brief Scores

St. Thomas' College – 195 (53) Hirusha Jeewadith 60, Sanchitha Ranasingha 35, Sachira Rashmika 33, Nipuna Samarasinghe 22, Kasun Edirithilaka 4/70, Shashika Basnayake 3/49, Naveen Bandara 2/26

St. Sylvesters College – 101/8 (40) Chandula Jayakodi 42, Sineth Sithara 3/24, Ishara Theekshana 2/06
STUMPS – DAY 1