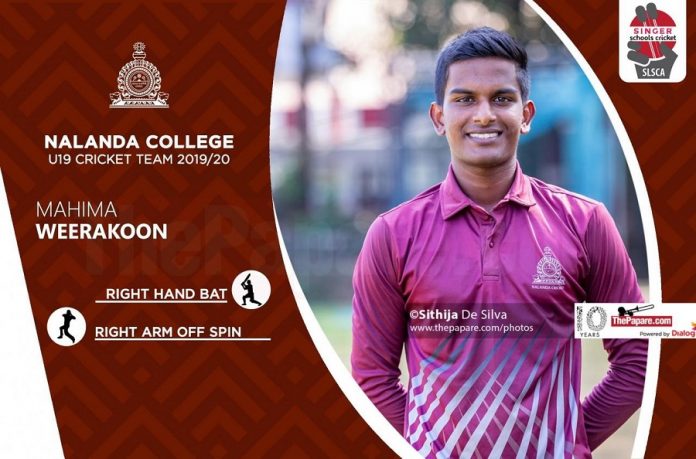 Four matches of the Singer Schools 'Under 19 Division 1' Two Day Cricket Tournament 2019/20 were played today across the island. Mahima Weerakoon stroked a fine half-century, helping Nalanda College secure very crucial first innings points against Mahanama College. 
Mahanama College, Colombo vs Nalanda College, Colombo
Nalanda College managed to take first innings points in their Group C encounter against Mahanama College, which ended in a draw today at Nalanda College Grounds in Colombo. After being 48 runs for 5 wickets overnight, the hosts managed to show a better batting performance today, adding another 146 runs for the remaining 5 wickets. 
Muditha Premadasa, first to reach 1000 runs in the season
The right-handed stroke maker Mahima Weerakoon stroked an unbeaten 82 runs, which came off 155 balls including 7 fours. In addition to this, Moksha Sankalpa contributed with a 33-run knock. Nisal Akash, Devindu Kekirideniya and Achintha Supun picked up 3 scalps each for the visitors. 
Mahanama College began their second innings 19 runs ahead and posted 184 runs for 3 wickets at the close of play on day two. The right-handed batsman Pawantha Weerasinghe, who has been in great touch this season, stroked a half-ton while Pulshan Rohana made 37 runs with the bat. 
Brief Scores
Mahanama College – 175 (75.3) Dileesha Thuduwage 53, Savindu Kavinda 23, Pavan Rathnayake 22, Achintha Supun 21, Jithesh Wasala 4/45, Dineth Samaraweera 3/34, Chamodya Rajapaksha 2/30 & 184/3 (42) Pawantha Weerasinghe 60, Pulshan Rohana 37, Vinuka Rubasinghe 23*, Raveen De Silva 2/51 

Nalanda College – 194 (67.3) Mahima Weerakoon 82*, Moksha Sankalpa 33, Avishka Perera 23, Nisal Akash 3/37, Devindu Kekirideniya 3/48, Achintha Supun 3/57 

Result – Match Drawn (Nalanda College won first innings points) 
Photos: Nalanda College vs Mahanama College | School Cricket 2019/20
---
Zahira College, Colombo vs St. Thomas' College, Matara
The Group D encounter between Zahira College and St. Thomas' College ended in a draw today at Uyanwatta Stadium in Matara. After getting a solid start with the bat, the visitors faced a collapse as they were bundled out for just 124 runs in 55.3 overs. Sineth Sithara was the pick of the bowlers for the hosts as he took 5 scalps for 42 runs. 
In addition, to this, Sachira Rashmika shone with the ball, picking up 3 wickets for 36 runs. After being asked to follow on, the visitors posted 118 runs for 7 wickets at stumps. Sachira Rashmika starred again with the ball, picking up 4 more wickets for 35 runs. 
Brief Scores
St. Thomas' College – 252 (80.1) Nipun Samarasinghe 54, Hirusha Jeewadith 49, Sachira Rashmika 34, Hirantha Lakshan 29, Mohamed Mahdhi 4/54, Mohamed Dilhan 2/35, Ishan Ruhaim 2/49, Imtiaz Slasa 2/61 

Zahira College – 124 (55.3) Mohamed Raahidh 36, Sineth Sithara 5/42, Sachira Rashmika 3/36 & 118/7 (58) Imtiaz Slasa 37*, Mohamed Adhil 24, Sachira Rashmika 4/35 

Result – Match Drawn (St. Thomas College won first innings points) 
---
Wesley College, Colombo vs Lumbini College, Colombo
The Group D encounter between Wesley College and Lumbini College ended in a draw today at BRC Grounds in Colombo. However, the first innings points went to Wesley College. After being 50 runs for no wicket overnight, the Lumbini College batsmen posted 217 runs in 52.3 overs. Prabashana Gamlath (38) and Ravindu Rasanka (33) were the chief contributors with the bat for Lumbini College. 
Semila Liyanage was the pick of the bowlers for Wesley College as he took 6 scalps for 69 runs. Thenuka Perera gave him a good support at the other end, taking 3 wickets for 56 runs. Wesley College began their second innings 49 runs ahead but made only 145 runs, setting a target of 195 runs for Lumbini College. 
De Mazenod takes honors; Nalanda in trouble
Thashika Nirmal starred with the ball taking a 5-wicket haul taking match tally into 8 wickets for 156 runs. The chase was not on for Lumbini batsmen as there were only 13 overs left in the day. Thus, the match ended in a draw. 
Brief Scores
Wesley College – 266 (74.4) Sahil Dias 58, Nimthaka Adikari 51, Buddhima Wijesundara 36, Ramesh Madusanka 4/49, Yasiru Jayasinghe 3/79, Thashika Nirmal 3/73 & 145 (51.1) Lakshan Ruwantha 32, Semila Liyanage 24, Nimthaka Adhikari 20, Thashika Nirmal 5/83, Yasiru Jayasinghe 3/35  

Lumbini College – 217 (52.3) Prabashana Gamlath 38, Ravindu Rasanka 33, Hiru Chethana 23, Thashika Nirmal 22, Ramesh Madusanka 22, Shahan Kaushalya 21, Semila Liyanage 6/69, Thenuka Perera 3/56 & 70/3 (13) Hiru Chethana 33* 

Result – Match Drawn (Wesley College won first innings points) 
Photos: Wesley College vs Lumbini College – Singer U19 Division 1 Cricket Tournament 2019/2020
---
Maliyadeva College, Kurunegala vs St. Anthony's College, Wattala
The Group C encounter between Maliyadeva College and St. Anthony's College commenced today at St. Anthony's College Grounds in Wattala. After being put into bat first, the visitors posted only 146 runs with Gayan Karunanayake being the top scorer with 37 runs. Avishka Tharindu picked up 3 scalps for 23 runs while Amitha Sandeepa, Kaveesha Dulanja and Dinuk Vishal grabbed 2 scalps each for the hosts. 
In reply, the hosts were in a spot of bother losing 3 wickets for 59 runs at the close of play on day one. Matheesha Weerasinghe bowled an excellent spell, picking up 2 wickets without giving away a single run. The match will continue tomorrow for day two.  
Brief Scores
Maliyadeva College – 146 (62.4) Gayan Karunanayake 37, Jayamin Muthukumarana 24, Avishka Tharindu 3/23, Amitha Sandeepa 2/23, Kaveesha Dulanja 2/21 Dinuk Vishal 2/31

St. Anthony's College – 59/3 (32.4) Gihan Sasmitha 27, Romesh Suranga 24*, Matheesha Weerasinghe 2/00 

Stumps – Day 1