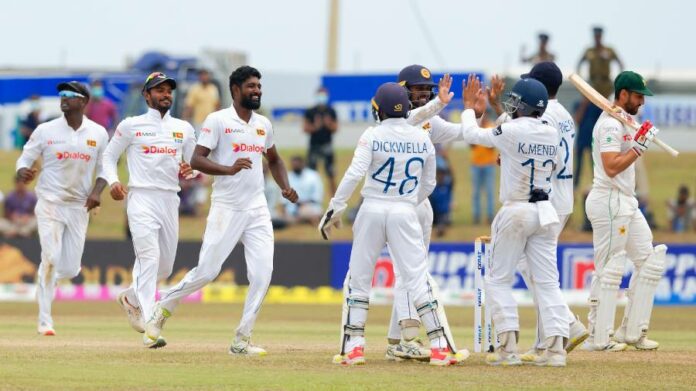 The International Cricket Council (ICC) released the Future Tours Programme for all Men's Test-playing countries for the 2023-2027 cycle.
Read More : ICC reveal Women's Future Tours Program
Sri Lanka men's national team is set to play only 24 Test matches from 2023 to 2026, along with a minimum of 48 ODIs and 51 T20Is in bilateral and tri series.
5 Tests in 2023
9 Tests in 2024
4 Tests in 2025
6 Tests in 2026
Sri Lanka is also set co-host the ICC Men's T20 World Cup in 2026. The FTP cycle will be rounded off with the Cricket World Cup in South Africa, Zimbabwe, and Namibia in 2027.
Read : SLC Major League Tournament to kick off on 19th August
2023
| | | | |
| --- | --- | --- | --- |
| Time Period | Opposition | Home/Away | Format & Matches |
| January | India | Away | 3 ODIs & 3 T20Is |
| January/February | Afghanistan | Home | 3 ODIs |
| March/April | New Zealand | Away | 2 Tests, 3 ODIs & 3 T20Is |
| April | Ireland | Home | 1 Test & 2 ODIs |
| July/August | Pakistan | Home | 2 Tests |
| September | Asia Cup | Pakistan | ODIs |
| October/November | ICC Cricket World Cup | India | ODIs |
2024
| | | | |
| --- | --- | --- | --- |
| Time Period | Opposition | Home/Away | Format & Matches |
| January | Zimbabwe | Home | 3 ODIs & 3 T20Is |
| January/February | Afghanistan | Home | 1 Test & 3 T20Is |
| February/March | Bangladesh | Away | 2 Tests, 3 ODIs & 3 T20Is |
| June | ICC T20 World Cup | WI/USA | T20Is |
| July | India | Home | 3 ODIs & 3 T20Is |
| August/September | England | Away | 2 Tests |
| September/October | New Zealand | Home | 2 Tests |
| October/November | West Indies | Home | 3 ODIs & 3 T20Is |
| November/December | South Africa | Away | 2 Tests |
| December/January | New Zealand | Away | 3 ODIs & 3 T20Is |
2025
| | | | |
| --- | --- | --- | --- |
| Time Period | Opposition | Home/Away | Format & Matches |
| January/February | Australia | Home | 2 Tests |
| February | ICC Champions Trophy | Pakistan | ODIs |
| June/July | Bangladesh | Home | 2 Tests, 3 ODIs & 3 T20Is |
| August/September | Zimbabwe | Away | 3 ODIs & 3 T20Is |
| September | Asia Cup | TBC | T20Is |
| October/November | Ireland | Home | 3 ODIs & 3 T20Is |
| November/December | Pakistan | Away | 3 ODIs & 3 T20Is |
2026
| | | | |
| --- | --- | --- | --- |
| Time Period | Opposition | Home/Away | Format & Matches |
| January/February | England | Home | 3 ODIs & 3 T20Is |
| February | ICC T20 World Cup | IND/SL (Home) | T20Is |
| March | Afghanistan | Away | 3 ODIs & 3 T20Is |
| June/July | West Indies | Away | 2 Tests, 3 ODIs & 3 T20Is |
| August | India | Home | 2 Tests |
| September | England | Away | 3 ODIs & 3 T20Is |
| October | Pakistan | Away | 3 T20Is |
| October/November | Pakistan/England – Tri Series | Away | 4 ODIs |
| November | Pakistan | Away | 2 Tests |
| December/January | India | Away | 3 ODIs & 3 T20Is |
2027
| | | | |
| --- | --- | --- | --- |
| Time Period | Opposition | Home/Away | Format & Matches |
| January/February | New Zealand | Away | 2 Tests, 3 ODIs & 3 T20Is |
| February/March | South Africa | Home | 2 Tests |
>>Click Here For More Cricket News<<