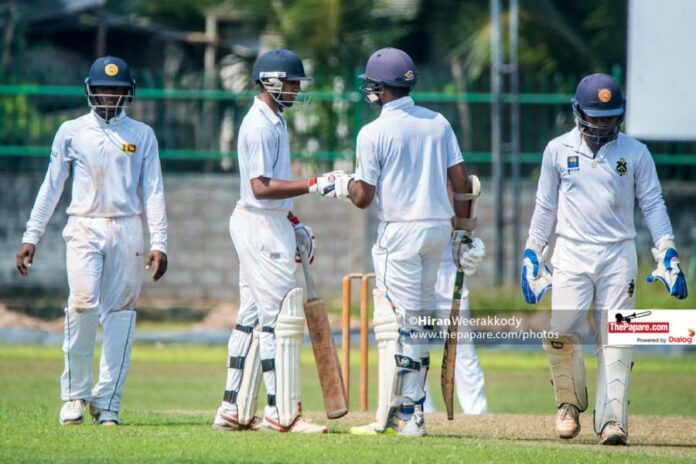 Sri Lanka's premier 3-day inter-club Men's Cricket competition, the SLC Major League Tournament will be played from 19th August onwards with the participation of 26 clubs.
The teams are segregated into two groups, Group A and Group B.
| | |
| --- | --- |
| Group A | Group B |
| Colombo Cricket Club | Nondescripts Cricket Club |
| Police Sports Club | Ace Cricket Club |
| Ragama Cricket Club | Chilaw Marians CC |
| Kandy Customs Sports Club | Bloomfield C & AC |
| Colts Cricket Club | Army Sports Club |
| Galle Crciket Club | Panadura Sports Club |
| Burgher Recreation Club | Saracens Sports Club |
| Sebastianite Cricket | Nugegoda S & WC |
| Moors Sports Club | Negombo Cricket Club |
| Kurunegala YCC | Navy Sports Club |
| Singhalese Sports Club | Tamil Union C & AC |
| Kalutara Town Club | Air Force Sports Club |
| Lankan Cricket Club | Baduraliya Cricket Club |
Each team in Group A and Group B will each of the other 12 teams in their group once. The group toppers (Group A winner & Group B winner) will qualify for the final which is scheduled to be played as a 4-day encounter from 16th November to 19th November.
The tournament was not held last year and instead the National Super League 4-Day tournament was conducted during that window. Colombo Cricket Club were crowned champions of Tier 'A' the last time the competition was held (in 2020) while the Tier 'B' competition had to be scrapped due to the pandemic.
In the last edition of the tournament, 14 teams played in the Tier A competition while the remaining 12 teams competed in the Tier B competition. This year, all 26 will compete in one competition, with SLC scrapping the tier structure. The new domestic structure comes into effect with this tournament, with the two lowest ranked teams from each group set to be relegated to the Governor's Trophy competition for next season. With the new structure in place through relegation system, SLC expects to reduce the number of first-class teams to 15 within 3 years.
Fixtures of SLC Major League Tournament 2022
Date
Host
Opponent
Venue
19-20-21 Aug
Ace Capital Cricket Club
Saracens Sports Club
Bloomfield
Air Force Sports Club
Navy Sports Club
Air Force -Katunayake
Army Sports Club
Bloomfield C & AC
Army-Panagoda
Burgher Recreation Club
Police Sports Club
BRC
Colts Cricket Club
Kandy Customs Sports Club
Colts
Galle Cricket Club
Ragama Cricket Club
Galle Stadium
Kalutara Town Club
Kurunegala YCC
Damdulla-Stadium
Moors Sports Club
Lankan Cricket Club
Moors Cricket Ground
Negombo Cricket Club
Baduraliya Cricket Club
BOI-Katunayake
Panadura Sports Club
Chilaw Marians CC
Panadura
Singhalese Sports Club
Colombo Cricket Club
SSC
Tamil Union C & AC
Nondescripts Cricket Club
P.Sara Stadium
Date
Host
Opponent
Venue
26-27-28 Aug
Ace Capital Cricket Club
Negombo Cricket Club
BOI-Katunayake
Army Sports Club
Panadura Sports Club
Army-Panagoda
Baduraliya Cricket Club
Tamil Union C & AC
Surrey
Bloomfield C & AC
Saracens Sports Club
Bloomfield
Burgher Recreation Club
Kandy Customs Sports Club
BRC
Colombo Cricket Club
Kalutara Town Club
CCC
Colts Cricket Club
Galle Crciket Club
Colts
Lankan Cricket Club
Singhalese Sports Club
RPICS, Colombo
Nondescripts Cricket Club
Air Force Sports Club
NCC
Nugegoda S & WC
Chilaw Marians CC
De Soysa-Moratuwa
Police Sports Club
Moors Sports Club
Police
Ragama Cricket Club
Sebastianite Cricket
Thurstan College
Date
Host
Opponent
Venue
2-3-4 Sep
Burgher Recreation Club
Galle Crciket Club
BRC
Chilaw Marians CC
Navy Sports Club
Kettarama
Kandy Customs Sports Club
Moors Sports Club
Thurstan College
Kurunegala YCC
Ragama Cricket Club
TBA
Lankan Cricket Club
Colombo Cricket Club
CCC
Negombo Cricket Club
Bloomfield C & AC
BOI-Katunayake
Nondescripts Cricket Club
Baduraliya Cricket Club
NCC
Nugegoda S & WC
Army Sports Club
De Soysa-Moratuwa
Saracens Sports Club
Panadura Sports Club
Surrey
Sebastianite Cricket
Colts Cricket Club
Moors
Singhalese Sports Club
Police Sports Club
SSC
Tamil Union C & AC
Ace Capital Cricket Club
P.Sara Stadium
Date
Host
Opponent
Venue
9-10-11 Sep
Air Force Sports Club
Tamil Union C & AC
Air Force -Katunayake
Army Sports Club
Nondescripts Cricket Club
Army-Panagoda
Baduraliya Cricket Club
Navy Sports Club
Surrey
Bloomfield C & AC
Panadura Sports Club
Bloomfield
Colts Cricket Club
Colombo Cricket Club
Colts
Kandy Customs Sports Club
Galle Cricket Club
Thurstan College
Lankan Cricket Club
Kurunegala YCC
Panadura
Nugegoda S & WC
Ace Capital Cricket Club
De Soysa-Moratuwa
Ragama Cricket Club
Burgher Recreation Club
Moors
Saracens Sports Club
Chilaw Marians CC
RPICS, Colombo
Sebastianite Cricket
Police Sports Club
CCC
Singhalese Sports Club
Kalutara Town Club
SSC
Date
Host
Opponent
Venue
16-17-18 Sep
Army Sports Club
Baduraliya Cricket Club
Army-Panagoda
Burgher Recreation Club
Singhalese Sports Club
BRC
Chilaw Marians CC
Ace Capital Cricket Club
RPICS, Colombo
Colts Cricket Club
Lankan Cricket Club
Colts
Galle Cricket Club
Kalutara Town Club
Galle
Moors Sports Club
Colombo Cricket Club
Moors
Negombo Cricket Club
Nondescripts Cricket Club
BOI-Katunayake
Nugegoda S & WC
Navy Sports Club
De Soysa-Moratuwa
Panadura Sports Club
Air Force Sports Club
Panadura
Police Sports Club
Ragama Cricket Club
Police
Sebastianite Cricket
Kurunegala YCC
TBA
Tamil Union C & AC
Saracens Sports Club
P.Sara Stadium
Date
Host
Opponent
Venue
23-24-25 Sep
Ace Capital Cricket Club
Army Sports Club
BOI-Katunayake
Bloomfield C & AC
Chilaw Marians CC
Bloomfield
Colombo Cricket Club
Kurunegala YCC
CCC
Lankan Cricket Club
Burgher Recreation Club
Panadura
Navy Sports Club
Nondescripts Cricket Club
Navy-Walisara
Nugegoda S & WC
Air Force Sports Club
De Soysa-Moratuwa
Police Sports Club
Colts Cricket Club
Police
Ragama Cricket Club
Kandy Customs Sports Club
Thurstan College
Saracens Sports Club
Baduraliya Cricket Club
Kettarama
Sebastianite Cricket
Kalutara Town Club
RPICS, Colombo
Singhalese Sports Club
Moors Sports Club
SSC
Tamil Union C & AC
Negombo Cricket Club
P.Sara Stadium
Date
Host
Opponent
Venue
30 Sep &1-2 Oct
Air Force Sports Club
Ace Capital Cricket Club
Air Force -Katunayake
Army Sports Club
Negombo Cricket Club
Army-Panagoda
Chilaw Marians CC
Tamil Union C & AC
RPICS, Colombo
Colombo Cricket Club
Burgher Recreation Club
CCC
Colts Cricket Club
Moors Sports Club
Colts
Kalutara Town Club
Police Sports Club
Army-Dombagoda
Kandy Customs Sports Club
Kurunegala YCC
NCC
Navy Sports Club
Bloomfield C & AC
Navy-Walisara
Panadura Sports Club
Nugegoda S & WC
Panadura
Ragama Cricket Club
Singhalese Sports Club
Thurstan College
Saracens Sports Club
Nondescripts Cricket Club
Moors
Sebastianite Cricket
Galle Crciket Club
P.Sara Stadium
Date
Host
Opponent
Venue
7-8-9 Oct
Baduraliya Cricket Club
Chilaw Marians CC
RPICS, Colombo
Bloomfield C & AC
Air Force Sports Club
Bloomfield
Colombo Cricket Club
Sebastianite Cricket
CCC
Galle Cricket Club
Kurunegala YCC
Galle Stadium
Kalutara Town Club
Kandy Customs Sports Club
Army-Dombagoda
Moors Sports Club
Burgher Recreation Club
Moors
Navy Sports Club
Panadura Sports Club
Navy-Walisara
Nondescripts Cricket Club
Nugegoda S & WC
NCC
Ragama Cricket Club
Lankan Cricket Club
Thurstan College
Saracens Sports Club
Negombo Cricket Club
BRC
Singhalese Sports Club
Colts Cricket Club
SSC
Tamil Union C & AC
Army Sports Club
P.Sara Stadium
Date
Host
Opponent
Venue
14-15-16 Oct
Ace Capital Cricket Club
Baduraliya Cricket Club
Army-Dombagoda
 
Bloomfield C & AC
Tamil Union C & AC
Bloomfield
Burgher Recreation Club
Sebastianite Cricket
BRC
Chilaw Marians CC
Air Force Sports Club
RPICS, Colombo
Galle Cricket Club
Moors Sports Club
Galle Stadium
Kalutara Town Club
Ragama Cricket Club
Surrey
Kandy Customs Sports Club
Singhalese Sports Club
Thurstan College
Kurunegala YCC
Colts Cricket Club
Welagedara Stadium
Navy Sports Club
Army Sports Club
Navy-Walisara
Negombo Cricket Club
Panadura Sports Club
BOI-Katunayake
Police Sports Club
Lankan Cricket Club
Police
Saracens Sports Club
Nugegoda S & WC
Moors
Date
Host
Opponent
Venue
21-22-23 Oct
Ace Capital Cricket Club
Navy Sports Club
Army-Dombagoda
 
Army Sports Club
Saracens Sports Club
Army-Panagoda
Baduraliya Cricket Club
Air Force Sports Club
Surrey
Burgher Recreation Club
Colts Cricket Club
BRC
Chilaw Marians CC
Negombo Cricket Club
RPICS, Colombo
Galle Crciket Club
Colombo Cricket Club
Galle Stadium
Kandy Customs Sports Club
Sebastianite Cricket
Thurstan College
Kurunegala YCC
Police Sports Club
Welagedara Stadium
Lankan Cricket Club
Kalutara Town Club
Bloomfield
Moors Sports Club
Ragama Cricket Club
Moors
Nugegoda S & WC
Bloomfield C & AC
De Soysa-Moratuwa
Panadura Sports Club
Nondescripts Cricket Club
Panadura
Date
Host
Opponent
Venue
28-29-30 Oct
Air Force Sports Club
Negombo Cricket Club
Air Force -Katunayake
 
Baduraliya Cricket Club
Nugegoda S & WC
Surrey
Chilaw Marians CC
Army Sports Club
RPICS, Colombo
Colombo Cricket Club
Kandy Customs Sports Club
CCC
Colts Cricket Club
Ragama Cricket Club
Colts
Kurunegala YCC
Singhalese Sports Club
Welagedara Stadium
Moors Sports Club
Kalutara Town Club
Moors
Navy Sports Club
Tamil Union C & AC
Navy-Walisara
Nondescripts Cricket Club
Bloomfield C & AC
NCC
Panadura Sports Club
Ace Capital Cricket Club
Panadura
Police Sports Club
Galle Cricket Club
Police
Sebastianite Cricket
Lankan Cricket Club
P.Sara Stadium
Date
Host
Opponent
Venue
4-5-6 Nov
Air Force Sports Club
Army Sports Club
Air Force -Katunayake
 
Bloomfield C & AC
Baduraliya Cricket Club
Bloomfield
Colombo Cricket Club
Police Sports Club
CCC
Galle Cricket Club
Singhalese Sports Club
Galle Stadium
Kalutara Town Club
Colts Cricket Club
Surrey
Kandy Customs Sports Club
Lankan Cricket Club
Thurstan College
Kurunegala YCC
Burgher Recreation Club
Welagedara Stadium
Moors Sports Club
Sebastinite Cricket
Moors
Navy Sports Club
Saracens Sports Club
Navy-Walisara
Negombo Cricket Club
Nugegoda S & WC
BOI-Katunayake
Nondescripts Cricket Club
Ace Capital Cricket Club
NCC
Panadura Sports Club
Tamil Union C & AC
Panadura
Date
Host
Opponent
Venue
11-12-13 Nov
Ace Capital Cricket Club
Bloomfield C & AC
Army-Dombagoda
 
Air Force Sports Club
Saracens Sports Club
Air Force -Katunayake
Baduraliya Cricket Club
Panadura Sports Club
TBA
Kalutara Town Club
Burgher Recreation Club
Surrey
Kurunegala YCC
Moors Sports Club
Welagedara Stadium
Lankan Cricket Club
Galle Cricket Club
RPICS, Colombo
Negombo Cricket Club
Navy Sports Club
BOI-Katunayake
Nondescripts Cricket Club
Chilaw Marians CC
NCC
Police Sports Club
Kandy Customs Sports Club
Police
Ragama Cricket Club
Colombo Cricket Club
Thurstan College
Singhalese Sports Club
Sebastianite Cricket
SSC
Tamil Union C & AC
Nugegoda S & WC
P.Sara Stadium
Date
Final
Venue
16-17-18-19 Nov
 
TBA