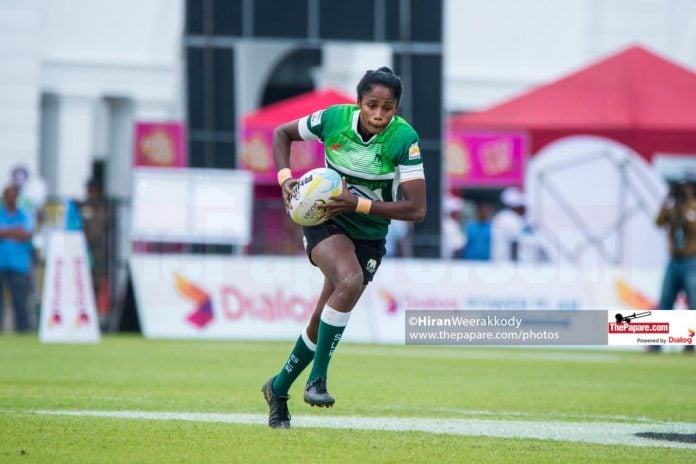 The Sri Lanka women's rugby team finished a satisfactory 5th place in the Olympic qualifier in the women's division for the Tokyo Olympics in 2020 held in Guangzhou this weekend.
With rugby sevens introduced to the 2016 Olympics, regional qualifiers are played around the world to decide who make the cut for the main event.
Read more: Sri Lanka Rugby eye Tokyo 2020 Olympics
The Sri Lanka women's team that departed the country amidst a lot of difficulties came up strong to put up a satisfactory performance on day two to defeat Singapore 33-12 to clinch fifth place.
In the absence of senior players in the calibre of Thanuja Weerakkody and Sanjeevani de Silva, it was up to Anusha Attanayake to lead the team along with senior campaigner Randika Kumudumali.
Read more: Dialog Rugby League to commence in November
In the group stage, the Tuskers lost to Hong Kong 27-7 but recovered well to defeat Korea 19-5. Sri Lanka was later steamrolled by hosts China 55-0 but the Korean win was adequate for them to make the 5/6th play-off.
Sri Lanka edged Philippines 12-10 in the 5/6 semifinal and later Singapore to finish 5th.
With key players missing out from the squad following injuries and two more getting hospitalized due to illness, this was a satisfactory performance by the Sri Lanka women.
ICYMI: Sri Lanka Rugby play in memory of the Nicholson family
Hosts China thumped Hong Kong 33-0 in the final to qualify for the Tokyo Olympics 2020 in the women's category. They will be the second Asian representation at the games next year alongside hosts Japan.
The men's Olympic qualifier will take place on the 30th November and 1st December in South Korea.