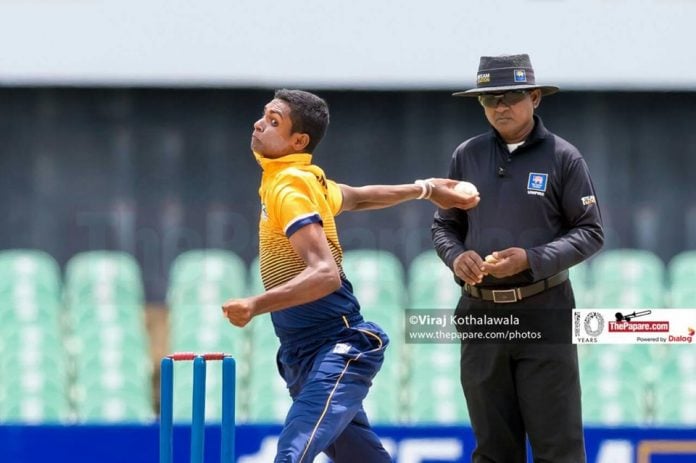 The first two days of the youth international fixture between Sri Lanka and Bangladesh were completely washed off due to rain at Barisal.
Starting the game 2 days and a session later, the Sri Lankan youth team won the toss and elected to bat first. They took an early blow as opener Thaveesha Abhishek was clean bowled in the second over of the game.
Steady partnerships from then on by the rest of the top-order made sure that Sri Lanka got off to a comfortable start. Mahanamian Sonal Dinusha scored a half-century, coming in at No. 4, while opener Chamindu Wickramasighe departed with 48 runs to his name.
Hosts South Africa will open their campaign against Afghanistan in next year's ICC U19 Cricket World…..
The Sri Lankan skipper, who led the middle-order, held the innings together for the Lankans as he went on to become the top-scorer with an elegant 67 runs to his name. The Josephian duo Lakshan Gamage and Dunith Wellalge met at the crease to add more colour to the Sri Lankan innings by putting up 92-run stand for the 7th wicket.
Wellalage stood unbeaten at the crease with 50 runs to his name while Gamage got to a busy 46. The Islanders scored 331 runs for the loss of 7 wickets and declared their innings. The promising left-arm quick, Dilshan Madushanka brought the early breakthrough for Sri Lanka with the ball when he got the edge of the Bangladeshi opener Prantik Nawrose Nabil with just the 4th ball of the innings.
Read: Malinga-like Matheesha Pathirana added to Sri Lanka U19 squad
The host were at 63 for 2, recovering slightly from the early strike, when young Matheesha Pathirana decided to pull them down again. The square-arm speedster picked up 3 quick wickets within the next 3 runs. He was skiddy and on-target as he managed to walk away with excellent figures of 3 for 13  in his 6.2 over spell on debut. Lakshan Gamage also picked up 2 wickets to add up to his value as an all-rounder.
Bangladesh were on 145 for 6 by the fourth evening of the game as it ended in a draw.
>>> Click here for more Cricket News <<<


Batsmen
R
B
4s
6s
SR
Chamindu Wickramasinghe
c Pritom Kumar b Asadullah Galib
45
51
9
0
88.24
Thaveesha Abhishek
b Asadullah Galib
1
9
0
0
11.11
Ravindu De Silva
lbw b Noman Chowdhury
21
54
3
0
38.89
Sonal Dinusha
c Pritom Kumar b Ashraful Islam
58
110
7
1
52.73
Nipun Dananjaya
c Shahadat Hossain b Ashraful Islam
67
112
6
3
59.82
Chihan Kalindu
lbw b Ashraful Islam
15
16
1
1
93.75
Lakshan Gamage
c Pritom Kumar b Noman Chowdhury
46
78
2
3
58.97
Dunith Wellalage
not out
50
85
5
0
58.82
| | |
| --- | --- |
| Extras | 28 (b 10 , lb 9 , nb 8, w 1, pen 0) |
| Total | 331/7 (84.3 Overs, RR: 3.92) |
| Fall of Wickets | 1-1 (1.5) Thaveesha Abhishek, 2-74 (13.4) Chamindu Wickramasinghe, 3-92 (21.5) Ravindu De Silva, 4-205 (50.2) Sonal Dinusha, 5-227 (56.1) Chihan Kalindu, 6-238 (60.4) Nipun Dananjaya, 7-331 (84.3) Lakshan Gamage, |
| Bowling | O | M | R | W | Econ |
| --- | --- | --- | --- | --- | --- |
| Noman Chowdhury | 14.3 | 3 | 68 | 2 | 4.76 |
| Asadullah Galib | 15 | 2 | 46 | 2 | 3.07 |
| Ashraful Islam | 29 | 6 | 83 | 3 | 2.86 |
| Naimur Rahman | 13 | 1 | 56 | 0 | 4.31 |
| Saidul Islam | 11 | 2 | 52 | 0 | 4.73 |
| Saidul Islam | 2 | 0 | 7 | 0 | 3.50 |


Batsmen
R
B
4s
6s
SR
Prantik Nawrose Nabil
c Nipun Dananjaya b Dilshan Madusanka
0
4
0
0
0.00
Sajid Hossain Seam
c Dulith Wellalage b Matheesha Pathirana
23
52
2
0
44.23
Pritom Kumar
lbw b Avishka Lakshan
28
39
5
0
71.79
Alvi Hoque
c Chilan Kalindu b Avishka Lakshan
54
100
7
1
54.00
Shahadat Hossain
c Avishka Lakshan b Matheesha Pathirana
2
7
0
0
28.57
Amite Hasan
lbw b Matheesha Pathirana
0
3
0
0
0.00
Naimur Rahman
not out
25
66
3
0
37.88
Ashraful Islam
not out
0
2
0
0
0.00
| | |
| --- | --- |
| Extras | 10 (b 4 , lb 0 , nb 6, w 0, pen 0) |
| Total | 142/6 (48 Overs, RR: 2.96) |
| Fall of Wickets | 1-0 (0.4) Prantik Nawrose Nabil, 2-47 (12.4) Pritom Kumar, 3-63 (17.5) Sajid Hossain Seam, 4-66 (19.5) Shahadat Hossain, 5-66 (21.2) Amite Hasan, 6-142 (44.1) Alvi Hoque, |
| Bowling | O | M | R | W | Econ |
| --- | --- | --- | --- | --- | --- |
| Dilshan Madusanka | 8 | 2 | 34 | 1 | 4.25 |
| Chamindu Wickramasinghe | 6 | 0 | 13 | 0 | 2.17 |
| Matheesha Pathirana | 6.2 | 1 | 13 | 3 | 2.10 |
| Lakshan Gamage | 6.4 | 3 | 12 | 2 | 1.88 |
| Dunith Wellalage | 14 | 4 | 39 | 0 | 2.79 |
| Avishka Lakshan | 7 | 1 | 30 | 0 | 4.29 |