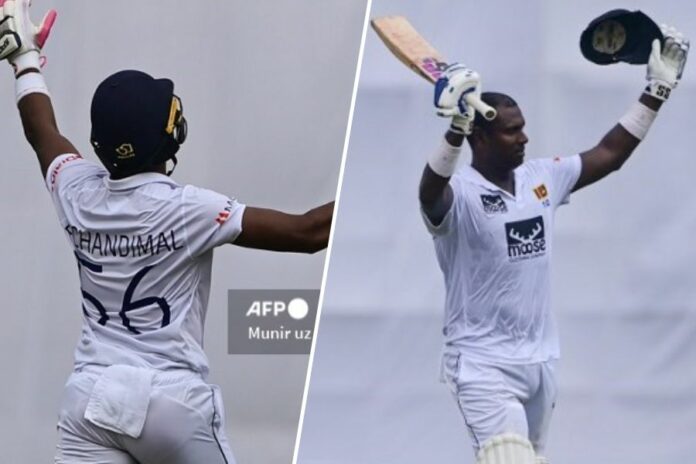 Centuries from Angelo Mathews and Dinesh Chandimal, as well as some quality seam bowling from Kasun Rajitha and Asitha Fernando put Sri Lanka in a strong position at the end of the fourth day's play of the 2nd Test in Dhaka.
Sri Lanka resumed their first innings on day four at 292/5 with Angelo Mathews (58*) and Dinesh Chandimal (10*) unbeaten at the crease.
The duo continued to pile on the runs putting on a massive 199-run partnership for the 6th wicket. The two seasoned pros did not to let their guard down at any point as they batted out two sessions on day four.
Both of them got their deserved three-figure landmarks in the post Tea session. Mathews brought up his 13th Test century and his 2nd ton of the series while Chandimal notched up his 12th Test ton, his first since 2018.
After two consecutive wicket-less sessions, the hosts finally managed to produce a breakthrough in the final session dismissing Chandimal for 124 runs. After Chandimal's dismissal at 465/6, Sri Lanka's tail couldn't make a significant contribution with the bat as they lost the remaining 4 wickets for 41 runs as they were bowled out for 506 runs.
Mathews walked back unbeaten on 145 runs as the visitors finished their first innings with a vital 141-run first innings lead. Bangladesh bowlers were inconsistent with their lines and lengths throughout the innings but Shakib Al Hasan did keep things quiet and finished with yet another 5-wicket haul while the speedster Ebadot Hossain was impressive in patches as he finished with a 4-wicket haul.
In reply, Bangladesh faltered with the bat as they lost 4 top order wickets in the tricky last passage of play heading into the stumps. Another exceptional bit of new ball bowling from Kasun Rajitha and Asitha Fernando put Sri Lanka well ahead in the contest heading into the final day.
506/10 (165.1) & 28/0 (3)
365/9 (116.2) & 162/10 (55.3)


Batsmen
R
B
4s
6s
SR
Mahmudul Hasan Joy 
b Kasun Rajitha
0
2
0
0
0.00
Tamim Iqbal
c Praveen Jayawickrama b Asitha Fernando 
0
4
0
0
0.00
Najmul Hossain Shanto
b Kasun Rajitha
8
21
1
0
38.10
Mominul Haque
c Niroshan Dickwella b Asitha Fernando 
9
9
2
0
100.00
Mushfiqur Rahim
not out
175
355
21
0
49.30
Shakib Al Hasan (vc)
lbw b Kasun Rajitha
0
1
0
0
0.00
Liton Das
c Kusal Mendis b Kasun Rajitha
141
246
16
1
57.32
Mosaddek Hossain
c Niroshan Dickwella b Kasun Rajitha
0
3
0
0
0.00
Taijul Islam
c Niroshan Dickwella b Asitha Fernando 
15
37
0
0
40.54
Khaled Ahmed
c Niroshan Dickwella b Asitha Fernando 
0
2
0
0
0.00
Ebadot Hossain
not out
0
20
0
0
0.00
| | |
| --- | --- |
| Extras | 17 (b 9 , lb 3 , nb 2, w 3, pen 0) |
| Total | 365/9 (116.2 Overs, RR: 3.14) |
| Fall of Wickets | 1-1 (0.2) Mahmudul Hasan Joy , 2-6 (1.4) Tamim Iqbal, 3-16 (5.1) Mominul Haque, 4-24 (6.4) Najmul Hossain Shanto, 5-24 (6.5) Shakib Al Hasan (vc), 6-296 (92.1) Liton Das, 7-296 (92.4) Taijul Islam, 8-349 (107.1) Khaled Ahmed, |
| Bowling | O | M | R | W | Econ |
| --- | --- | --- | --- | --- | --- |
| Kasun Rajitha | 28.2 | 7 | 64 | 5 | 2.27 |
| Asitha Fernando  | 26 | 2 | 93 | 4 | 3.58 |
| Praveen Jayawickrama | 38 | 9 | 108 | 0 | 2.84 |
| Ramesh Mendis | 14 | 0 | 53 | 0 | 3.79 |
| Dhananjaya de Silva | 6 | 0 | 27 | 0 | 4.50 |
| Dimuth Karunarathne | 4 | 1 | 8 | 0 | 2.00 |


Batsmen
R
B
4s
6s
SR
Oshada Fernando
c Najmul Hossain Shanto b Ebadot Hossain
57
91
8
1
62.64
Dimuth Karunarathne
b Shakib Al Hasan (vc)
80
155
9
0
51.61
Kusal Mendis
lbw b Shakib Al Hasan (vc)
11
49
0
0
22.45
Kasun Rajitha
b Ebadot Hossain
0
12
0
0
0.00
Angelo Mathews
not out
145
342
12
2
42.40
Dhananjaya de Silva
c Liton Das b Shakib Al Hasan (vc)
58
95
9
0
61.05
Dinesh Chandimal
c Tamim Iqbal b Ebadot Hossain
124
219
11
1
56.62
Niroshan Dickwella
c Liton Das b Shakib Al Hasan (vc)
9
10
1
0
90.00
Ramesh Mendis
lbw b Ebadot Hossain
10
11
2
0
90.91
Praveen Jayawickrama
c Liton Das b Shakib Al Hasan (vc)
0
3
0
0
0.00
Asitha Fernando 
run out (Shakib Al Hasan (vc))
2
6
0
0
33.33
| | |
| --- | --- |
| Extras | 10 (b 0 , lb 8 , nb 2, w 0, pen 0) |
| Total | 506/10 (165.1 Overs, RR: 3.06) |
| Fall of Wickets | 1-95 (25.5) Oshada Fernando, 2-139 (43.1) Kusal Mendis, 3-144 (46.2) Kasun Rajitha, 4-164 (55.6) Dimuth Karunarathne, 5-266 (87.5) Dhananjaya de Silva, 6-465 (156.6) Dinesh Chandimal, 7-501 (162.5) Ramesh Mendis, 8-502 (163.3) Praveen Jayawickrama, 9-506 (165.1) Asitha Fernando , 10-482 (192.5) Niroshan Dickwella, |
| Bowling | O | M | R | W | Econ |
| --- | --- | --- | --- | --- | --- |
| Khaled Ahmed | 23 | 1 | 85 | 0 | 3.70 |
| Ebadot Hossain | 38 | 4 | 148 | 4 | 3.89 |
| Shakib Al Hasan | 40.1 | 11 | 96 | 5 | 2.39 |
| Mosaddek Hossain | 12 | 1 | 38 | 0 | 3.17 |
| Taijul Islam | 49 | 10 | 124 | 0 | 2.53 |
| Mominul Haque | 3 | 0 | 7 | 0 | 2.33 |


Batsmen
R
B
4s
6s
SR
Mahmudul Hasan Joy 
c Kusal Mendis b Asitha Fernando 
15
27
3
0
55.56
Tamim Iqbal
c Kusal Mendis b Asitha Fernando 
0
11
0
0
0.00
Najmul Hossain Shanto
run out (Praveen Jayawickrama)
2
11
0
0
18.18
Mominul Haque
c Niroshan Dickwella b Kasun Rajitha
0
2
0
0
0.00
Mushfiqur Rahim
b Kasun Rajitha
23
39
4
0
58.97
Liton Das
c & b Asitha Fernando 
52
135
3
0
38.52
Shakib Al Hasan (vc)
c Niroshan Dickwella b Asitha Fernando 
58
72
7
0
80.56
Mosaddek Hossain
lbw b Ramesh Mendis
9
22
1
0
40.91
Taijul Islam
lbw b Asitha Fernando 
1
10
0
0
10.00
Ebadot Hossain
not out
0
5
0
0
0.00
Khaled Ahmed
b Asitha Fernando 
0
1
0
0
0.00
| | |
| --- | --- |
| Extras | 2 (b 0 , lb 1 , nb 0, w 1, pen 0) |
| Total | 162/10 (55.3 Overs, RR: 2.92) |
| Fall of Wickets | 1-19 (3.2) Mominul Haque, 2-15 (5.1) Tamim Iqbal, 3-19 (7.2) Najmul Hossain Shanto, 4-23 (9.1) Mahmudul Hasan Joy , 5-53 (20.3) Mushfiqur Rahim, 6-156 (47.5) Liton Das, 7-163 (51.1) Shakib Al Hasan (vc), 8-169 (52.2) Taijul Islam, 9-169 (54.1) Mosaddek Hossain, 10-169 (55.3) Khaled Ahmed, |
| Bowling | O | M | R | W | Econ |
| --- | --- | --- | --- | --- | --- |
| Kasun Rajitha | 12 | 5 | 40 | 2 | 3.33 |
| Asitha Fernando  | 17.3 | 5 | 51 | 6 | 2.95 |
| Praveen Jayawickrama | 13 | 0 | 47 | 6 | 3.62 |
| Ramesh Mendis | 11 | 2 | 20 | 1 | 1.82 |
| Dhananjaya de Silva | 2 | 0 | 10 | 0 | 5.00 |


Batsmen
R
B
4s
6s
SR
Oshada Fernando
not out
21
9
3
1
233.33
Dimuth Karunaratne
not out
7
9
1
0
77.78
| | |
| --- | --- |
| Extras | 0 (b 0 , lb 0 , nb 0, w 0, pen 0) |
| Total | 28/0 (3 Overs, RR: 9.33) |
| Bowling | O | M | R | W | Econ |
| --- | --- | --- | --- | --- | --- |
| Taijul Islam | 1 | 0 | 16 | 0 | 16.00 |
| Shakib Al Hasan | 1 | 0 | 7 | 0 | 7.00 |
| Ebadot Hossain | 1 | 0 | 5 | 0 | 5.00 |