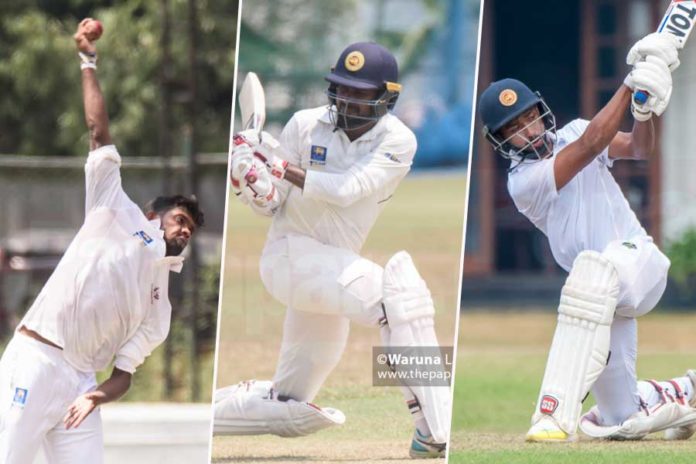 Sri Lanka Cricket (SLC) will recommence the stalled 2019/2020 domestic cricket season from 14th July, ThePapare learns.
The 14-team Major League Tier 'A' competition which was halted due to the Covid-19 pandemic in March will now restart with the commencement of the Premier Super Eights & Premier Plate segments. However, the dates are yet to be decided for the recommencement of the Major League Tier 'B' competition. 
Sri Lanka's best first-class players who failed to win the Cap
The Ministry of Health have given the green light to restart the competition adhering to all the health guidelines, a top official at SLC confirmed to ThePapare.com. 
The top four teams from Group A and B in the Tier 'A' competition will be playing in the Super Eights segment, whilst the remaining six teams will be vying for Plate honours. 
The defending champions, Colombo Cricket Club (CCC) will start as front-runners to retain the title after finishing on top of Group A with four outright wins, while teams like Colts Cricket Club (Group A 2nd placed) and Chilaw Marians Cricket Club (Group B top placed) have an outside chance to topple the reigning champions.  
Usually the Super Eights are played as four-day games but the Sri Lanka Cricket (SLC) Tournament Committee have decided to play this season's Super Eight games as three-day matches owing to the current situation. Also, the fixtures have been aligned to make sure that all the matches are completed before the General Elections in the country, scheduled for 5th August. The Plate matches will be played as three-day fixtures in its usual norm. 
All Cricket island-wide postponed
SLC had initially planned to reduce the number of Tier 'A' teams from 14 to 12 from next season to improve the quality and standards in the major inter-club red-ball competition in the country. 
However, due to the current situation, they may opt not to go ahead with promotion and relegation since there's plenty of uncertainty surrounding the Premier Tier 'B' competition. When the 12-team Tier 'B' competition was halted in March, all teams had played 7 games each with Police Sports Club leading the Tier 'B' points table, followed by Sri Lanka Ports Authority Cricket Club and Bloomfield Cricket & Athletic Club. 
With most of the foreign players, who played in the Tier 'B' competition ,have returned home and due to some health concerns pertaining to a couple of teams, SLC might wait until end of August or early September to complete the Premier Tier 'B' tournament.   
The Premier Super Eights Tournament will be the first major sporting competition in the island after successfully fighting the Covid-19 pandemic. With no international tours for the national team on the horizon, expect all the international stars to represent their respective club teams. 
Super Eight Fixtures
| | | |
| --- | --- | --- |
| Dates | Match | Venue |
| 14,15 & 16 July | CCC vs Ragama CC | MCG Katunayake |
| | Colts CC vs Saracens SC | P. Sara Oval |
| | Army SC vs NCC | CCC |
| | BRC vs Chilaw Marians CC | NCC |
| | | |
| 20,21 & 22nd July | CCC vs Saracens SC | NCC |
| | Colts CC vs Ragama CC | P. Sara Oval |
| | Army SC vs Chilaw Marians CC | CCC |
| | BRC vs NCC | MCG Katunayake |
| | | |
| 26,27 & 28 July | CCC vs NCC | P. Sara Oval |
| | Colts CC vs Chilaw Marians CC | CCC |
| | Army SC vs Ragama CC | NCC |
| | BRC vs Saracens SC | MCG Katunayake |
| | | |
| 1,2 & 3 August | CCC vs Chilaw Marians CC | P. Sara Oval |
| | Colts CC vs NCC | MCG Katunayake |
| | Army SC vs Saracens SC | NCC Grounds |
| | BRC vs Ragama CC | CCC Grounds |
Plate Fixtures
| | | |
| --- | --- | --- |
| Dates | Match | Venue |
| 17,18 & 19 July | Negombo CC vs Lankan CC | Colts Grounds |
| | SSC vs Tamil Union C & AC | Surrey Village Grounds |
| | Moors SC vs Badureliya CC | Moratuwa Stadium |
| | | |
| 24,25 & 26 July | Negombo CC vs Badureliya CC | Moratuwa Stadium |
| | SSC vs Lankan CC | Colts Grounds |
| | Moors SC vs Tamil Union C & AC | Surrey Village Grounds |
| | | |
| 31 July, 1 & 2 August | Negombo CC vs Tamil Union C & AC | Moratuwa Stadium |
| | SSC vs Badureliya CC | Colts Grounds |
| | Moors SC vs Lankan CC | Surrey Village Grounds |
| | | |