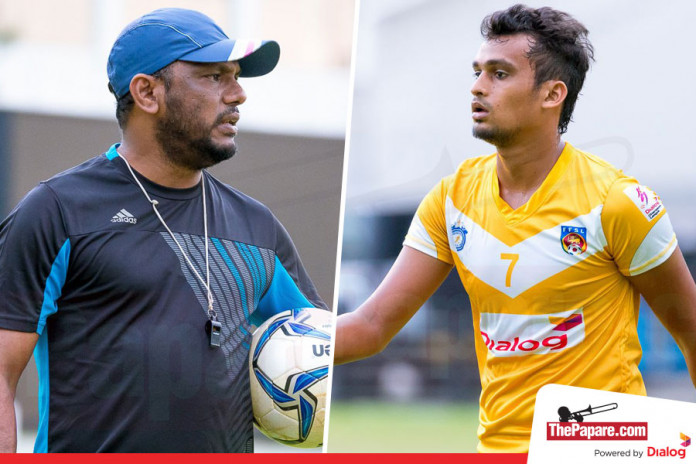 Renown SC going into the final week is in a prime position to win the Dialog Champions League, a championship which has been so close but yet so far in the past few seasons for them.
Unlike last season, Renown this time is on pole position for the final game week with 15 points.

Renown SC was unbeaten in last season's Super 8 stage but lost out on the championship by the narrowest of goal differences, a one goal difference.
Skipper Mohamed Rifnaz reflected on their journey to the 2016 Dialog Champions League finale.
"We were in good form in the group stages lost only one and won 7. We lost to Blue Star in the first game of the Super 8's and with the 3-4 month break we lost our rhythm. However we bounced back and only had the one bad game against Army but because of Army's fault we were awarded the win."
Renown SC has been awarded the win in their match against Army SC after the Competitions Committee found Army guilty of fielding an ineligible player in the 2016 DCL16..
Head Coach Mohamed Amanulla was critical about the stop start nature of the championship but was confident his boys will be raring to go against Colombo FC.
"We played well except the Army game and the big breaks did hamper our form and preparation but this week they will be ready especially against Colombo FC."
"I think my players are training really hard and they want to win. Even last year we should have won the championship but we lost due to goal difference but this year the determination is there and they will keep fighting and hope they will take the trophy this year," Amanulla added that it is time to mend last season's heartbreak.
WATCH LIVE: RENOWN SC V COLOMBO FC
Renown will be without two of their usual starters for the match against Colombo FC. Mohamed Mujeeb and Mohamed Rizkhan are both suspended after accumulating two yellow cards in the previous matches.
The final weekend of the Dialog Champions League 2016/17 sees the best 4 teams of the Super 8 stage lock horns….
"I am trying to do something different. I always try Shamil (Ahamed) in every position so maybe he'll play and even Hanifa (Mohamed) can play. We won't be having Mujeeb who was playing really well. We'll see how it goes," Amanulla mentioned about his replacement options.
"We always think about the match as just a match not about which team we are facing. We will be using different tactics like we did in the past few matches," he went onto say.
Amanulla was in high praise of his skipper who has led from the front.
"Nippu (Rifnaz) is doing really well. I am really happy with his captaincy. He is leading the team well, he has the self-confidence, discipline and he deserves to lift the trophy. Hopefully he can be the future Sri Lanka captain. If we win this trophy it will be for him and not for me."
The former Sri Lanka skipper and Head Coach did admit to having their fair share of luck leading upto the finale, which they didn't have last season, and hoped it will continue the same.
"With the grace of God I hope we'll win the match. The luck has been there with us this time and hopes it continues. The boys have been searching for this in the last five years. We came close to becoming champions in 2013 & 2015(Runners-up in 2013 & 2015)."
"We have another two practices and you'll see the results on the final day," a confident skipper Mohamed Rifnaz finally added.