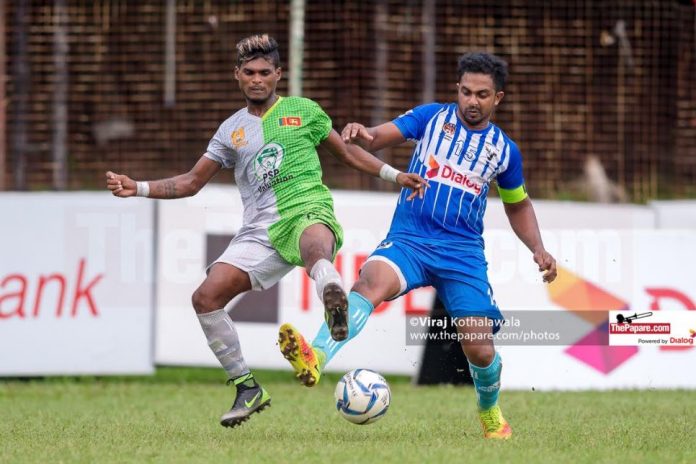 Ratnam SC and Solid SC battled out a heated 2-2 draw in their week 7 fixture of the Dialog Champions League 2018 at the CR&FC Grounds.
Ratnam got the first real chance of the game when their forward broke through the Solid defense, but his effort saw Solid goalkeeper Ferando Anujan get a touch to it, allowing the defender to clear it to safety.
Ratnam were then awarded a free-kick in a very dangerous area, skipper Sachmitha Maduranga stepped up and struck it well, but the ball flew just wide of the post.
Ratnam dominated possession and it paid off when finally in the 30th minute, Dilhara Jayasekara struck a cross into the opposition box and following a deflection by Lobognon Dider, Mohamed Akil headed it into the back of the net to open the scoring.
Solid got a great opening to equalize when a cross into the box led to a goal-mouth scramble, but both efforts by Solid were blocked off the line before the ball was cleared.
Half Time: Ratnam SC 1 – 0 Solid SC
Early into the second half Edison Figarado pulled Solid back on level terms after some poor defensive work by Ratnam led to a scramble in the 15-yard box before he struck it into the back of the net.
Ratnam retook the lead in the 59th minute after the initial effort saw Anujan taken out of the equation, with the ball headed towards an open goal with the defense rushing back, Didier got there first and helped it in.
Ratnam squandered another chance to double their lead after a through ball set off #22 on goal. His effort had keeper well beaten, but lack of power on his strike allowed #7 to get back and clear it off the line.
Solid equalized in the 75th minute under controversial circumstances after a Ratnam player stayed down after a crunching coming together, but referee waved play on and Solid obliged without putting the ball out of play. This led to a cross into the Ratnam box which was headed into the back of the net by S. Gnanaruban.
The goal led to tensions boiling over as the Ratnam coaches were furious with the referees' decision to continue with their man down, which resulted in a heated confrontation after they had been showing dissent to the referees throughout the match after some questionable decisions had been made.
The controversy only continued however as minutes later Solid had a golden opportunity to pull ahead when a cross into the box found Winson Geethan, who somehow scuffed it wide. This brought the Ratnam bench to their feet yet again against the linesman convinced that Geethan was offside.
Solid got the final chance in the form of a free-kick from range which was struck brilliantly by Figarado, but came crashing back off the crossbar.
Full Time: Ratnam SC 2 – 2 Solid SC
ThePapare.com spoke exclusively with the Head Coaches from both teams about the heated game with the Solid SC's Mr. Thushara Silva stating, "We are happy to leave as the away team with a draw. The referees give the decision they see in a moment, we have to respect the referees. They come and officiate our matches, without them we won't be able to play matches and tournaments like this. We need to protect and respect them."
Ratnam SC's Mr. Fazul Rahman said, "The reason we could not win today was the referees. When we were leading 2-1 there was a blatant handball inside the box which should have been an obvious penalty to us. Referees need to be fast and active to keep up with the pace of the game."
Goal Scorers

Ratnam SC – Mohamed Akil 30', Lobognon Kalou Dider 59'
Solid SC – Edison Figarado 49', S. Gnanaruban 75'

Bookings
Yellow Cards

Ratnam SC – Bandoguigna Abdel 70'
Solid SC – A.E. Inncent 22', A. Dilukshan 63', B.D.T.L. Jayasinghe 77'
>>For more Dialog Champions League News Click Here<<