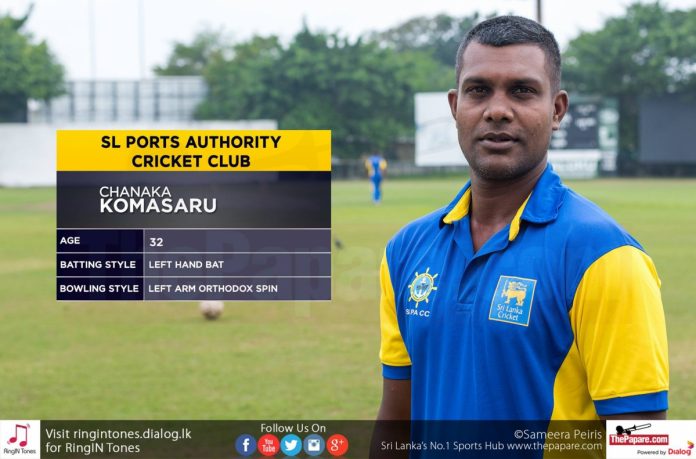 Due to the performances from both sides, the lone game that concluded its scheduled fixture today between Kurunegala Youth CC & Sri Lanka Ports Authority CC ended in a tame draw.
Six group stage matches for Tier A of SLC Major League tournament…….
Kurunegala Youth Cricket Club vs Sri Lanka Ports Authority Cricket Club
Kurunegala Youth CC ended their first innings for 235 runs after Keshan Wanniyarachchi (97) and Randeer Ranasinghe (82) ensured that KYCC posted a par score to stay in the game. Chanaka Komasaru and Rajeeva Weerasinghe inconvenienced the KYCC batsmen as they ran through their line up, sharing nine wickets among them in the first innings. Komasaru ended the first innings with figures of 5 for 72 while Weerasinghe picked 4 for 57. In reply, Sri Lanka Ports Authority CC made a comfortable score of 331 runs for their first innings handing a lead of 96 runs for the Kurunegala batsmen. Overseas player Hasnain Bokhari, played a stunning century as he anchored SLPA CC first innings.  Left-arm spinner Navin Kavikara picked a five for KYCC. With lot more intent and care to their batting, Kurunegala Youth CC declared their second-innings when they 309 runs for the loss of 9 wickets. Opener Malinga Maligaspe (89) and skipper Lahiru Jayaratne (55) made fifties while Komasaru shined with the ball claiming 6 wickets in the second innings to end with a match bag of 11 for 172. Chasing a target of 214 runs, SLPA CC were 55 for 1 when the umpires called it a day and declare the match drawn.
Galle Cricket Club & Navy Sports Club recorded innings wins……
Kurunegala Youth Cricket Club 235 (74.4) Keshan Wanniarachchi 97, Randeera Ranasinghe 82, Sameera Sadamal 21, Chanaka Komasaru 5/72, Rajeewa Weerasinghe 4/57 & 309/9 d (80) Malinga Maligaspe 89, Lahiru Jayaratne 55*, Randeera Ranasinghe 37, Vinod Perera 29, Zain 

Abbas 22, S Tyron 22*, Naveen Kavikara 20 , Chanaka Komasaru 6/100, Hasnain Bokhari 2/95

Sri Lanka Ports Authority CC 331 (93.1) Hasnain Bokhari 121, Ishan Rangana 35, Adeesha Nanayakkara 33, Ramesh Nimantha 31, Saeed Bin Nasir 26, Navin Kavikara 5/102, Shiwakumar Tyron 3/98 & 55/1 (18) Ramesh Nimantha 24, Yohan De Silva 21*

MATCH DRAWN
---
Nugegoda Sports & Welfare Club vs Bloomfield Cricket and Athletic Club
In an ongoing fixture, Nugegoda SWC made 294 for their first inning owing to a fifty from Denuwan Rajakaruna and valuable 40s from Pramud Hettiwatte (48), Dilanka Wickramasinghe (45), Sehan Weerasinghe (44) and Irosh Samarasooriya(40). Yet, the star of the innings was the left-arm spinner Gayan Sirisoma who bagged 7 wickets in the first innings. Bloomfield CAC scored 327 runs for their first inning as Dilhan Cooray (96), Harsha Vithana (72) and Mishen Silva (51*) made fifties. Pasindu Madushan (5/74) and Matheesha Perera (4/91) were brilliant with the ball as the pair claimed 9 wickets among them in the first innings. Nugegoda SWC were 45/2 at Stumps – Day 2.
Six group stage matches of Tier A of the SLC Major League tournament……..
Nugegoda Sports & Welfare Club 294 (80.2) Denuwan Rajakaruna 51, Pramud Hettiwatte 48, Dilanka Wickramasinghe 45, Sehan Weerasinghe 44, Irosh Samarasooriya 40, Gayan Sirisoma 7/97 & 45/2 (22) Irosh Samarasooriya 35*, Gayan Sirisoma 2/12

Bloomfield Cricket and Athletic Club 327 (78.1) Dilhan Cooray 96, Harsha Vithana 72, Mishen Silva 51*, Chamara Silva 35, Pasindu Madushan 5/74, Matheesha Perera 4/91

STUMPS – DAY 2