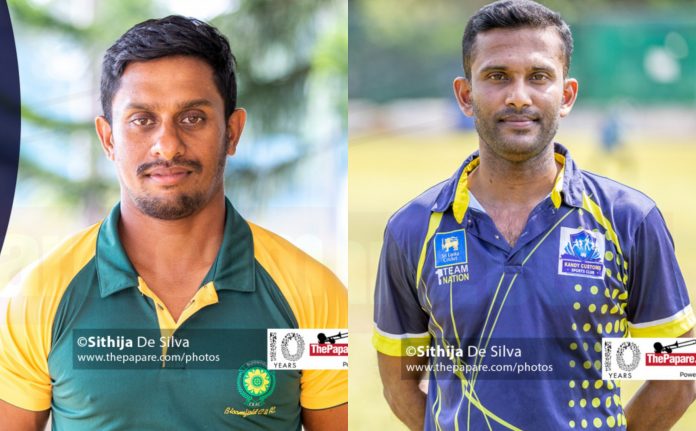 Only one match yielded results as all the others ended as drawn encounters at the end of the first weekend. Batsmen making notable performances with a total of 34 fifty-plus scores recorded in all the matches, while, bowlers had very little to boast about. 
>>Nasir completes ton on a busy day at work for the batters<<
In the high scoring encounter against Sri Lanka Ports Authority, Bloomfield managed to stay relevant in the contest by scoring 446 runs in reply to the 496 runs posted by Sri Lanka Ports Authority for their first inning. All thanks to Harsha Vithana, who played a pivotal knock to stay unbeaten on 176 runs after facing 314 deliveries which, included 23 fours and 3 sixers. Madhushan Ravichandrakumar (63) and Chamod Piumal (43) made vital contributions down the order by stitching useful partnerships with Vithanage. The bowlers didn't have much to brag about during this game except for the two seasoned veterans Gayan Sirisoma and Chanaka Komasaru who have made picking wickets a habit. They walked away with figures of 5/156 and 5/127 respectively while the game ended in a draw with SLPA on 70 for no loss in their second innings.
Panadura Sports Club managed to make a comfortable score of 359 runs for their second innings on the back of a brisk century by Umesh Karunarathne, giving Kandy Customs Sports Club a steep target 345 runs to get within a day. Kandy Customs chase led by Chanaka Wijesinghe who top-scored with an unbeaten 107 runs were able to make only 287 runs for the loss of 6 wickets by the end of the day. Sasitha Manuranga chipped in with a useful 65 runs for the Kandy Customs while Sachithra Perera remained unbeaten on 42 runs, after sharing a 105-run partnership with Wijesinghe. Umesh Karunarathne showcased his all-round brilliance by picking up 3 wickets for 46 runs while the match came to a close as a drawn encounter.
In another drawn fixture, Galle Cricket Club posted 314 runs for the first innings, started their second innings with a lead of 79 runs after limiting the Sebestianites Cricket & Athletic Club's first inning for 235. Mansoor Amjad was very consistent as he scored a well-made 88 runs before Galle decided to declare the second inning at 197/9. Chasing down a target of 276 runs within a single session proved to be too much of a task for the Sebestianite batsmen as the match ended in a draw when they were 50 for 3 in their second innings. 
>>Nugegoda SWC bounce back with a second inning heroic to register 1st win of the tourney<<
Kurunegala Youth Cricket Club was taking on the Airforce Sports Club at Katunayake added a total of 106 runs to their overnight score before, they were bowled out for 441 runs in their first inning. Zain Abbas was the top scorer of the innings with 120 runs to his name while Malinga Maligaspe (98) and Vinod Perera (88) scored fifty-plus scores for Kurunegala YCC. The Airmen started their second innings 124 runs behind managed to salvage a draw by piling up 282 runs for their second innings thanks to the excellent batting performances from Udayawansha Parakrama who top-scored with an unbeaten 111 runs and Ravindu Semukuttige who made a useful 62 runs. Kurunegala YCC bowlers Navin Kavikara picked up 4 wickets for 126 runs while Ishan Jayaratne picked 3 for 40.
A combined total of 1091 runs and almost 218 overs were still not enough to produce a result at Welisara as the Police Sports Club took on the Navy Sports Club. Police SC made 357 for their first inning bowled out the Navy SC for just 290 runs in their first inning. Policemen started their second inning with a lead of 67 runs posted 294 runs for their second inning setting a target of 361 runs for the Navy SC to chase down. Asel Sigera (64), Gitansh Khera (60) and Supun Madhusanka (54*) all scored in their fifties, while Dilanka Auwardt picked up 5 wickets for 110 runs making it a match bag of 13 wickets for him. Policemen were unable to rattle the Navy in their second innings who were chasing a difficult target of 361 runs while Supun Leelarathne's unbeaten 55 runs propelled the Navy inning to 150 for 4 when the umpires called it a day and declared the match drawn.
>>Triple for Ramesh Mendis; Double for Lahiru Udara<<
The only fixture which produced a result was the encounter between Nugegoda Sports & Welfare Club and Kalutara Town Club in which Nugegoda SC managed to secure a win coming from the back when they were bowled out for just 56 runs in the first innings. Bundling the Kalutara TC first innings for a below-par 160, Nugegoda SWC were able to make a remarkable come back when they scored 307 runs for their second innings owing to the good performances with the bat from Pramud Hettiwatte (84) and Asantha Basnayaka(52). In reply, the Lads from Kalutara were all out for just 84 runs when they were set out to chase down a target of 203 runs. Pasindu Madhushan and Matheesha Perera shared 6 wickets among the duo, while Nugegoda SWC went home with a 119-run victory.
Brief Scores
Nugegoda Sports & Welfare Club 56 (23)

Matheesha Perera 12, Mohomed Rashad 4/19, Najindra Punchihewa 3/23, Eranga Rathnayake 2/00

& 307 (93.4)

Pramud Hettiwatte 84, Asantha Basnayaka 52, Irosh Matheesha Perera 38, Samarasooriya 29, Pasindu Madushan 29, Jahangir Mirza 28, Ishan Abeysekara 6/107, Eranga Rathnayaka 2/51, Hasitha Nirmal 2/58

Vs

Kalutara Town Club 160 (35.2)

Eranga Rathnayake 39, Sachin Dalpadadu 23, Bhasith Ali 5/41, Matheesha Perera 3/60

& 84 (28.5) 

Mohamed Rashan 23, Pasindu Madushan 3/17, Matheesha Perera 3/21, Bait Ali 2/25

NUGEGODA SWC WON BY 119 RUNS
Air Force Sports Club 317 (88.3) 

Suminda Lakshan 99, Madawa Nimesh 87, Ravindu Sembukuttige 67, Risira Weerasuriya 32, Sameera Sadamal 2/08 Vinodh Perera 2/28, Lahiru Jayaratne 2/48, Shiwakumar Tyron 2/72 

& 282/9 (64) 

Udayawansha Parakrama 111*, Ravindu Sembukuttige 62, Lakvin Weerasuriya 47, Suminda Lakshan 24, Nilushan Nonis 22, Navin Kavikara 4/123 Ishan Jayarathna 3/40, Sameera Sandamal 2/60,

Vs

Kurunegala Youth Cricket Club 441 (115.1) 

Zain Abbas 120, Malinga Maligaspe 98,vinodh Perera 88, Dilshan Kollure 39, Navin Kavikara 33, Sameera Sandamal 23, Ravindu Sembukuttige 3/78, Aravinda Premarathna 3/84, Pramodh Kumara 2/26

MATCH DRAWN
Sri Lanka Ports Authority CC 496 (121.5)

Saeed Bin Nasir 121, Yohan De Silva 99, Ramesh Nimantha 72, Hasnain Bokhari 57, Adeesha Nanayakkara 52, Gayan Sirisoma 5/156, Thilan Thushara 2/69 

& 70/0 (17) 

Ramesh Nimantha 51*

Vs

Bloomfield Cricket and Athletic Club 446 (126.5)

Harsha Vithana 176*, Madushan Ravichandrakumar 63, Chamod Piyumal 43, Thilan Thushara 28, Dilhan Cooray 24, Chamara Silva 25, Sameen Kandanarachchi 22, Chanaka Komasaru 5/127, Chaminda Bandara 2/83, Hasnain Bokhari 2/123

MATCH DRAWN
Photos: Bloomfield C & AC vs SLPA CC | SLC Major League Tier 'B' tournament 2019/20
Panadura Sports Club 177 (50) 

Harsha Coorey 43, Vishwa Chathuranga 42, Umesh Karunarathne 28*, Minhnaj Jalil 27, Chirag Khurana 4/57, Sachira Perera 4/120, Umega Chaturanga 4/124 

& 359 (74) 

Umesh Karunarathne 114, Raju Gayashan 61, Minhaj Jalil 45, Nipun Lakshan 43, Vishwa Chaturanga 36, Harsha Cooray 28, Sachithra Perera 4/107, Umegs Chaturanga 4/109

Vs

Kandy Customs Sports Club 191 (54.2) 

Chanaka Wijesinghe 46, Sasitha Manuranga 27, Hasitha Madushan 27, Sachithra Perera 24*, Azhar Attari 4/51, Chalana De Silva 4/62, Umesh Karunarathne 2/39 

& 287/6 (86) 

Chanaka Wijesinghe 107*, Sasitha Manuranga 65, Sachithra Perera 42*, Chirag Khurana 23,umesh Karunarathne 3/46, Chalana De Silva 2/93

MATCH DRAWN
Police Sports Club 357 (83.2) 

Dulash Mihiran 81*, Lakshan Rodrigo 69, Nisar Ahmad 57*, Supun Madushanka 57, Maduranga Zoysa 36, Dilanka Auwardt 7/133 

& 294 (67.5) 

Asel Sigera 64, Gitansh Khera 60, Supun Madushanka 54*, Dulash Udayanga 35,sujan Mayura 27, Dilanka Auwardt 5/110, Sathik Nimalsha 2/39

Vs

Navy Sports Club 290 (74.4)

Tharusha Fernando 78*, Shavindu Dissanayake 42, W Mayantha 37, Nilanka Sandaakan 37, Sathik Nimalsha 22, Shalith Fernando 21, Dilanka Auwardt 20, Lahiru Diyantha 4/92, Nisar Ahmed 2/46, Asel Sigera 3/48 

& 150/4 (41) 

Supun Leelarathne 55*, W Mayantha 29, Shalith Fernando 26*, Tharushan Iddamalgoda 20, Nisar Ahmad 2/28

MATCH DRAWN
Galle Cricket Club 314 (106.2)

Mansur Amjad 80, Jacob Sachin 70, Kavindu Ediriweera 54, Nimesh Perera 31, Charith Rajapaksha 26*, Saman Kumara 5/82, Ranesh Perera 3/51

& 197/9 d (57.5) 

Mansoor Amjad 88, Nimesh Perera (Jnr.) 30, Saman Kumara 3/34, Kumar Boresa 2/36

Vs

Sebastianites Cricket and Athletic Club 235 (80.2) 

Thilanka De Silva 86, Sachin Fernando 39, Ranesh Perera 35, Kumar Boresa 25, Ravishka Wijesiri 3/36, Abid Hasan 4/54 

& 50/3 (19) 

Saranga Rajaguru 2/32

MATCH DRAWN