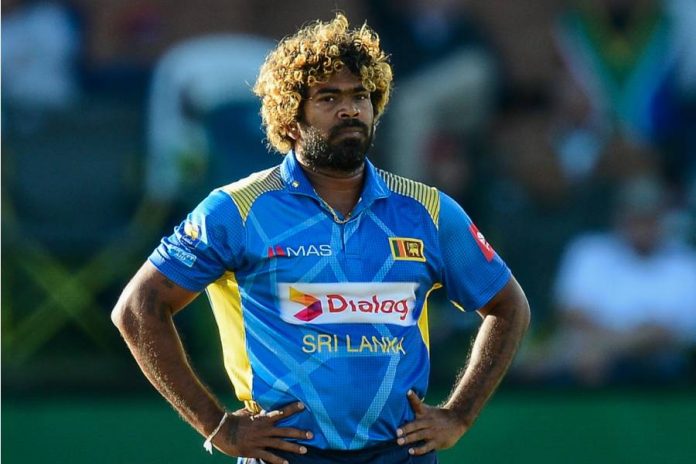 An Isuru Udana special gave Sri Lanka a glimmer of hope in the 4th ODI, but it was short-lived as Sri Lanka succumbed to another ODI defeat against an all-round South African unit.

Sri Lanka had lost their 6th consecutive ODI as they went down to South Africa…
Sri Lanka skipper Lasith Malinga lost the toss as the visitors who have been well below par in the first three games, were asked to bat first in the 4th ODI at Port Elizabeth in a day-night encounter.
A few changes were made to the visitors' team after another series loss for Sri Lanka, sealed when they went down by 71 runs(D/L) to South Africa in the rain-affected 3rd ODI a couple of days back.
Priyamal Perera who made over 1000 runs in the recently concluded Sri Lanka Cricket (SLC) Major League Tier A tournament, was handed a debut, while the biggest news out of the Sri Lanka camp was the axing of their vice-captain and wicket keeper batsman Niroshan Dickwella.
Kusal Perera misses out with an injury along with Akila Dananjaya who was ineffective during the first three games, as Upul Tharanga returns to the top of the order while Dhananjaya de Silva was also added to the playing XI.
With the series already in the bag, South Africa made multiple changes as Aiden Markram returned to the top of the order while JP Duminy made a comeback after recovering from a lengthy injury. Reeza Hendricks held his position after Hashim Amla opted out of the rest of the series due to personal reasons, while fast bowlers Dale Steyn and Nortje also returned to the line up.
Sri Lanka got off to another horror start as the returning Tharanga fell to Steyn once again, before Oshada Fernando edged off Lungi Ngidi as Sri Lanka we're reduced to 19/2.
Photo Album – Sri Lanka vs South Africa – 4th ODI
The Moratuwa boys Avishka Fernando and Kusal Mendis looked promising for a while before the former fell against the pace of Nortje as the partnership was cut short on 32. Debutant Priyamal Perera got a golden duck when he was strangled down the leg side off the following delivery as Nortje was on a hat-trick.
Kamindu Mendis seemed to steady the ship once again along with his senior partner Kusal Mendis, but the duo fell in quick succession as the South African pacemen were all over the Sri Lankans like a rash with the visitors stumbling at 71/6.
Sri Lanka were soon down and out at 131/9 when last man Kasun Rajitha contributed 00* runs in a last wicket stand of 58 runs, as Isuru Udana took matters into his own hands smashing 78 off 57 balls inclusive of 4 massive sixes.
Udana hit a few lusty blows taking Nortje for 19 runs in an over, as Sri Lanka eventually crawled up to a respectable 189 all-out.
Nortje was the chief wrecker for the hosts capturing 3 wickets while all the other South African bowlers made vital contributions.
The South Africans were hardly troubled during their run chase as they got there in the 33rd over with six wickets to spare.
Dhananjaya de Silva who surprised many as he opened the bowling for Sri Lanka picked up the scalp of Reeza Hendricks early, but Quinton de Kock who has been in the form of his life raced to another half century.
De Silva seemed to be the only bowler who was troubling the South African batsmen as he kept chipping away, but the South African middle order were well in control of the run chase.
Skipper Faf du Plessis made a fluent 43, while the returning JP Duminy made an unbeaten 31* as South Africa completed a comprehensive victory.
For Sri Lanka, De Silva returned top figures of 3/41 in his quota of 10 overs while Kasun Rajitha picked up the other wicket to fall.
// var socket=io('http://localhost:8080'); var socket=io('http://202.124.184.250:8080');
jQuery( document ).ready(function() { console.log( "ready" ); var prev_bat_team = 0;
socket.on('message',function (message) { message = JSON.parse(message); console.log(message); if( message.data.cric.commentary){ jQuery('#cmt_wrap').prepend('
'+message.data.cric.commentary.event+'
'+message.data.cric.commentary.comment+'
'); } if(message.data.cric.match){ console.log(message.data.cric.match.teams_1_inn2_r[0]); function ove(balls) { var overs = 0; if(balls %6 == 0){ overs = balls/6; }else{ overs = parseInt(balls/6)+"."+(+balls - +parseInt(balls/6)*6); } console.log(overs); return overs; }
if(!message.data.cric.match.teams_1_inn2_r[0]){
jQuery('#score_1_'+message.data.cric.match.teams_1_r[0]['id']).html(message.data.cric.match.teams_1_r[0]['score'] + " / " + message.data.cric.match.teams_1_r[0]['wkts']); jQuery('#over_1_'+message.data.cric.match.teams_1_r[0]['id']).html("("+ove(message.data.cric.match.teams_1_r[0]['balls'])+" overs)"); }else { jQuery('#score_1_'+message.data.cric.match.teams_1_r[0]['id']).html(message.data.cric.match.teams_1_r[0]['score'] + " / " + message.data.cric.match.teams_1_r[0]['wkts']+" & "+message.data.cric.match.teams_1_inn2_r[0]['score']+" / "+message.data.cric.match.teams_1_inn2_r[0]['wkts']); jQuery('#over_1_'+message.data.cric.match.teams_1_r[0]['id']).html("("+ove(message.data.cric.match.teams_1_inn2_r[0]['balls'])+" overs)"); } if(!message.data.cric.match.teams_2_inn2_r[0]){
jQuery('#score_2_'+message.data.cric.match.teams_2_r[0]['id']).html(message.data.cric.match.teams_2_r[0]['score'] + " / " + message.data.cric.match.teams_2_r[0]['wkts']); jQuery('#over_2_'+message.data.cric.match.teams_2_r[0]['id']).html("("+ove(message.data.cric.match.teams_2_r[0]['balls'])+" overs)"); }else { jQuery('#score_2_'+message.data.cric.match.teams_2_r[0]['id']).html(message.data.cric.match.teams_2_r[0]['score'] + " / " + message.data.cric.match.teams_2_r[0]['wkts']+" & "+message.data.cric.match.teams_2_inn2_r[0]['score']+" / "+message.data.cric.match.teams_2_inn2_r[0]['wkts']); jQuery('#over_2_'+message.data.cric.match.teams_2_r[0]['id']).html("("+ove(message.data.cric.match.teams_2_inn2_r[0]['balls'])+" overs)"); }
if(message.data.cric.match.teams_1_r[0]['extras']!=null){ jQuery('#extras_1_r_'+message.data.cric.match.teams_1_r[0]['id']).html("("+ove(message.data.cric.match.teams_1_r[0]['extras'])); } if(message.data.cric.match.teams_2_r[0]['extras']!=null){ jQuery('#extras_2_r_'+message.data.cric.match.teams_1_r[0]['id']).html("("+ove(message.data.cric.match.teams_2_r[0]['extras'])); } if(message.data.cric.match.teams_1_inn2_r[0]['extras']!=null){ jQuery('#extras_1_r_2_'+message.data.cric.match.teams_1_inn2_r[0]['id']).html("("+ove(message.data.cric.match.teams_1_inn2_r[0]['extras'])); } if(message.data.cric.match.teams_2_inn2_r[0]['extras']!=null){ jQuery('#extras_1_r_2_'+message.data.cric.match.teams_2_inn2_r[0]['id']).html("("+ove(message.data.cric.match.teams_2_inn2_r[0]['extras'])); }
//extras_1_r_2_ // if(prev_bat_team != message.data.cric.team_id){ jQuery('#widget_wrapper').load(document.URL + ' #widget_wrapper'); // } // prev_bat_team = message.data.cric.team_id // }
}); });
SA won by 6 wickets
Sri Lanka's Innings
Batting
R
B
Avishka Fernando
c JP Duminy b A Nortje
29
27
Upul Tharanga
c T Shamsi b D Steyn
4
6
Oshada Fernando
c R Hendricks b L Ngidi
0
4
Kusal Mendis
c A Nortje b A Phehlukwayo
21
42
Priyamal Perera
c de Kock b A Nortje
0
1
Kamindu Mendis
c de Kock b A Nortje
9
25
Dhananjaya de Silva
c A Nortje b JP Duminy
22
46
Thisara Perera
c & b T Shamsi
12
17
Isuru Udana
c du Plessis b A Phehlukwayo
78
57
Lasith Malinga
(runout) R Hendricks
0
2
Kasun Rajitha
not out
0
9
Total
189/10 (39.2 overs)
Fall of Wickets:
1-13 (U Tharanga, 2.1 ov), 2-19 (O Fernando, 3.4 ov), 3-51 (A Fernando, 10.3 ov), 4-51 (P Perera, 10.4 ov), 5-69 (Kamindu, 16.6 ov), 6-71 (K Mendis, 17.4 ov), 7-97 (T Perera, 24.6 ov), 8-123 (De Silva, 31.4 ov), 9-131 (L Malinga, 33.4 ov), 10-189 (I Udana, 39.2 ov)
| Bowling | O | M | R | W | E |
| --- | --- | --- | --- | --- | --- |
| Dale Steyn | 7 | 0 | 32 | 1 | 4.57 |
| Lungi Ngidi | 5 | 1 | 22 | 1 | 4.40 |
| Anrich Nortje | 8 | 0 | 57 | 3 | 7.13 |
| Andile Phehlukwayo | 5.2 | 0 | 21 | 2 | 4.04 |
| Tabraiz Shamsi | 10 | 0 | 34 | 1 | 3.40 |
| JP Duminy | 4 | 0 | 21 | 1 | 5.25 |
South Africa's Innings
Batting
R
B
Quinton de Kock
c U Tharanga b D De Silva
51
57
Reeza Hendricks
c T Perera b D De Silva
8
16
Aiden Markram
c D De Silva b K Rajitha
29
32
Faf du Plessis
c P Perera b D De Silva
43
38
David Miller
not out
25
33
JP Duminy
not out
31
21
Fall of Wickets:
1-21 (R Hendricks, 4.6 ov), 2-77 (A Markram, 15.2 ov), 3-110 (de Kock, 20.4 ov), 4-144 (du Plessis, 26.1 ov)
| Bowling | O | M | R | W | E |
| --- | --- | --- | --- | --- | --- |
| Dhananjaya de Silva | 10 | 1 | 41 | 3 | 4.10 |
| Lasith Malinga | 7 | 0 | 38 | 0 | 5.43 |
| Isuru Udana | 2 | 0 | 15 | 0 | 7.50 |
| Kasun Rajitha | 5 | 0 | 32 | 1 | 6.40 |
| Kamindu Mendis | 4 | 0 | 34 | 0 | 8.50 |
| Oshada Fernando | 2 | 0 | 16 | 0 | 8.00 |
| Thisara Perera | 2.5 | 0 | 13 | 0 | 5.20 |