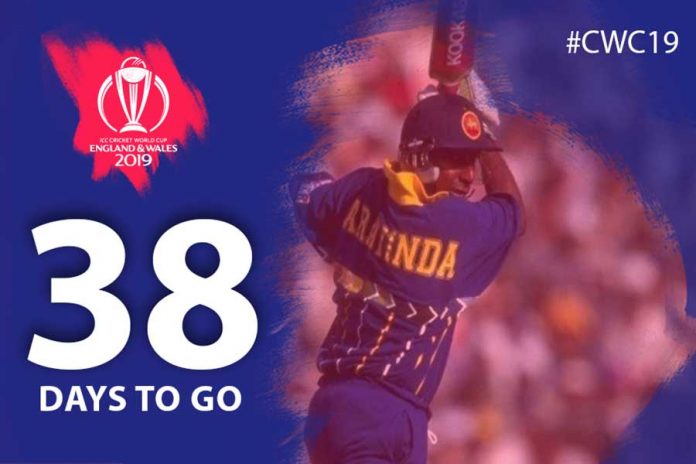 In the first five editions of Cricket World Cups, no hundreds were scored by Sri Lankans. Since then in the next six editions, 21 hundreds have been scored by eight different Sri Lankans. There are two active cricketers among them – Upul Tharanga and Lahiru Thirimanne.
The first to three figures in a World Cup match was the mercurial Aravinda de Silva. His insatiable appetite for runs saw him going onto post 145. It was the highest score by a Sri Lankan in a World Cup match for 19 years until T.M.  Dilshan broke it in the last edition with an unbeaten 161 against Bangladesh at the MCG.
A few Sri Lankans had come close to scoring a hundred in a World Cup match prior to that. Roshan Mahanama had scored 89 against Pakistan in the 1987 edition of the competition. In the same tournament, Arjuna Ranatunga was left stranded unbeaten on 86 in Kanpur against a West Indian attack that comprised of Winston Benjamin, Courtney Walsh and Patrick Patterson. Ranatunga again was unbeaten on 88 against Zimbabwe in New Plymouth as Sri Lanka chased down 313 successfully in 1992.  But a World Cup hundred had eluded the Sri Lankans. The deadlock was broken in 1996.
When Aravinda turned vegetarian before the 1996 World Cup
Prior to his Kenyan blitz, Aravinda did have a chance to score a hundred against Zimbabwe earlier in the tournament. Chasing a target of 229, he was dismissed for 91 with Sri Lanka still requiring 20 runs to win.
Two weeks later, he took the hapless Kenyans to the task, smashing 145 off just 115 deliveries with 14 fours and five sixes, sending the visitors on a leather hunt at Asgiriya. Watching the proceedings at his school ground was one 18-year-old, who would go onto score five World Cup hundreds, a record by a Sri Lankan. Kumar Sangakkara is his name.
Pick your Lions for the 2019 Cricket World Cup
All these years later, looking back at the scorecard you would imagine that Sri Lanka had cruised past Kenya. Indeed it was a cakewalk and prior to the game there was no pressure at all. But an unblemished record in the group stage mattered and there was some pressure on Arjuna Ranatunga's side.  
This was Sri Lanka's last group game in the World Cup. They were already top of the table with eight points and their closest rival Australia had no chance to catch up, having finished all their group games two days prior to Sri Lanka. They had only six points after a shock defeat to West Indies. So Sri Lanka were definitely going to top Group 'A'.
However, a week before the Sri Lankan clash, Kenya had beaten West Indies. So the Sri Lankans had to be on the guard.
The unsung hero of Sri Lanka's World Cup campaign
After Jayasuriya and Kaluwitharana added 83 runs for the first wicket, Aravinda and Gurusinha launched their assault. There was very little defending and the ball frequented the boundary as the fans were given a superb display of stroke play.
Maurice Odumbe, the Kenyan captain had brought on eight bowlers to stop the run flow but to no avail as the Sri Lankans finished with a World Record 398 for five, scoring at 7.96 runs an over. The Kenyans were in awe of the brand of cricket that the Sri Lankans were playing.
As for Aravinda, he was only warming up for greater things to come. A half-century in the semi-final and a hundred in the final saw him entering cricketing folklore.
Steve Tikolo, Kenya's premier batsman produced a less than run a ball 96 and his effort was appreciated. Local fans had little clue that this little man would go on to lead Kenya to a stunning World Cup win over Sri Lanka seven years later.
>>ICC Cricket World Cup 2019<<