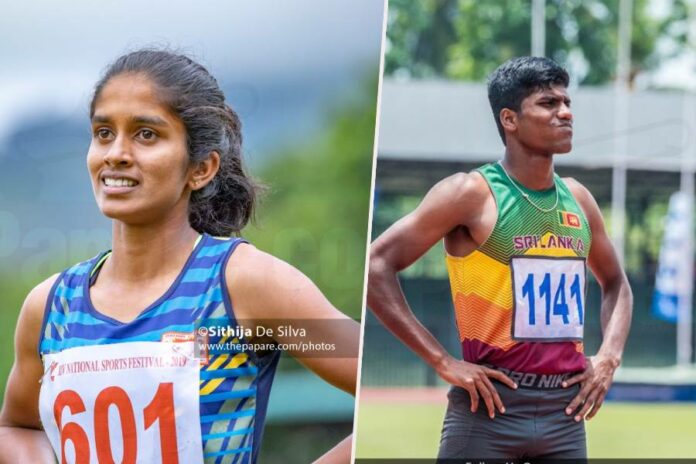 The second day of the 61st Indian Interstate Athletics Championship 2022 was held yesterday (11th) in Chennai and two Sri Lankan Athletes, Amasha de Silva and Aruna Darshana competed in the 100m and 400m finals respectively.
Read : A busy June for Sri Lanka Athletics
Sri Lanka National champion, de Silva finished in 4th place in the Women's 100m Final which was crowded with a few big names such as Dutee Chand and Hima Das. She recorded a timing of 11.76s while the gold medal was secured by Hima Das (11.43s) after a close battle with Dutee Chand (11.44s).
Amasha de Silva's timings in the competition (Women's 100m)
11.78s (0.0m/s) heats, 11.79s (1.5m/s) Semifinal, 11.76s (0.0m/s) Final
Read More : Tharushi and Hirusha crowned as the best Junior Athletes
Quarter miler Aruna Darshana couldn't show up with his best in the finals yesterday as he could only run a race of 47.01s which is far from his usual best. He was placed 5th in the finals as the Asian Championship Gold Medalist Amoj Jacob cruised to a comfortable victory with a timing of 45.68s.
Aruna Darshana's timings in the competition (Men's 400m)
46.69s (heats), 46.34s (Semifinal), 47.01s (final)
Read Also : Amasha and Aruna qualify for the finals in India
Today, the women's 4*100m relay squad will participate in the final of the event. Amasha De silva, Rumeshika Rathnayake, Shelinda Jansen, Medhani Jayamanne and Lakshika Sugandhi are the members of the sprint relay squad.
The Full squad: 4×400m men's relay team (Aruna Dharshana, Isuru Lakshan, Pabasara Niku, Dinuka Deshan & R.M. Rajakaruna), 4x400m women's relay team (Amasha De silva, Rumeshika Rathnayake, Selinda Jansen, Medhani Jayamanne & Lakshika Sugandhi), Chamal Kumarasiri (Triple Jump)
Schedule for Sri Lanka Athletes in Indian Inter-State Senior Athletics Championships 2022
June 12th – 4*100m Women (final)
13th – 200m Women (heats), 200m M (heats), 4*400m Men (heats)
14th – 200m Women (final), 200m Men (final), 4*400m Men (final), Triple Jump M (final)
(Assuming the Sri Lankan athletes will be participating in 100m Hurdles, and 200m individual events too)
>>Click Here For More Athletics News<<