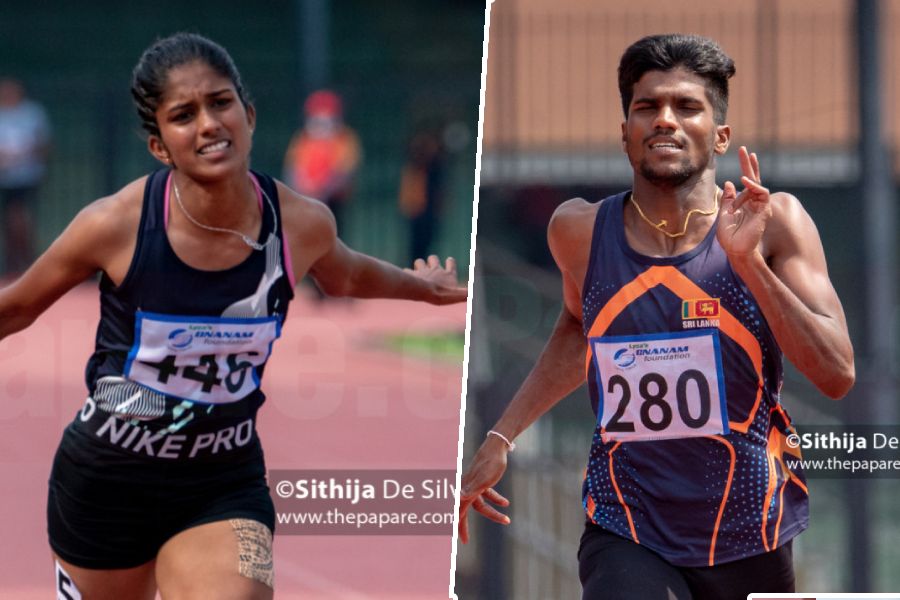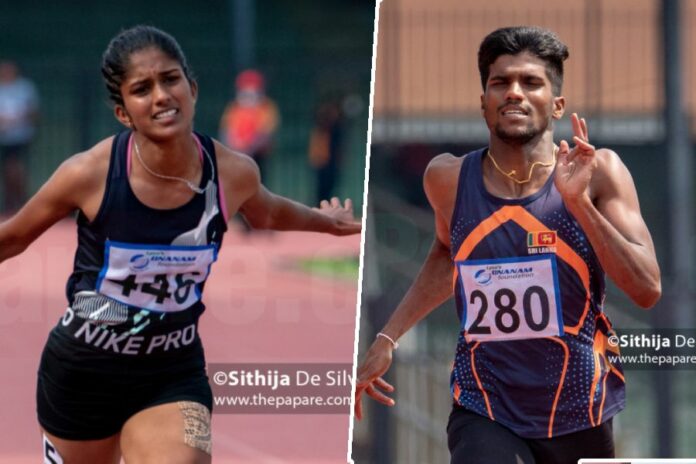 The opening day of the 61st Indian Interstate Athletics Championship 2022 was held today in Chennai and two Sri Lankan Athletes, Amasha de Silva and Aruna Darshana managed to qualify for the finals in their respective events after some impressive performances.
The National champion Amasha de Silva competed in her pet event in 100m and registered a timing of 11.78s (0.0m/s) in the heats. Indian superstar Hima Das secured first place in this heat with a timing of 11.67s and the overall best timing was recorded by Asian Games silver medalist Dutee Chand (11.40s).
Expectedly, the semifinal was much more competitive and Amasha managed to deliver another consistent performance in 11.79s (1.5m/s) to become the 3rd in the semifinals. Chand was the fastest in the semifinals too with another timing of 11.40s.
Meanwhile, the Sri Lanka quarter-miler Aruna Darshana cruised to the final of the 400m event with performances of 46.69s and 46.34s in the heats and semifinals respectively. He managed to secure the second-fastest timing in the competition overall.
The finals of both Women's 100m and Men's 400m events will be held tomorrow (11th) evening (7.15 pm & 7.45 pm respectively). Apart from those two finals, the women's 4*100m relay squad will participate in the preliminary rounds tomorrow before the finals on the 12th. Amasha De silva, Rumeshika Rathnayake, Selinda Jansen, Medhani Jayamanne & Lakshika Sugandhi are the members of the sprint relay squad.
11 Sri Lankan athletes have flown to India to participate in the 2022 Indian Interstate Athletics Championship to prepare for the upcoming Asian Games next year. This competition however, doesn't carry any placing points for the Sri Lankan athletes for World Rankings calculations.
The Full squad: 4×400m men's relay team (Aruna Dharshana, Isuru Lakshan, Pabasara Niku, Dinuka Deshan & R.M. Rajakaruna),  4x400m women's relay team (Amasha De silva, Rumeshika Rathnayake, Selinda Jansen, Medhani Jayamanne & Lakshika Sugandhi), Chamal Kumarasiri (Triple Jump)
Schedule for Sri Lanka Athletes in Indian Inter-State Senior Athletics Championships 2022
June 10th – 100m Women (heats, semi), 400m Men (heats, semi)
11th – 100m Hur. Women (heats, semi), 4*100m Women (heats), 100m Women (final), 400m Men (final)
12th – 100m Hur. Women (final), 4*100m Women (final)
13th – 200m Women (heats), 200m M (heats), 4*400m Men (heats)
14th – 200m Women (final), 200m Men (final), 4*400m Men (final), Triple Jump M (final)
(Assuming the Sri Lankan athletes will be participating in 100m Hurdles, and 200m individual events too)