A late rally by Colombo FC ensured they keep their unbeaten streak alive with a 5-2 win over Crystal Palace in the Dialog Champions League Super 8 encounter at the Sugathadasa Stadium.


After leading 1-0 at halftime the winners, saw them chasing the game 2-1 early in the second half but a tactical change, a brace from Ahamed Shazny and Bodrie Dimitri saw the reigning FA Cup Champions extended their unbeaten streak to 17 matches, which includes the FA Cup journey and final two matches last season.
Photo Album – Colombo v Crystal Palace – Dialog Champions League 2015 (Super 8)
Colombo dominated their match against Air Force while Crystal showed resistance and heart in their comeback against Navy in round one of the Super 8.
First half was pedestrian by both the teams where Bodri Dmitri together with Zarwan Johar kept probing on the goal but failed to capitalize with a goal being disallowed due to an off-side.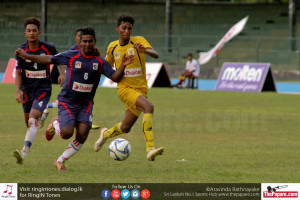 Crystal Palace showed improvement in their defense frustrating the attacking quartet of Dimitri, Zarwan, Danushka Madushanka and Niran Kanishka. Midway through the first half sensing the match needed some pace Colombo FC coach Mohamed Roomy replaced Kanishka with Ahamed Shazny and shifted the nippy Sri Lanka U9 captain Madushanka to the right.
The inspired substitution worked with Madushanka stretching the defense creating holes in defense which Shazny took advantage of. In the 44th minute, Zarwan who had one of his best outings this season, crossed the ball towards the box which found Madushanka who headed the ball back across the goal to Shazny who just had to guide the ball in.
Crystal Palace looked promising after the break and Isaac Aba found the equalized for his team in the 55th minute, a powerful shot which was deflected off the diving Mohamed Ramees over the goalkeeper Mohamed Imran's head.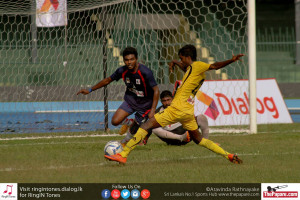 8 minutes after Aba struck again with the defense scrambling when the ball was cleared over from his own half over the Colombo defenders, where he raced forward and slotted it past the on rushing Imran.
The pressure mounted on Colombo FC and a mistake by Dasun Paranavithana gave them the equalizer. Dimitri's low ball towards the goal was only flapped away by Paranavitana on to the path of Zarwan who scored from close range.
The equalizer looked to have demoralized the visitors as Colombo FC dominated proceedings there on. Dimitri who was switched to the right penetrated the defense at will. Dimitri scored his first goal in the 72nd minute, Shazny passing the ball through for Dmitri to run which got a slight deflection off Madushanka on its way to the goal.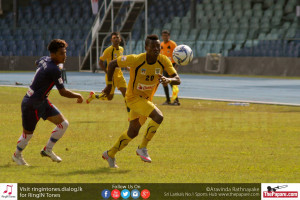 Dimitri went on to score his second goal in the 83rd minute, volleying home to the top right corner giving no chance for the keeper to cover. Shazny finished off two minutes later with his second goal in a pretty similar manner to the previous goal by Dimitri to seal an emphatic victory for Colombo FC.
ThePapare.com Man of the Match: Bodrie Dimitri
What the Coaches said,
Crystal Palace coach R.Devasakayan tells ThePapare.com: "We always play attacking football, but I don't have a strong bench to compliment that style. Also with the torrid weather conditions we didn't have much time for practices. Few of our players are also injured with not much recovery. As a coach I am pleased with the way we played against a strong side like Colombo FC and I think we played better. We have to survive through this and play better next time."
Colombo FC boss Mohamed Roomy tells ThePapare.com: "We had the confidence but even though we had possession and chances we didn't get the goals early so I introduced Shazny which worked and in the second half switching Dimitri to the right also worked. Today our two center-backs did not click which led to the two goals. Need to work on it and be aggressive."