Discus thrower Emma De Silva renewed the national record she laid claim to just last week at an invitational competition that was held in California, USA today (1st) with a throw of 49.46m.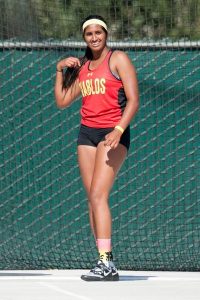 Emma who studies in the USA, laid claim to the National women's discuss record with a throw of 48.02m surpassing the previous record held by Padma Nandani Wijesundara which was established in 2006 at the South Asian Games Sri Lanka hosted.
Emma managed to better her own record twice at the invitational competition today with her 2nd and the 5th throws sailing over the national record mark measuring 48.24m and 49.46m respectively.
It is a significant improvement by the young athlete who has been progressing well in the event with impressive performances throughout last year. Emma's personal best previously was a throw of 47.95m at an athletic meet held in Lawrence, Kansas City, in May last year, where she managed to better her personal best by over 3 meters.
Read More – New Discus National record by Emma de Silva
20-year-old 5'11 athlete is a great prospect for the future as she has been progressing really well throughout the past couple of years and will be eager to cross the 50m threshold in the near future.