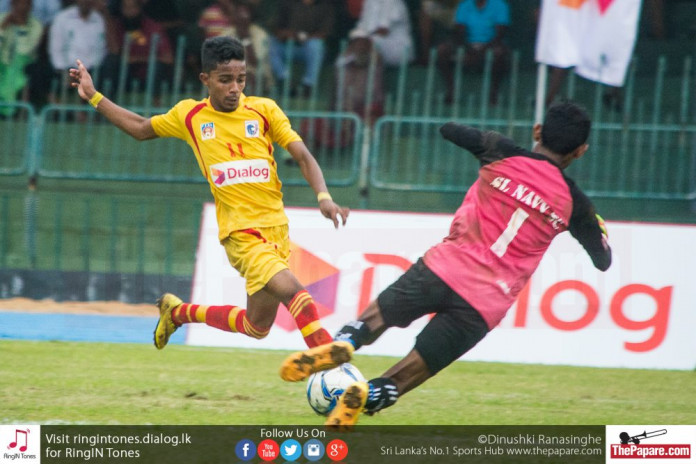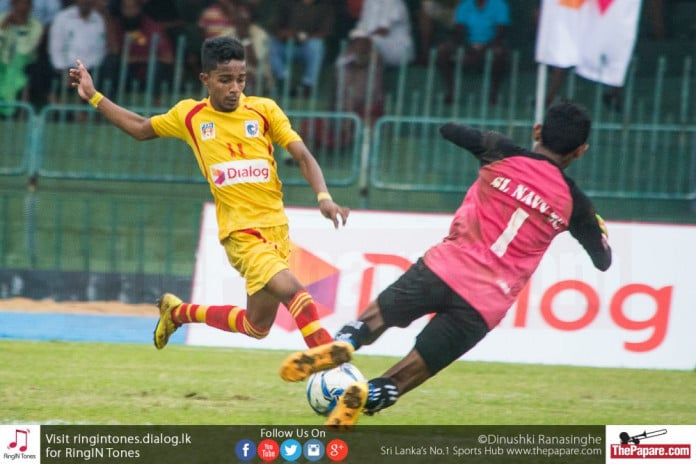 Christopher Erastus scored a twice within ten minutes as Crystal Palace came from two goals down to draw 2-2 at the Sugathadasa Stadium, after Blue Star's Sanjeewa Seemon was red carded.
With neither side having a say in the outcome of the Championship and without any pressure, the match on paper was a billed as an entertaining affair. The two sides boast two of the biggest football fan bases in Sri Lanka; Blue Star from Kalutara and Crystal Palace from Gampola, and it was evident as a good number of them had made the long journey to the Sugathadasa Stadium.
Crystal Palace coach R.Devasakayan rewarded the eleven who started the drawn match against Army without any substitutions while Blue Star had Rangana Silva back from suspension.
It was Blue Star who got on the score sheet first when Christ Abraham pierced the defense with a delightful through ball to Mohamed Farzeen, who clipped it over the on rushing Dasun Paranavithana.
Paranavithana was soon replaced by Ranga Nawarathna as the former aggravated his knee injury which was assessed as warm-up.
Minutes after Blue Star got the lead Palace got the opportunity to equalize when Erastus earned a penalty, only to see Isaac Aba firs it wide. Erastus dispossessed Shivanka in midfield and danced his way into the box and went down inside the box and was brought down by Rangana Silva from behind. Aba is now two of four from the spot in the Super 8's.
Blue Star for the most part of the first half were camped inside the opposition half but were unable to penetrate the defense who defended in numbers. When Blue Star eventually managed to get through it was E.B.Channa who missed from close range. With minutes before halftime Lahiru Tharaka cut across the goal from the left and with the Nawarathne slipping Channa had the whole goal to aim at, but only managed to kick the air.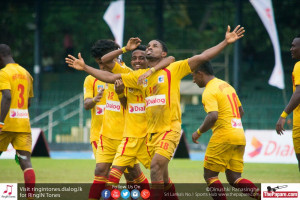 Five minutes into the second half Blue Star were reduced to 10 men when Sanjeewa Seemon was given a straight red for a high boot on Isaac Aba.
However, Blue Star a minute after the sending off got their second goal. From 40 yards out Farzeen tried his luck where the ball rattled the upright and fell kindly to Channa inside the six yard box who headed home with ease.
Crystal Palace got their first soon after Channa's goal when an unmarked Erastus headed home from an Aba corner. Palace's comeback was completed in the 63rd minute as Erastus scored his second from outside the box. It was Mohamed Rawzan who created the goal, passing the ball to Mohamed Ifam and persisting with it to provide Erastus who shot with the first touch as the ball sat up nicely.
Both sides went in search of a winner in the next twenty odd minutes but were unable to find one as they had to share a point each.
ThePapare.com Man of the Match: Mohamed Rawzan       
What they had to say:
Crystal Palace coach R.Devasakayan;
"I didn't expect them to play this good in the second half. It was a mistake by my goalkeeper which led to the second goal. Like I said before we are having a number of injuries so I'm managing them and wanted to give more exposure to the youngsters because they proved they can in that match against Army."
Blue Star Captain Fahir Ali;
"I thought it was a poor decision to give a red card but it was our mistake which led to their first goal, poor marking. The red card and having to play with ten proved to be the decisive factor in the end. Also Channa missed one of the easiest goals you can get, so you can say not our day."