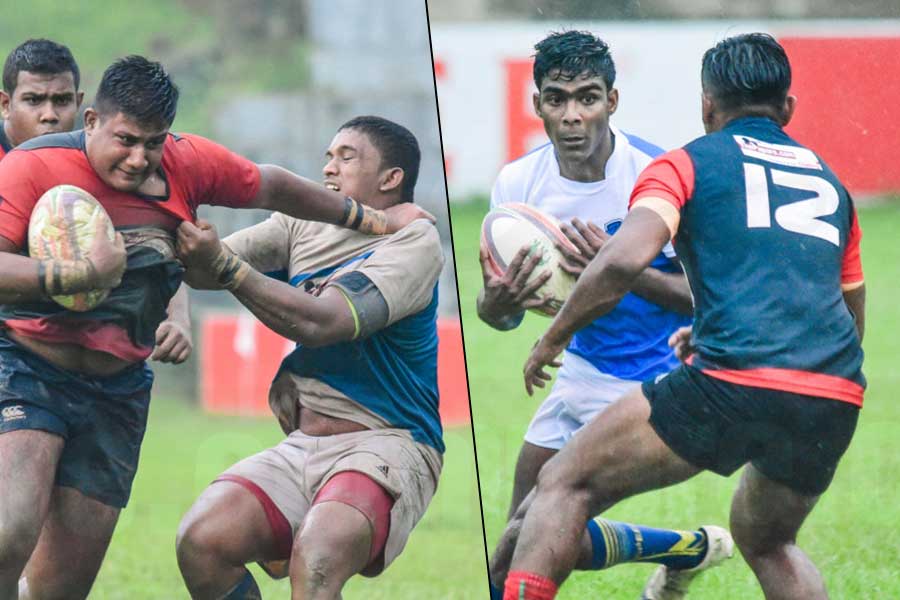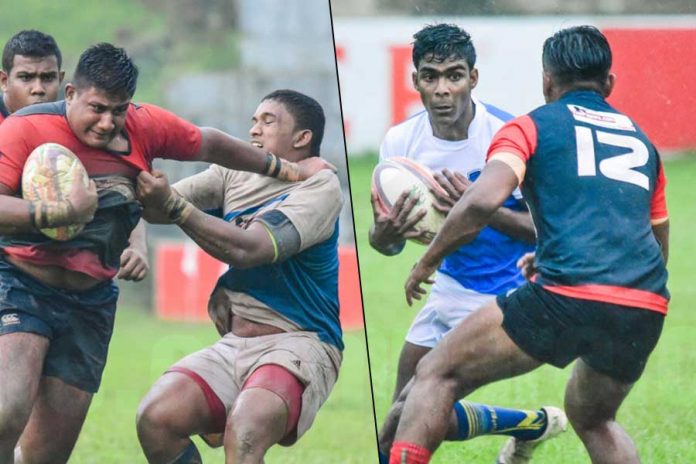 Mud and luck. Two things which are worlds apart. A missed kick at the death, a fistful of mistakes on an irrigated surface, stifled what was supposed to be an enthralling game.
It had its moments but instead, the whistle dominated. A stop start affair saw no less than twenty-five scrums and forty two handling errors. It was mud which was caused havoc and luck, that saved Colombo from almost-certain embarrassment.
ICYMI: Colombo Blues' take 1st leg after climatic finish
The Blues, who were odds on pop and overwhelming favorites, escaped by a whisker and fell in to a 14-12 win. A last grasp, missed penalty saved them from a sure-fire defeat as the Kandy Reds– rued hands like a toddler's feet and plenty of inaccurate adventure.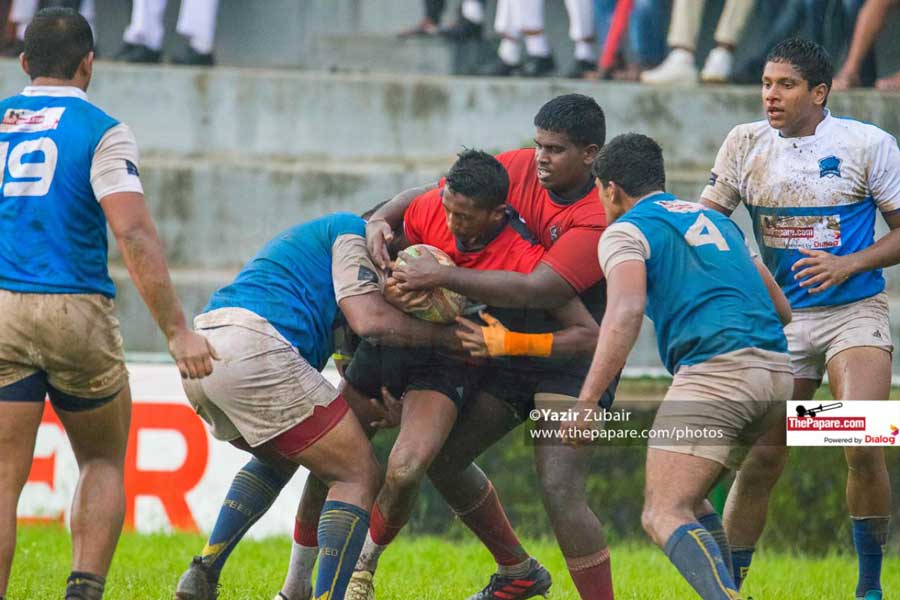 They, the Reds, were bossed at the set piece but looked lethally potent in broken play, as my preview of the tale of two cities suggested. Coach Castro, seemingly advised his troops to run riot and his counterpart, D Lewke– maul, maul and more mauling which looked lumbered at times but provided enough class for a fortuitous win.
It wasn't as slick as what we have seen Royal College do. Nonetheless, it gave the Blues enough moments of sheer domination which didn't quite eventuate on the scoreboard.
It wasn't vintage. It wasn't elegant but as more often than not, provided for a climax which never came, as the only penalty opted to be kicked went awry and signaled the end of the game. A much-relieved Colombo side groaned out a muted sigh, more so their players, knowing that this bungling performance may have hurt some chances of selection.
In a strange twist of events, Colombo coach Dushan Lewke opted to start a much lesser line up, resting his stars including a late subbing in of Janidu Dilshan with their backs to the wall. It seemed for all money that he wasn't going to play, albeit at a trial but the situation saw the season's most potent offensive player come in to the game, at a fragile defensive scrum, five meters out. It made some sense but not much else.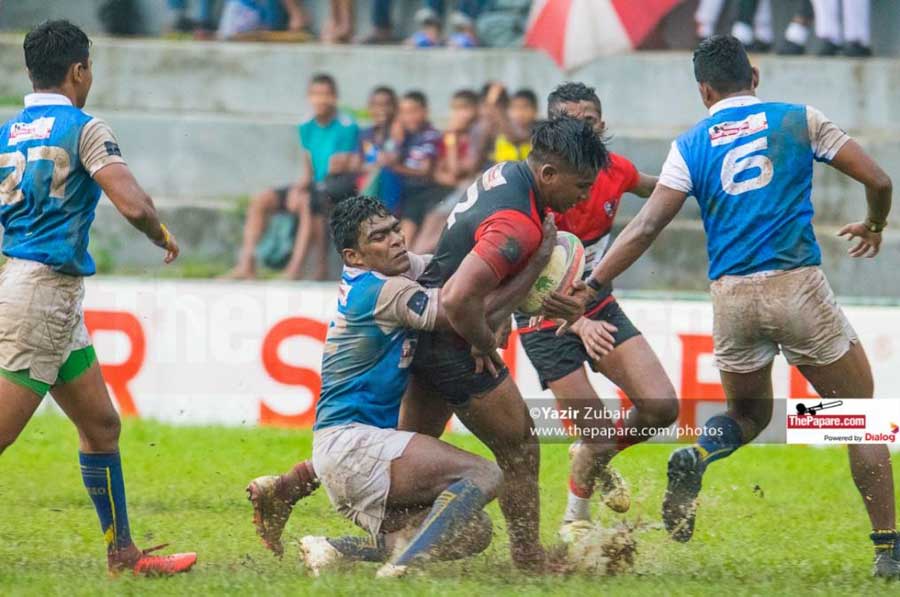 To add to the muddling misfire, the game which was originally slated for the week before at the Racecourse, got postponed due to player non-availability and lack of prep time. This meant the weather and her weekend tears made life interesting for everyone, throwing our pre- game predictions wildly out the window. Almost like in racing, you were expecting a good 3 turf but instead got a heavy 11 paddock. Wet track form took over.
So, after a four try arm wrestle decided on a bit of lady luck, what do we know and what are some of the key observations from my footnotes.
Kandy had the better "individual" performances
As this was a trial game of rugby, even though in a team sport, we need to be mindful of the individual performances of the day, as much as the end result. This game can and has been glossed up as a derby between the best of the best from Colombo and Kandy… but…. there were more key matchups on a one-one basis that mattered. That being for selection at SLU20 representation.
One such area was the outside backs. Given Colombo's non- starting fire power with speedsters GC– Gemunu Chethiya and Kavinda Keshan, it was Trinitian Vishwa Ranaraja who stole the show. Showing some blistering turn of foot and eye-catching runs on the outside, he showed up his more fancied opposition. It was a great form line given the break from when the schools season ended.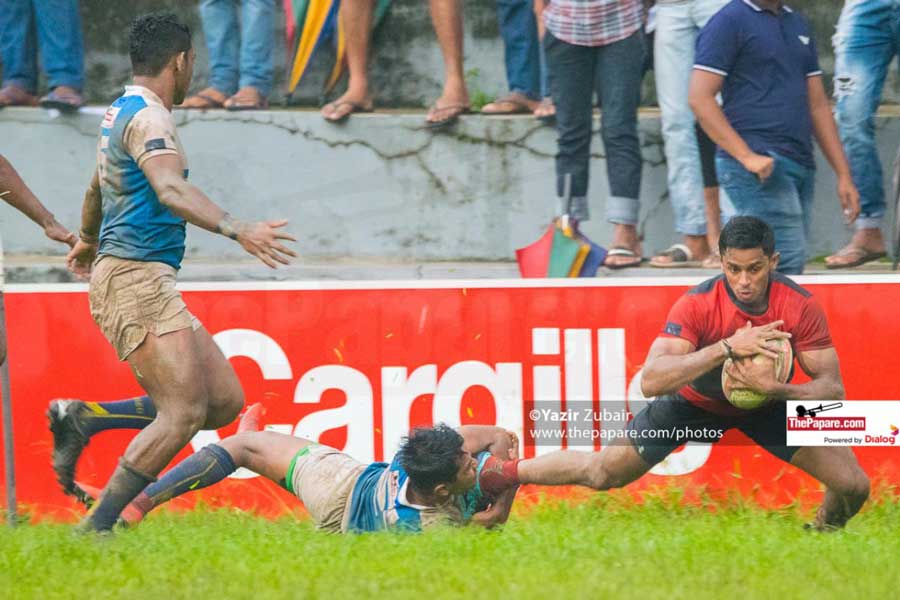 Moreover, Man of the Match Ishara Herath from Maliyadeva churned out what was an energetic performance. It told us what we wanted to know about the newly promoted team into the schools premiership, that it was no fluke. His skill level and "want" to get involved in the game was fascinating, leaving far more fancied players in the rain and on the bench. All this was backed up by his coach's tactics to run at every given time.
There are a list of players I could write up but let me just say that if any of the selectors were reading this, they need to take a very good look at some of the Kandy players. Based on the trail for selection policy, they would make a number of compelling cases for Sri Lanka U20.
For the record, Colombo won. 14-12. It mattered very little but again, it matters a whole lot. I'll tell you why, shortly in the piece.
Trial and error
Pre- kick off, Colombo were the overwhelming favorites. Given the names and game changers they had in their books. However, they chose to start with what was almost their second-best outfit within the squad. This aroused my curiosity.
Usually, it would be ideal and advisable to use your strongest lineup to start with and get ahead in a "trial" game. Then, build a comfortable lead and empty your bench. Instead, compounding matters on a very heavy surface where going was tough, Colombo went upside down and nearly ran aground.
It was a risky strategy and nearly made them look like a beached whale. Trial or no trial, this will go on the books as a full game. Given that it was a trial within a trial for both coaches, Lewke and Castro, auditioning for what would seemingly be the role of junior national head coach. A win or loss either way would have swayed one over the other. As in who is head coach and who the assistant.
So, Colombo who eventually won and made a white-collar accountant's job look like blue collar labourer on a wheelbarrow, huffed and puffed all day. Moral of the story, a trial is exactly that. Don't ever err on the side of error. Jobs, touring spots and future prospects are on the line. It comes down to decision making and execution.
Objectives and adjectives  
Sri Lanka Rugby (SLR) and its selectors used this game to pick the Junior Tuskers for December's Asiad. Given how the game panned out, the players resembled LOGS (Laying On The Ground). The ref., a traffic policeman. It wasn't neither's fault as weather dictated terms.
This meant that everyone on show didn't get a fair shot at showing their wares. Furthermore, making a mockery of this "trial". In my view, it served little to no purpose but given the already delayed situation, they had to play to make it count. Sponsors, spectators, parents and local folk hanging about were all committed.
Read more from Boa Athu
This is where some common sense and initiative should have prevailed. Taking the result out of the equation and taking equal opportunity with entertainment into consideration, rather than play out a seventy-minute game both coaches should have opted for a game of four quarters, twenty minutes each. This will allow for them to test combinations and give selectors a full run of play, moreover, on how they pair up.
For example, how Peterite Hooker Charles would pair with Royal lineout ace Adahan. How, the best halfback in the comp works with different ball carriers. Vice versa, how some of the Maliyadeva insides work with Ranaraja on the wing.
Selectors, coaches, managers and whoever should be proactive enough to figure this out and formulate their desired combinations and try them out.
So, was the objective achieved from this trial game which is SLR's selection structure/policy? I will let you be the judge.
Predictions and accuracy
Here comes the fun part. To see how the predictor went.
My suggested scoreline was Colombo to win 35-17. Well, it was they who won by the skin of a gecko's tail. 14-12.
"GC and JD – G Chetiya and J Dilshan to score at least 1 try each". It would have helped had they started and a week before at the Race Course. Instead, it was the Kandy backline who stole the show.
"Kandy openside flanker Rajanayake to make at least 3 clean steals in the ruck contest in what will possibly be a man of the match performance, albeit in a potential losing cause. He will be up against an equally talented "jackal"– C De L'ile. Tipping him to make at least a couple of steals himself". — That never eventuated, instead replaced with knock on's and scrums. Although, the part about the losing cause was right.
"Weather permitting for a fast-dry track to rack up 351+ running meters in total for 70 minutes of rugby football. This will include a combined total of at least 7.5 tries in total for the game". Weather didn't permit and we were nowhere close to those numbers.
All in all, rain played the spoiler but an important game on the local rugby calendar played itself out. It will be interesting to see what the final selections are or will there be another game scheduled?
>> For more Rugby News Click Here <<