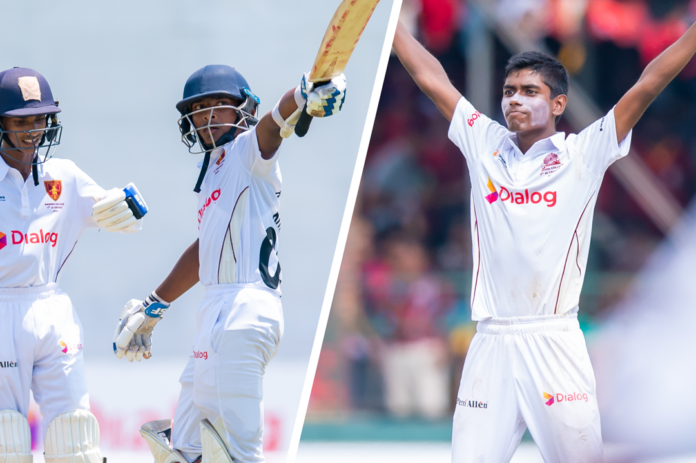 The 93rd Battle of the Maroons encounter played between Ananda College and Nalanda College ended in a draw today (05th March) at SSC Grounds, Colombo. 
Ananda College resumed their first innings on day two at 65/1 but they lost one of the overnight batters Ashinsa Nainayake for 16 runs in the morning session. 
Wickets continued to fall for Ananda after Nainayake-Livera partnership was broken. They witnessed a major batting collapse losing 5 wickets for 63 runs being restricted to 128/6. 
Read – Jayakodi, Silva half-centuries help Nalanda post solid first innings total
However, Ananda No.5 batter Kithma Sithmal stepped up on the big occasion to deliver a masterclass rescuing his side. The 14-year old Sithma stroked 90 runs off 184 balls with 10 fours as Ananda College posted a respectable score – 235 on the board for their first innings. 
Janula Indusara and Minod Caldera starred with the ball for Nalanda College sharing 3 wickets each.  
Nalanda College began their second essay with the bat 45 runs ahead and scored 121 runs for 5 wickets before declaring the innings, setting a target of 167 runs to win for Ananda College. Kaveesha Mendis had a memorable big match debut for Ananda College as he managed to pick up a match bag of 5 wickets for 95 runs. 
Ananda College were 22 runs for 2 wickets when umpires called stumps for the day.     
Watch – Eranga Jayakodi – 83 (77) vs Ananda College | 93rd Battle of the Maroons
Award Winners of 93rd Battle of the Maroons 
Player of the Match – Eranga Jayakodi (Nalanda College)

 

Best Batter – Kithma Sithmal (Ananda College)

 

Best Bowler – Kaveesh Mendis (Ananda College)

 

Best Fielder – Chanul Athukorala (Nalanda College)

 


Batsmen
R
B
4s
6s
SR
Rusiru Vilochana
c Viduna Wijebandara b Yehan Gunasinghe
32
57
5
0
56.14
Yasiru Samarakoon
lbw b Kaveesha Mendis
0
1
0
0
0.00
Sadew Samarasinghe
c Yehan Gunasinghe b Kaveesha Mendis
11
27
1
0
40.74
Kushmitha Silva
c Ashinsa Nainayake b Ayesh Sashimal
57
91
5
1
62.64
Eranga Jayakodi
c Iruth Gimshan b Ayesh Sashimal
83
77
8
3
107.79
Chanul Athukorala
not out
44
68
5
0
64.71
Senesh Wijesinghe
not out
40
51
3
2
78.43
| | |
| --- | --- |
| Extras | 13 (b 5 , lb 0 , nb 6, w 2, pen 0) |
| Total | 280/5 (61 Overs, RR: 4.59) |
| Bowling | O | M | R | W | Econ |
| --- | --- | --- | --- | --- | --- |
| Nethma Samaraweera | 9 | 3 | 35 | 0 | 3.89 |
| Kaveesha Mendis | 15 | 1 | 61 | 2 | 4.07 |
| Isuru Weerasooriya | 5 | 0 | 17 | 0 | 3.40 |
| Yehan Gunasinghe | 8 | 0 | 32 | 1 | 4.00 |
| Kithma Sithmal | 5 | 0 | 36 | 0 | 7.20 |
| Ashinsa Nainayake | 7 | 1 | 39 | 0 | 5.57 |
| Ayesh Sashimal | 12 | 1 | 53 | 2 | 4.42 |


Batsmen
R
B
4s
6s
SR
Viduna Wijebandara
c Yasiru Samarakoon b Janula Indusara
13
18
1
0
72.22
Kanchana De Livera
run out (Janula Indusara)
44
66
7
0
66.67
Ashinsa Nainayake
c Chanul Athukorala b Eranga Jayakodi
16
59
2
0
27.12
Kenul De Soyza
b Janula Indusara
3
19
0
0
15.79
Kithma Sithmal
c Senesh Wijesinghe b Janula Indusara
90
184
10
0
48.91
Iruth Gimshan
c Yasiru Samarakoon b Minod Caldera
19
30
1
2
63.33
Kaveesha Mendis
c Thisara Dewdunu b Chanul Athukorala
8
21
0
0
38.10
Ayesh Sashimal
lbw b Chanul Athukorala
19
60
3
0
31.67
Nethma Samaraweera
c Kushmitha Silva b Minod Caldera
17
49
1
0
34.69
Isuru Weerasooriya
c Thisara Dewdunu b Minod Caldera
0
14
0
0
0.00
Yehan Gunasinghe
not out
2
7
0
0
28.57
| | |
| --- | --- |
| Extras | 4 (b 2 , lb 0 , nb 1, w 1, pen 0) |
| Total | 235/10 (87.4 Overs, RR: 2.68) |
| Bowling | O | M | R | W | Econ |
| --- | --- | --- | --- | --- | --- |
| Chanul Athukorala | 15 | 7 | 29 | 2 | 1.93 |
| Thisara Dewdunu | 6 | 0 | 27 | 0 | 4.50 |
| Janula Indusara | 24 | 8 | 44 | 3 | 1.83 |
| Sajitha Vithanage | 12 | 0 | 49 | 0 | 4.08 |
| Yasiru Samarakoon | 3 | 0 | 6 | 0 | 2.00 |
| Eranga Jayakodi | 5 | 1 | 9 | 1 | 1.80 |
| Minod Caldera | 14.4 | 2 | 53 | 3 | 3.68 |
| Sadew Samarasinghe | 8 | 1 | 16 | 0 | 2.00 |


Batsmen
R
B
4s
6s
SR
Yasiru Samarakoon
run out (Yehan Gunasinghe)
29
28
3
1
103.57
Rusiru Vilochana
c Iruth Gimshan b Kaveesha Mendis
38
43
3
0
88.37
Chanul Athukorala
c Kenul De Soyza b Isuru Weerasooriya
12
25
0
0
48.00
Eranga Jayakodi
not out
21
27
2
2
77.78
Senesh Wijesinghe
b Kaveesha Mendis
0
1
0
0
0.00
Sajitha Vithanage
c Kanchana De Livera b Kaveesha Mendis
3
6
0
0
50.00
Sadew Samarasinghe
not out
12
21
1
0
57.14
| | |
| --- | --- |
| Extras | 6 (b 5 , lb 0 , nb 1, w 0, pen 0) |
| Total | 121/5 (25 Overs, RR: 4.84) |
| Bowling | O | M | R | W | Econ |
| --- | --- | --- | --- | --- | --- |
| Nethma Samaraweera | 3 | 0 | 18 | 0 | 6.00 |
| Kaveesha Mendis | 6 | 0 | 34 | 3 | 5.67 |
| Isuru Weerasooriya | 9 | 0 | 32 | 1 | 3.56 |
| Ayesh Sashimal | 2 | 0 | 18 | 0 | 9.00 |
| Yehan Gunasinghe | 3 | 0 | 10 | 0 | 3.33 |
| Ashinsa Nainayake | 2 | 0 | 5 | 0 | 2.50 |


Batsmen
R
B
4s
6s
SR
Viduna Wijebandara
c Kushmitha Silva b Minod Caldera
3
6
0
0
50.00
Kanchana De Livera
not out
13
22
0
0
59.09
Iruth Gimshan
b Minod Caldera
6
18
0
0
33.33
Ashinsa Nainayake
not out
0
8
0
0
0.00
| | |
| --- | --- |
| Extras | 0 (b 0 , lb 0 , nb 0, w 0, pen 0) |
| Total | 22/2 (9 Overs, RR: 2.44) |
| Bowling | O | M | R | W | Econ |
| --- | --- | --- | --- | --- | --- |
| Minod Caldera | 5 | 1 | 11 | 2 | 2.20 |
| Janula Indusara | 3 | 0 | 10 | 0 | 3.33 |
| Chanul Athukorala | 1 | 0 | 1 | 0 | 1.00 |