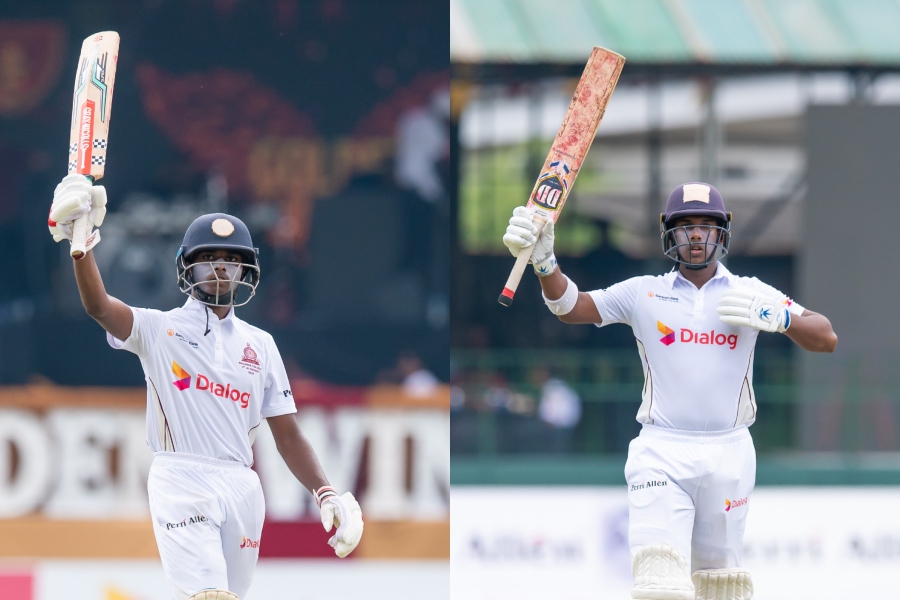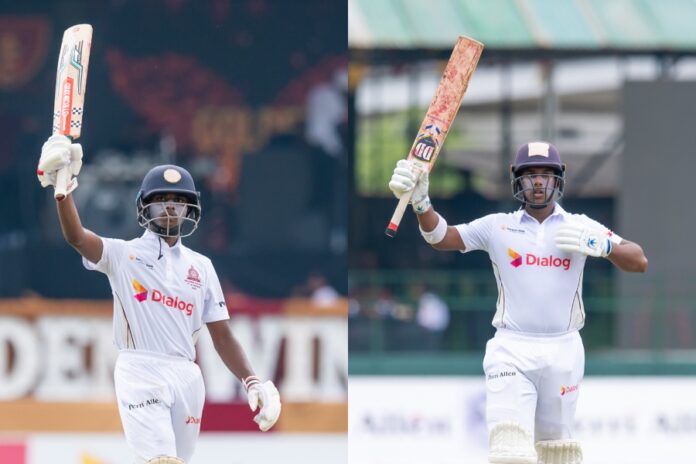 The 93rd Battle of the Maroons encounter played between Ananda College and Nalanda College commenced today (04th March), at SSC Grounds, Colombo.
Ananda College's Skipper Nethma Samaraweera won the toss and invited the opposition to take the first lease of the wicket at SSC.
Nalanda College got off to a shaky start as they lost their 3 top order wickets for just 57 runs in quick succession. However, Nalanda No. 4 batter Kushmitha Silva and No. 5 batter Eranga Jayakodi stitched together a 124-run stand for the 4th wicket, rebuilding their innings.
Jayakodi was the aggressor of the two who made 83 runs off 77 balls with 8 fours and 3 sixes, being the top scorer of the innings. Silva also contributed with a crucial knock of 57 runs off 91 balls with 5 fours and a six.
The Skipper Chanul Athukorala and Senesh Wijesinghe built another vital 74-run stand for the 6th wicket as Nalanda College went onto the Tea break at 280/5.
The play did not resume on time after the Tea break as rain intervened the proceedings at SSC Grounds. After around an hour's delay, the play resumed, with Nalanda College opting to declare their innings.
In reply, Ananda College got off to a solid start, putting on 65 runs for the loss of 1 wicket at the close of play on day 1.


Batsmen
R
B
4s
6s
SR
Rusiru Vilochana
c Viduna Wijebandara b Yehan Gunasinghe
32
57
5
0
56.14
Yasiru Samarakoon
lbw b Kaveesha Mendis
0
1
0
0
0.00
Sadew Samarasinghe
c Yehan Gunasinghe b Kaveesha Mendis
11
27
1
0
40.74
Kushmitha Silva
c Ashinsa Nainayake b Ayesh Sashimal
57
91
5
1
62.64
Eranga Jayakodi
c Iruth Gimshan b Ayesh Sashimal
83
77
8
3
107.79
Chanul Athukorala
not out
44
68
5
0
64.71
Senesh Wijesinghe
not out
40
51
3
2
78.43
| | |
| --- | --- |
| Extras | 13 (b 5 , lb 0 , nb 6, w 2, pen 0) |
| Total | 280/5 (61 Overs, RR: 4.59) |
| Bowling | O | M | R | W | Econ |
| --- | --- | --- | --- | --- | --- |
| Nethma Samaraweera | 9 | 3 | 35 | 0 | 3.89 |
| Kaveesha Mendis | 15 | 1 | 61 | 2 | 4.07 |
| Isuru Weerasooriya | 5 | 0 | 17 | 0 | 3.40 |
| Yehan Gunasinghe | 8 | 0 | 32 | 1 | 4.00 |
| Kithma Sithmal | 5 | 0 | 36 | 0 | 7.20 |
| Ashinsa Nainayake | 7 | 1 | 39 | 0 | 5.57 |
| Ayesh Sashimal | 12 | 1 | 53 | 2 | 4.42 |


Batsmen
R
B
4s
6s
SR
Viduna Wijebandara
c Yasiru Samarakoon b Janula Indusara
13
18
1
0
72.22
Kanchana De Livera
run out (Janula Indusara)
44
66
7
0
66.67
Ashinsa Nainayake
c Chanul Athukorala b Eranga Jayakodi
16
59
2
0
27.12
Kenul De Soyza
b Janula Indusara
3
19
0
0
15.79
Kithma Sithmal
c Senesh Wijesinghe b Janula Indusara
90
184
10
0
48.91
Iruth Gimshan
c Yasiru Samarakoon b Minod Caldera
19
30
1
2
63.33
Kaveesha Mendis
c Thisara Dewdunu b Chanul Athukorala
8
21
0
0
38.10
Ayesh Sashimal
lbw b Chanul Athukorala
19
60
3
0
31.67
Nethma Samaraweera
c Kushmitha Silva b Minod Caldera
17
49
1
0
34.69
Isuru Weerasooriya
c Thisara Dewdunu b Minod Caldera
0
14
0
0
0.00
Yehan Gunasinghe
not out
2
7
0
0
28.57
| | |
| --- | --- |
| Extras | 4 (b 2 , lb 0 , nb 1, w 1, pen 0) |
| Total | 235/10 (87.4 Overs, RR: 2.68) |
| Bowling | O | M | R | W | Econ |
| --- | --- | --- | --- | --- | --- |
| Chanul Athukorala | 15 | 7 | 29 | 2 | 1.93 |
| Thisara Dewdunu | 6 | 0 | 27 | 0 | 4.50 |
| Janula Indusara | 24 | 8 | 44 | 3 | 1.83 |
| Sajitha Vithanage | 12 | 0 | 49 | 0 | 4.08 |
| Yasiru Samarakoon | 3 | 0 | 6 | 0 | 2.00 |
| Eranga Jayakodi | 5 | 1 | 9 | 1 | 1.80 |
| Minod Caldera | 14.4 | 2 | 53 | 3 | 3.68 |
| Sadew Samarasinghe | 8 | 1 | 16 | 0 | 2.00 |


Batsmen
R
B
4s
6s
SR
Yasiru Samarakoon
run out (Yehan Gunasinghe)
29
28
3
1
103.57
Rusiru Vilochana
c Iruth Gimshan b Kaveesha Mendis
38
43
3
0
88.37
Chanul Athukorala
c Kenul De Soyza b Isuru Weerasooriya
12
25
0
0
48.00
Eranga Jayakodi
not out
21
27
2
2
77.78
Senesh Wijesinghe
b Kaveesha Mendis
0
1
0
0
0.00
Sajitha Vithanage
c Kanchana De Livera b Kaveesha Mendis
3
6
0
0
50.00
Sadew Samarasinghe
not out
12
21
1
0
57.14
| | |
| --- | --- |
| Extras | 6 (b 5 , lb 0 , nb 1, w 0, pen 0) |
| Total | 121/5 (25 Overs, RR: 4.84) |
| Bowling | O | M | R | W | Econ |
| --- | --- | --- | --- | --- | --- |
| Nethma Samaraweera | 3 | 0 | 18 | 0 | 6.00 |
| Kaveesha Mendis | 6 | 0 | 34 | 3 | 5.67 |
| Isuru Weerasooriya | 9 | 0 | 32 | 1 | 3.56 |
| Ayesh Sashimal | 2 | 0 | 18 | 0 | 9.00 |
| Yehan Gunasinghe | 3 | 0 | 10 | 0 | 3.33 |
| Ashinsa Nainayake | 2 | 0 | 5 | 0 | 2.50 |


Batsmen
R
B
4s
6s
SR
Viduna Wijebandara
c Kushmitha Silva b Minod Caldera
3
6
0
0
50.00
Kanchana De Livera
not out
13
22
0
0
59.09
Iruth Gimshan
b Minod Caldera
6
18
0
0
33.33
Ashinsa Nainayake
not out
0
8
0
0
0.00
| | |
| --- | --- |
| Extras | 0 (b 0 , lb 0 , nb 0, w 0, pen 0) |
| Total | 22/2 (9 Overs, RR: 2.44) |
| Bowling | O | M | R | W | Econ |
| --- | --- | --- | --- | --- | --- |
| Minod Caldera | 5 | 1 | 11 | 2 | 2.20 |
| Janula Indusara | 3 | 0 | 10 | 0 | 3.33 |
| Chanul Athukorala | 1 | 0 | 1 | 0 | 1.00 |