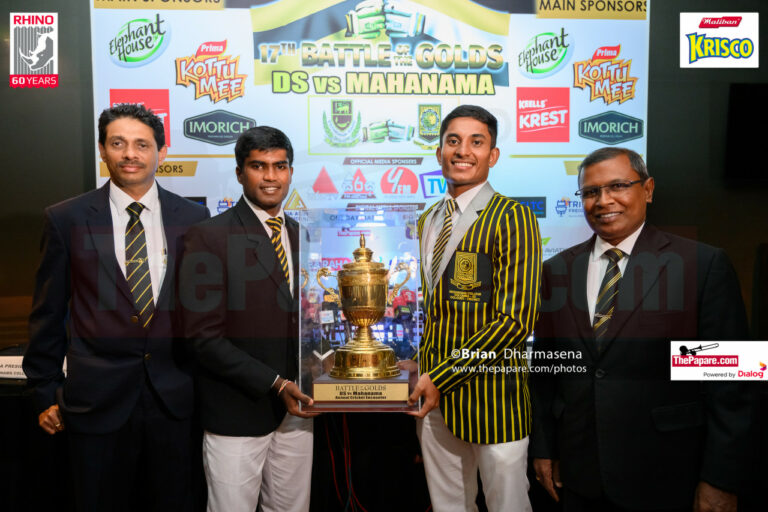 Two popular schools in Colombo are set for an epic clash as the 17th Battle of the Gold will be held on 24th and 25th of March at the P. Saravanamuththu Stadium in Colombo between D.S. Senanayake College and Mahanama College.
The official press conference for the game was held yesterday (15th March) to raise the awareness about the encounter, which will be held at a higher level after the easing of Covid-19 restrictions.
The principals of the two schools, captains, coaches and the Old Boys' Associations were present for this press conference which was held at the stadium premises of D.S. Senanayake College.
D.S. Senanayake College Principal Mr. Sampath Weeragoda who spoke at the press conference said,
 "I invite everyone to come and watch this match.  And I request everyone to watch the match with great restraint while preserving the qualities of the game.
These two matches are very important for our schools.  Parallel to these competitions, we have prepared to hold several other competitions and co-curricular events.  In the future, we hope to hold events like debate competitions along with this grand competition."
This year, Manura Peiris will captain D.S. while Sachira Weliwatta will lead Mahanama.
Mahanama College will be the host team this time.
"The two colleges work very cooperatively.  Also, I wish my best wishes to my (great) team who are thirsty for two-day matches and D.S. Senanayake College who is thirsty for one-day matches.", said Mahanama College Principal, Mr. A.C. Perera.
The Battle of the Golds started in 2007 between D.S. Senanayake and Mahanama. D.S. Senanayake managed to win the only match that produced a result.
The two-day match between the two teams will be played on 24th and 25th March at P. Sara Oval Stadium in Colombo and the one-day match will be played on 8th April at the R. Premadasa Stadium.
ThePapare.com, Sri Lanka's No. 01 Sports hub, is set to bring you the live coverage of the one-day match between the schools.
<<< Visit For More Cricket News >>>