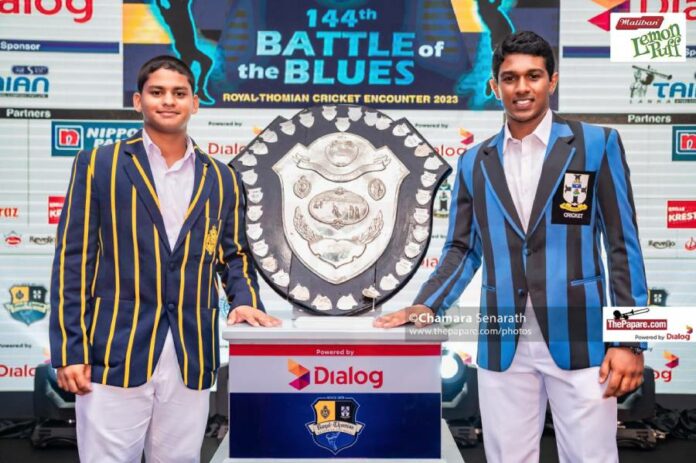 Sri Lanka's longest running cricket encounter, between Royal College and S. Thomas' College will be played for the 144th uninterrupted time for the prestigious Rt. Hon. D. S. Senanayake Memorial Shied from 16th to 18th March 2023 at the Sinhalese Sports Club, Colombo 07.

Due to the unprecedented circumstances during the last two years owing to the COVID-19 pandemic, the match was played behind closed doors for the safety of players. However, with the easing of COVID-19 restrictions, the Joint Match Organising Committee of the Royal – Thomian, under the guidance of the heads of the two respective schools, has decided to play the 144th edition of the Battle of the Blues encounter, in full attendance to ensure the Royal-Thomian fraternity is able to enjoy the event.
Disputed Tally
The most coveted D. S. Senanayake Memorial Shield was first presented in 1928 although the Battle of the Blues dates back to 1879.
The overall win-loss tally between the two schools stands at 35 wins each for Royal and S. Thomas', with the highly debated match in 1885 where Royal College was all out for 9 runs, with no play on the second day, considered a win by S. Thomas' and a draw by Royal.
143rd Battle of the Blues
S. Thomas' took slight honours in a very slow-paced 143rd encounter last year which never looked like producing a result. After being asked to bat first, S. Thomas' mustered 242, and in reply, Royal made 219 for 8 declared. S. Thomas' ended on 142 for 6 in their second essay. Senesh Hettiarachchi, Charuka Peiris and Ryan Fernando scored half centuries for the Thomians while Uvindu Weerasekara scored 66 for Royal. In the bowling department Thomian Kavindu Dias picked 4 wickets and Gishan Balasooriya took 3 wickets in each inning for Royal.
Royal College
Royal College will be captained by 4th year coloursman and all-rounder Dasis Manchanayake this year.
Royal has had a poor 2022/23 season by their standards, with 1 outright win, 2 losses, 4 first innings wins, 5 first innings losses. Both the losses came against Trinity College – the first in the traditional encounter by an innings and 62 runs at home and the other, in the Sri Lanka Schools Cricket Association 2-day tournament quarter final, by 62 runs.
Their 1st innings wins have come against Maliyadeva, St. Sebastian's, Gurukula and Ananda while the 1st innings losses have been against Nalanda, St. Anthony's, De Mazenod, Wesley and St. Peter's. The only outright win was against D.S. Senanayake College by 10 wickets.
Skipper Manchanayake has been in prolific form, scoring 1059 runs at an impressive average and strike rate of 62.20 & 82.09 respectively. He has scored 2 centuries and 7 half centuries and one of his centuries was a double century.
Rehan Peiris is the 2nd highest run-getter for Royal with 604 with 1 century and 3 half centuries. Uvindu Weerasekara, who scored a 50 in last year's big match, has 558 runs with 4 half centuries. Sanvindu Senaratharachchi and Ramiru Perera have 400 and 300 plus runs respectively in the season. Though he has only played 4 matches due to Sri Lanka U19 duties, Sineth Jayawardene has scored 218 runs with 1 century and 1 half century at an average of 54.50 and a strike rate of 84.16.
Off spinner Nethwin Dharmarathne is Royal's highest wicket-taker with 31 and Ramiru Perera's leg spin has yielded 29 wickets. Manchanayake too has 27 wickets and fast bowler Ranuka Malawiarachchi with 21 wickets is a one to watch-out for.
Royal College – Big Match Squad

Dasis Manchanayake (C) – Sineth Jayawardene (VC) – Bulan Weerathunga – Dan Poddiwela – Sandesh Ramanayake – Uvindu Weeraskera – Sanvindu Senaratharachchi (WK) – Ramiru Perera – Nethwin Dharmarthne – Ovina Ambanpola – Ranuka Malawiarachchi – Rehan Peiris – Anush Polonowita – Dinura Senarathne – Geesan Perera
S. Thomas' College
2nd year coloursman Romesh Mendis will captain the school by the sea, littered with as many as 9 coloursmen this season.
In the 2022/23 season S. Thomas' have played 17 matches with 4 outright wins, 10 first innings wins and 2 first innings losses. Of the two 1st innings losses one came against the high riding Richmond College by just 1 run. Few of the 1st innings wins came against St. Benedict's, Wesley, St. Sebastian's, St. Anthony's, St. Joseph's, Trinity, and St. Peter's.
The Thomian batting revolves around their skipper Mendis who has scored 776 runs which includes 1 century and 5 half centuries. He has an average of 36.95 and a healthy strike rate of 71.45. Thisen Eheliyagoda and Mahith Perera have gone past the 500-run mark with Perera scoring a magnificent 152 against Wesley. Dineth Goonewardene has 419 runs to his name while Senesh Hettiarachchi, Nathan Caldera and Senadhi Bulankulame have all scored 300 plus runs.
The bowling of the Thomians can be regarded as their strength with the attack comprising of variety. The right-arm fast bowling of Nathan Caldera and Kavindu Dias has taken 60 and 27 wickets respectively with Caldera being the highest wicket-taker for the Thomians. Left-arm fast bowler Akash Fernando has 49 wickets. In the spin department right-arm off spinner Charuka Peiris has 55 wickets while the 14-year-old left-arm spinner Abeeth Paranawidana has taken 30 wickets in 12 matches. Apart from Dias, who has an average of 21.22, the rest of the bowlers has an average of less than 17.
S. Thomas' College – Big Match Squad

Romesh Mendis (C) – Mahith Perera (VC) – Senesh Hettiarachchi (WK) – Nathan Caldera – Dineth Goonewardene – Charuka Peiris – Senadhi Bulankulame – Kavindu Dias – Akash Fernando – Thisen Eheliyagoda – Abheeth Paranawidana – Dhiren De Silva – Shanil Perera – Darien Diego – Avinash Fernando – Yumal Bollegala – Arith Adikaram
On paper S. Thomas' may look like the favourites but the Royal-Thomian 3-day encounter is a different ball game which has produced some surprising results throughout its history.
The 144th Battle of the Blues between Royal College and S. Thomas' College can be viewed from 16th-18th March live on Sri Lanka's No.1 Sports Hub ThePapare.com, Dialog TV Channel No. 22 and on Dialog ViU app.