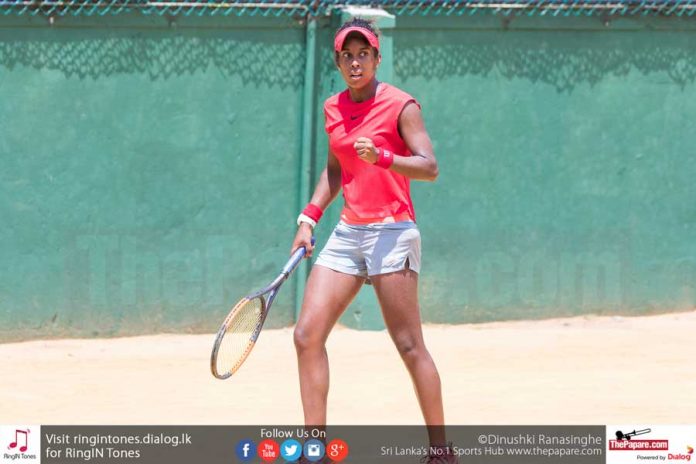 Adithya Karunaratne bagged her 6th Catalyunian Open Ranking Tournament in her current home town Barcelona, Spain by remaining unbeaten despite coming up against some tough opposition.
The Lankan was seeded third in the tournament and had 5 rounds of play ahead of her in the 32-man draw. Facing a bye in the first round she came face to face with Isabella Harvison of the United States in the pre-quarter finals. Adithya led the match with the first set 7/5 before Harvison retired and awarded the match in a walkover. Next, she went on to face Ichikawa Akari of Japan who proved no threat to Adithya as she took the match with no games spared.
In Sri Lanka's century long journey in the sport of tennis…
Next in Adithya's way was local favourite and tournament top seed, Laura Lopez. Lopez has a career highest ranking of 392 in the ITF Junior ranking standings. With one swift break in each of the two sets Adithya defeated Lopez with a score of 6/3, 6/3.
Sri Lankan born and bred Adithya Karunaratne has won her 4th..
15-year-old Ariadna Ginesta of Spain had had a brilliant week herself, starting unseeded in the tournament and making it all the way to the final. She managed to defeat bottom seed Galateia Mesochoritou in the semifinals in a tough battle which went on to the third and final set of a super tie-breaker. Mesochoritou survived with a three-point gap finishing the match off 2/6, 6/4, (10/7).
The final was fixed with the two youngest players in the tournament facing each other on a sunny Sunday afternoon. It was the experience and grit that decided the victor of the match, Adithya taking home the trophy with a final score of 6/1, 6/0.
" I played really good so I was able to maintain a steady rhythm throughout the match to stay on top of her " Adithya Karunaratne said speaking to ThePapare.com on her victory in the Finals.