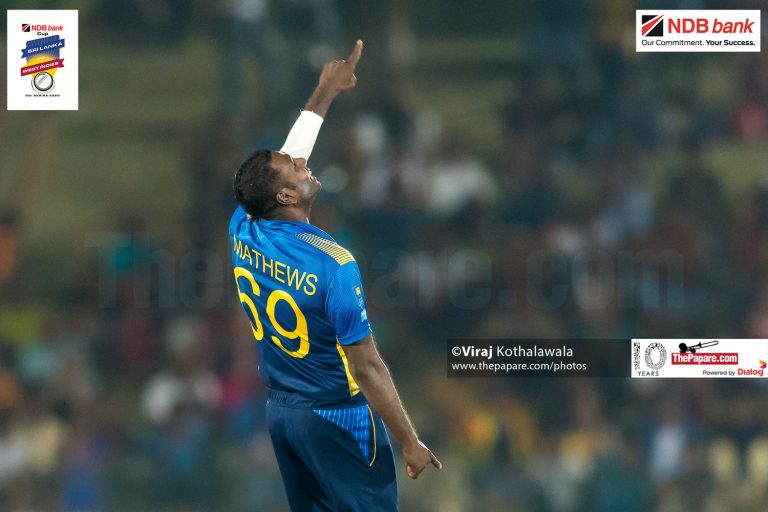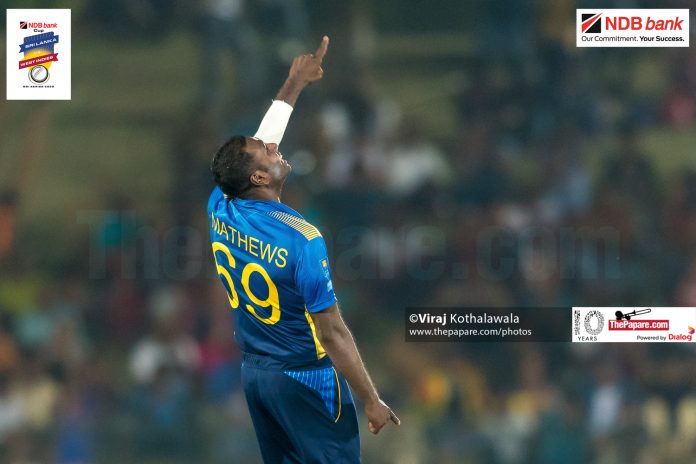 It's 2009, Sri Lanka are taking on the West Indies at Nottingham in the T20 World Cup, or the World T20 as it was called back then. Ramnaresh Sarwan smashes Ajantha Mendis over the top to long on where Angelo Mathews takes a great overhead catch, but with the momentum carrying him over the line, he throws the ball up in the air, steps outside the boundary, leaps up again and slaps the ball back into play …. Vintage Angelo Mathews.
It's a familiar sight now, but back in 2009 what Mathews did was almost inconceivable, so much so that it took the umpires about a billion replays to decide if he'd managed to save the boundary or not. The debates raged on off the field too, nevertheless, if you'd followed Sri Lanka cricket at all during the time, you knew, this bit of outrageous cricket was SO Angelo Mathews. Need someone to open the bowling? No problem, Mathews would do it. Short of a few overs at the death? Mathews could bowl you a few. Chasing a big total? Imminent collapse? Field in the ring, field in the deep, breaking a stubborn partnership…. Mathews was your man, he could do anything. 
Mendis, Fernando and bowlers give Sri Lanka series win
Fast forward to 2020, the Mahinda Rajapakse International Cricket Stadium is buzzing. Sri Lanka have got 345 on the board, but the Windies are mounting a fightback with Shai Hope leading the charge. That is until he hits one on the leg side, he thinks he's got it past Mathews and calls his partner Sunil Ambris through for a single. He hasn't accounted for this new version of the old Angelo Mathews. Mathews dives to his right, gathers the ball and gets it back to Isuru Udana at the bowler's end in a flash – Ambris is sold down the river by Hope, Sri Lanka have their breakthrough.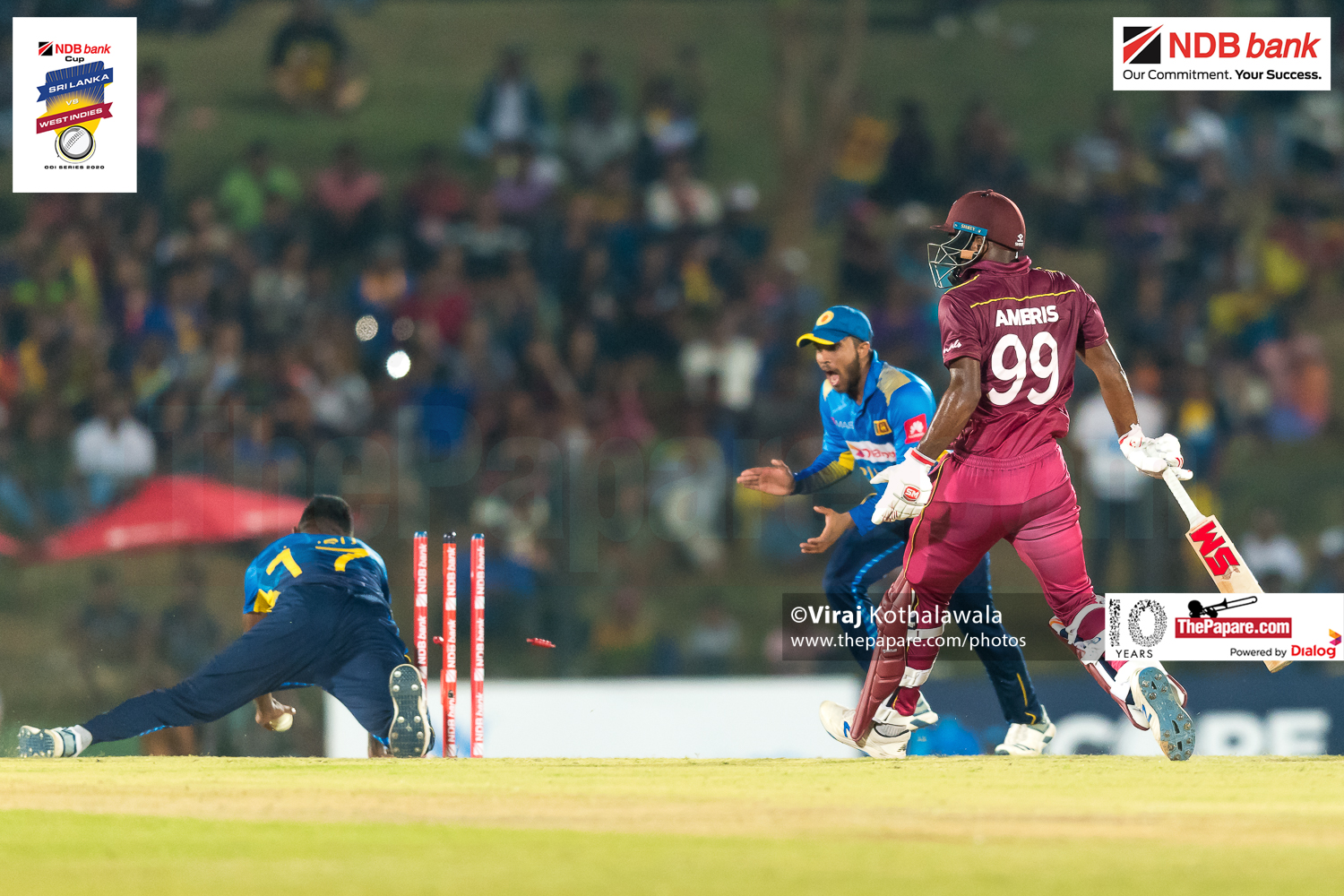 Getting Ambris was great, Sri Lanka needed that. But Hope was the one they really wanted. The guy's got 6 of his 9 centuries in Asia along with a 100+ average in the region. Chasing 345 wasn't going to be easy, but if the West Indies were to do it, they would need Hope. Enter Angelo Mathews. Mathews strides in… the last time he bowled to the Windies (at the 2019 World Cup) he was ambling, now he's striding in… bowls a full one just outside the off-stump, Hope tries to work it on the leg-side, but the ball stops on him and he goes through with the shot a little too early. Again such a characteristically Angelo Mathews dismissal. The ball isn't doing much, but it does just enough. A little variance of pace, a little something from the pitch and he's induced the false shot.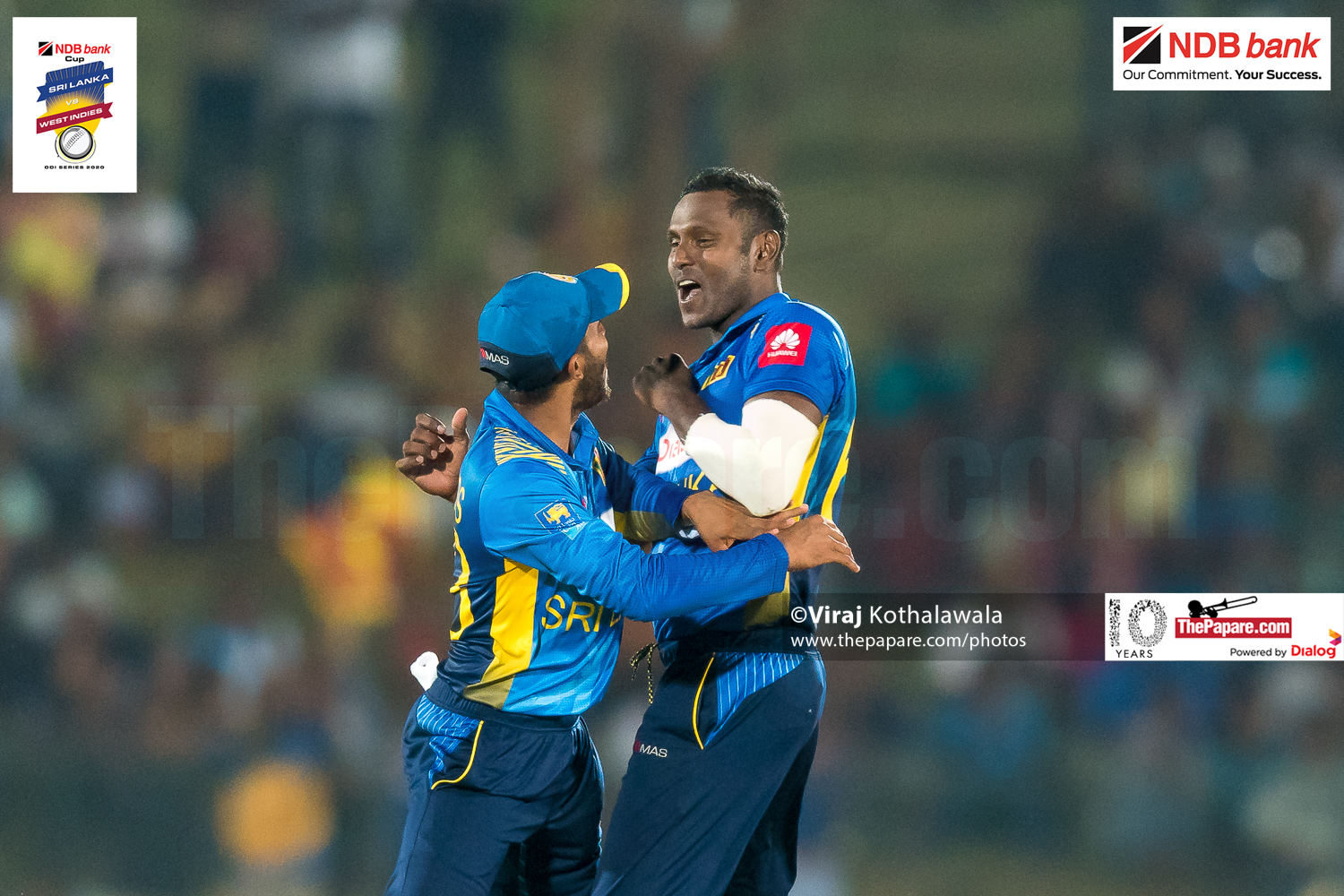 Hope was gone, but Nicholas Pooran was still in. The same Nicholas Pooran whose 118 against Sri Lanka had nearly seen the Windies chase down 339 the last time the sides met prior to this series. It was Angelo Mathews who brought his innings to an end on that occasion and fortunately for Sri Lanka, he was on hand to produce a little bit of 'vintage' Angelo Mathews magic once again today. Fielding at square leg, Mathews sprinted full-tilt towards mid-wicket, put in a nearly full-length dive to hang on to Pooran's top-edged sweep, spelling the end of the West Indies' hope of an unlikely win. Mathews had completed his trifecta in the field, a catch, a run-out, a wicket.
A year and a half ago after being humiliated by Bangladesh and Afghanistan in Sri Lanka's 1st round exit at the Asia Cup, Mathews was asked to step down as Captain, stripped of the captaincy when he refused to do so and eventually dropped from the ODI team completely a couple of days later. A very public spat ensued with then Coach Chandika Hathurusinha calling into question Mathews' fitness at a press briefing, going on to say that "Running between the wickets is a very big concern for us at the moment – for the whole team, not only for Mathews. We want him to get fitter……. If you look at his record, he has been involved in about 64 run outs, and 49 times the opposite guy got run out. That's a world record." Long story short, the message was loud and clear. The management felt he wasn't fit enough to take the field and by doing so, he was putting other batsmen at risk.

By then, Mathews was no longer bowling and he usually just fielded at slip. Recurring injuries had gotten so bad fans caught their breath every time he moved a little too fast – letting go of his bowling was the sacrifice he had to make, all part of 'managing' his injuries. Mathews' form with the bat had never really wavered much. He was still Sri Lanka's best all-format batsman, still the guy oppositions targeted as the 'key wicket'. Even if he wasn't bowling, it would take a brave man to leave Mathews out for long. So truth be told, at 31 years of age, Mathews could very well have spent the rest of his career, which was looking like it would last at most a couple of years, as a pure batsman…. 
Mathews had other ideas, he came out and said that he would like the 2023 World Cup in India to be his swansong. People scoffed and it was understandable too because let's be honest, it was hard to imagine the guy who had struggled to get through a full tour over the last two years, playing on for nearly 4 more. But then the fitness videos started surfacing on his social media accounts, the deadlifts, the shirtless photos, the works.  He was visibly slimmer and then back bowling, opening the bowling against India in January. A maiden Test double hundred followed in the next series and then Hambanthota happened. 
Video – 'Sri Lanka's new fielding attitude has been excellent' – Mickey Arthur
The Mahinda Rajapakse International Stadium hasn't seen international cricket in a while…. Not since July 2017. But if you walk around, it would seem like it hasn't hosted a game since the World T20 in 2012. Almost every sign, from the gates, to the lavatories, to the stands carry some form of branding from 2012. Watching Mathews on the lush green outfield, moving from short extra cover to long on, diving around, chasing the ball down, it was almost as if, just for this one night, we'd travelled back to that time.