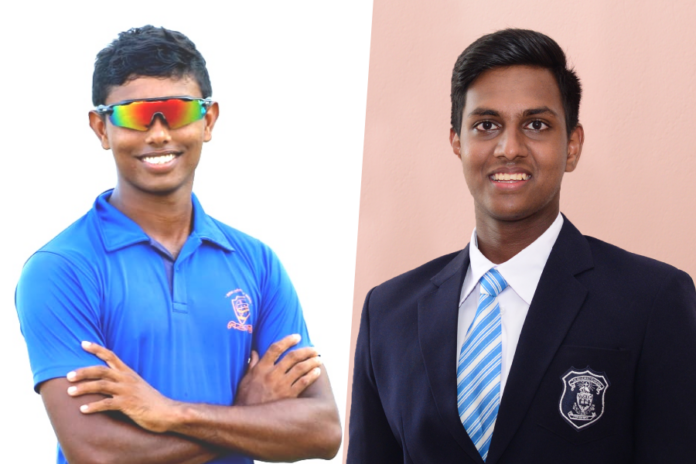 The 125th Annual Cricket Encounter between St. Joseph's College and Royal College ended in a draw today (09th April), at Reid Avenue.
After being 32/3 at stumps on day one, St. Joseph's College posted 131/8 before declaring their first innings. Dan Poddiwela (3/22), Sandesh Ramanayake (2/33) and Gishan Balasooriya (2/37) starred in Royal College's disciplined bowling effort.
In reply, Royal College showed a much better batting display, putting on 240 runs for 7 wickets at the close of play on day two. Uvindu Weerasekara (57), Dasis Manchanayake (54*) and Sineth Jayawardena (53) stroked half-tons for the hosts. Shenuk Serasinghe managed to take 5 wickets for 63 runs for the visitors.
Brief Scores
St. Joseph's College, Colombo – 131/8d (50.2) Hiran Jayasundara 30, Mithira Thenura 26, Muditha Lakshan 22, Naren Muralidaran 20, Dan Poddiwela 3/22, Sandesh Ramanayake 2/33, Gishan BalasooriyaScore

Royal College, Colombo – 240/7 (67) Uvindu Weerasekara 57, Dasis Manchanayake 54*, Sineth Jayawardena 53, Ashen Gamage 37, Shenuk Serasinghe 5/63

Result – Match Drawn
Devapathiraja College vs Sri Devananda College
Devapathiraja College won the toss and chose to bat first at UC Grounds, Ambalangoda. Though the visitors opted to bat first, they were unable to put on a substantial score on the board as they were restricted to 170 runs.
In reply, Sri Devananda College posted 146/3 at stumps on day one. Kanchana De Livera top-scored with an unbeaten knock of 66 runs off 54 balls with 10 fours and a six.
Brief Scores
Devapathiraja College, Rathgama – 170 (45.4) Pawan Sandesh 68, Tharindu Rukshan 42*, Chavindu Achintha 30, Vihanga Malith 2/17, Wanith De Silva 2/19, Pramod Naveen 2/31

Sri Devananda College, Ambalangoda – 146/3 (25) Kanchana De Livera 66*, Shehan Wickramasinghe 49, Puljith Wathsuka 2/21

Stumps – Day 01


Batsmen
R
B
4s
6s
SR
Abishek Jayaweera
c Anush Polonnowita b Bulan Weerathunga
10
29
2
0
34.48
Hirun Kapurubandara
c Geeshan Perera b Vinuga Premawardena
22
22
3
1
100.00
Anik Fernando
c Medan Pathirana b Bulan Weerathunga
25
27
3
1
92.59
Kenath Sasmina
c Damith Kappagoda b Geeshan Perera
22
31
3
1
70.97
Achintha De Alwis
lbw b Damith Kappagoda
16
50
1
0
32.00
Yenula Dewthusa
c Rehan Peris b Bulan Weerathunga
48
120
3
0
40.00
Kavean Pathirana
c Abhishek Iddawela b Sehath Perera
10
15
2
0
66.67
Dinuk Serasinghe
c Rehan Peris b Bulan Weerathunga
12
52
1
0
23.08
Dineth Jayakody
run out ()
0
1
0
0
0.00
Jeaden Makalanda
not out
0
2
0
0
0.00
| | |
| --- | --- |
| Extras | 9 (b 0 , lb 1 , nb 2, w 6, pen 0) |
| Total | 174/9 (57.5 Overs, RR: 3.01) |
| Bowling | O | M | R | W | Econ |
| --- | --- | --- | --- | --- | --- |
| Bulan Weerathunga | 13.5 | 3 | 57 | 4 | 4.22 |
| Vinuga Premawardena | 6 | 0 | 24 | 1 | 4.00 |
| Damith Kappagoda | 16 | 2 | 50 | 2 | 3.12 |
| Abhishek Iddawela | 11 | 1 | 26 | 0 | 2.36 |
| Sehath Perera | 11 | 4 | 16 | 1 | 1.45 |


Batsmen
R
B
4s
6s
SR
Sanvidu Senartharachchi
run out ()
37
62
4
0
59.68
Anush Polonnowita
b Dinuk Serasinghe
4
9
0
0
44.44
Rehan Peris
c Kenath Sasmina b Kisal Lokuliyana
4
13
1
0
30.77
Lahiru Gangewatte
lbw b Yenula Dewthusa
26
38
2
0
68.42
Geeshan Perera
c Dinuk Serasinghe b Yenula Dewthusa
8
40
1
0
20.00
Damith Kappagoda
c Dinuk Serasinghe b Yenula Dewthusa
4
8
1
0
50.00
Sehath Perera
run out ()
6
30
0
0
20.00
Bulan Weerathunga
b Yenula Dewthusa
10
21
1
0
47.62
Medan Pathirana
lbw b Dineth Jayakody
7
16
1
0
43.75
Vinuga Premawardena
not out
3
17
0
0
17.65
Abhishek Iddawela
not out
0
0
0
0
0.00
| | |
| --- | --- |
| Extras | 0 (b 0 , lb 0 , nb 0, w 0, pen 0) |
| Total | 109/9 (41.3 Overs, RR: 2.63) |
| Bowling | O | M | R | W | Econ |
| --- | --- | --- | --- | --- | --- |
| Dinuk Serasinghe | 5 | 0 | 19 | 1 | 3.80 |
| Yenula Dewthusa | 16 | 2 | 45 | 4 | 2.81 |
| Kavean Pathirana | 7 | 2 | 19 | 0 | 2.71 |
| Jayden Makalanda | 8 | 3 | 14 | 0 | 1.75 |
| Dineth Jayakody | 0.3 | 0 | 1 | 1 | 3.33 |
| Kisal Lokuliyana | 5 | 0 | 17 | 1 | 3.40 |