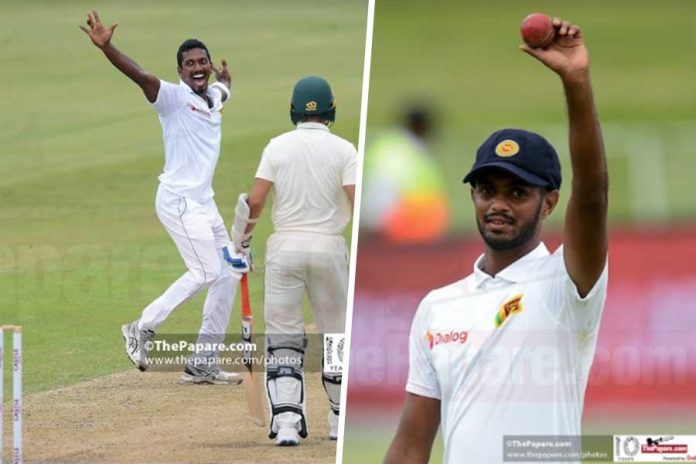 Yet another average display of batsmanship left Sri Lanka staring down the barrel again; at the stumps on day 03 of the 1st Test against South Africa, the visitors were left needing 221 runs to win with only 7 wickets in hand.
Chasing a daunting target of 304 runs (considering the bowling attack, inexperienced batting line up with a long tail and inconsistent pitch) in the fourth innings at Kingsmead, Durban, Sri Lanka openers showed their intent with a confident and positive approach in the middle. Skipper Dimuth Karunaratne and Lahiru Thirimanna compiled a 42-run partnership before Thirimanna went for an expansive drive off Kagiso Rabada's bowling, only to grant an easy catch to the opposition captain Faf du Plessis for 21.
Photos: Sri Lanka tour of South Africa 2019 | 1st Test – Day 03
Then, Karunaratne was found guarding his stumps at 20 by Vernon Philander's precision bowling to throw away the good start  they managed. Kusal Mendis may not want to watch his dismissal again as he chased a short and wide one off Duanne Olivier's bowling, perishing before opening his account.
Debutant Oshada Fernando and  the only half-century maker for Sri Lanka in the previous innings, Kusal Perera were adventurous with their shots, but left unscathed when umpires called off the day's play due to bad light. Fernando and Perera were on 28* and 12* respectively at stumps.
Earlier in the day, South Africa started the day 3's proceedings with skipper Faf Du Plessis and wicket keeper batsman Quinton de Kock at the crease on 126/4, leading by 170 runs. Unlike the bowling effort from last evening, the Sri Lanka fast bowlers looked a bit flat in the first hour of play, letting the Protea duo play some shots to keep that lead moving towards 200.
Unfortunately, in the 49th over in-home team's 2nd innings, Kusal Mendis was struck on his finger by an edge off du Plessis's bat which dropped just in front of him at second slip. The blow looked painful as he was sent to the dressing room for medical treatment.
Lasith Embuldeniya and Kasun Rajitha put on a fighting 32-run partnership for the 9th…
After a dull morning session where the Sri Lankan bowlers did not look threatening, they seemed to have come to the field with a magic potion in their stomachs, particularly Lasith Embuldeniya and Vishwa Fernando, who dominated the post lunch session proceedings to restrict South Africa to 259.
After being on 227/5, skipper Faf du Plessis and all-rounder Vernon Philander returned to the middle to extend the lead which was at 271.  But they could only add another 24 runs to the total as young left-arm spinner mbuldeniya went straight through Philander's bat and pad to find the middle stump.
Du Plessis looked assured at the crease before Vishwa Fernando launched a probing spell of fast bowling to rattle the skipper's defense. Fernando yorked Du Plessis to appeal for a leg before wicket, but the umpire ruled that not out since there was bat on it. Replays showed that the ball hit the shoe first but unfortunately, Sri Lanka didn't review it. Fernando had the last laugh however, as he trapped du Plessis again in his next over, this time plumb in front.
A Royal debut for the Royalist!#SAvSL▶️https://t.co/gPY060hl4Dpic.twitter.com/2PqbYWB5YB

— ThePapare.com (@ThePapareSports) February 15, 2019
It was a Vishwa-Lasith show from then on as they picked up the last 5 South African wickets for 9 runs. Embuldeniya was the star of the day for Sri Lanka as the debutant picked up 5 scalps for 66 runs. His precise line and length and variation of speed was impressive for a 22-year old, playing his 1st international.
The fourth day will commence tomorrow at 1.30pm Sri Lankan time.
Full Scorecard
235/10 & 259/10
(79.1 overs)
191/10 & 304/9
(85.3 overs)
SL won by 1 wicket
South Africa's 1st Innings
Batting
R
B
Aiden Markram
b V Fernando
11
27
Dean Elgar
c N Dickwella b V Fernando
0
4
Hashim Amla
c K Mendis b S Lakmal
3
10
Temba Bavuma
(runout) V Fernando
47
66
Faf du Plessis
c N Dickwella b K Rajitha
35
54
Quinton de Kock
c V Fernando b K Rajitha
80
94
Vernon Philander
c & b K Rajitha
4
22
Keshav Maharaj
c N Dickwella b V Fernando
29
35
Kagiso Rabada
c O Fernando b V Fernando
3
16
Dale Steyn
b L Embuldeniya
15
26
Dane Olivier
not out
0
6
Total
235/10 (59.4 overs)
Fall of Wickets:
0-1 (D Elgar, 1.4 ov), 9-2 (H Amla, 6.1 ov), 17-3 (A Markram, 7.4 ov), 89-4 (du Plessis, 24.2 ov), 110-5 (T Bauma, 29.2 ov), 6-131 (V Philander, 37.4 ov), 7-178 (K Maharaj, 45.6 ov), 8-186 (K Rabada, 49.6 ov), 9-219 (D Steyn, 56.4 ov), 10-235 (de Kock, 59.4 ov)
| Bowling | O | M | R | W | E |
| --- | --- | --- | --- | --- | --- |
| Suranga Lakmal | 14 | 3 | 29 | 1 | 2.07 |
| Vishwa Fernando | 17 | 1 | 62 | 4 | 3.65 |
| Kasun Rajitha | 14.4 | 0 | 68 | 3 | 4.72 |
| Dimuth Karunarathne | 3 | 0 | 9 | 0 | 3.00 |
| Lasith Embuldeniya | 10 | 1 | 51 | 1 | 5.10 |
| Oshada Fernando | 1 | 0 | 10 | 0 | 10.00 |
Sri Lanka's 1st Innings
Batting
R
B
Dimuth Karunarathne
lbw by V Philander
30
59
Lahiru Thirimanne
c de Kock b D Steyn
0
15
Oshada Fernando
lbw by D Steyn
19
42
Kusal Mendis
c du Plessis b V Philander
12
24
Kusal Janith
c Z Hamza b D Steyn
51
63
Niroshan Dickwella
c D Steyn b D Olivier
8
12
Dhananjaya de Silva
c D Olivier b K Rabada
23
33
Suranga Lakmal
c A Markram b D Steyn
4
6
Lasith Embuldeniya
c D Steyn b K Rabada
24
63
Kasun Rajitha
(runout) A Markram
12
30
Vishwa Fernando
not out
1
9
Extras
7 (b 3, lb 3, w 1)
Total
191/10 (59.2 overs)
Fall of Wickets:
19-1 (L Thirimanne, 6.4 ov), 51-2 (O Fernando, 18.2 ov), 53-3 (D Karunarathne, 19.6 ov), 76-4 (K Mendis, 25.4 ov), 90-5 (N Dickwella, 29.2 ov), 133-6 (D De Silva, 38.5 ov), 142-7 (S Lakmak, 40.1 ov), 8-152 (K Janith, 44.3 ov), 184-9 (K Rajitha, 55.3 ov), 191-10 (L Embuldeniya, 59.2 ov)
| Bowling | O | M | R | W | E |
| --- | --- | --- | --- | --- | --- |
| Dale Steyn | 20 | 7 | 48 | 4 | 2.40 |
| Vernon Philander | 10 | 2 | 32 | 2 | 3.20 |
| Kagiso Rabada | 12.2 | 2 | 48 | 2 | 3.93 |
| Dane Olivier | 13 | 2 | 36 | 1 | 2.77 |
| Keshav Maharaj | 3 | 0 | 16 | 0 | 5.33 |
| Dean Elgar | 1 | 0 | 5 | 0 | 5.00 |
South Africa's 2nd Innings
Batting
R
B
Dean Elgar
c & b L Embuldeniya
35
70
Aiden Markram
c K Mendis b K Rajitha
28
31
Hashim Amla
c L Thirimanne b V Fernando
16
35
Temba Bavuma
lbw by L Embuldeniya
3
16
Faf du Plessis
lbw by V Fernando
90
182
Quinton de Kock
lbw by L Embuldeniya
55
62
Vernon Philander
b L Embuldeniya
18
54
Keshav Maharaj
b V Fernando
4
13
Kagiso Rabada
c N Dickwella b L Embuldeniya
0
2
Dale Steyn
b V Fernando
1
6
Dane Olivier
not out
2
7
Extras
7 (lb 2, w 2, nb 3)
Total
259/10 (79.1 overs)
Fall of Wickets:
36-1 (A Markram, 9.6 ov), 70-2 (H Amla, 19.1 ov), 77-3 (T Bavuma, 22.2 ov), 95-4 (D Elgar, 28.6 ov), 191-5 (de Kock, 52.6 ov), 251-6 (V Philander, 72.4 ov), 255-7 (du Plessis, 75.6 ov), 256-8 (K Rabada, 76.4 ov), 256-9 (K Maharaj, 77.2 ov), 259-10 (D Steyn, 79.1 ov)
| Bowling | O | M | R | W | E |
| --- | --- | --- | --- | --- | --- |
| Suranga Lakmal | 20 | 5 | 52 | 0 | 2.60 |
| Vishwa Fernando | 17.1 | 2 | 71 | 4 | 4.15 |
| Kasun Rajitha | 13 | 1 | 54 | 1 | 4.15 |
| Lasith Embuldeniya | 26 | 3 | 66 | 5 | 2.54 |
| Dhananjaya de Silva | 2 | 0 | 8 | 0 | 4.00 |
| Oshada Fernando | 1 | 0 | 6 | 0 | 6.00 |
Sri Lanka's 2nd Innings
Batting
R
B
Dimuth Karunarathne
lbw by V Philander
20
47
Lahiru Thirimanne
c du Plessis b K Rabada
21
51
Oshada Fernando
c du Plessis b D Steyn
37
76
Kusal Mendis
c de Kock b D Olivier
0
8
Kusal Janith
not out
153
200
Niroshan Dickwella
c & b D Steyn
0
2
Dhananjaya de Silva
lbw by K Maharaj
48
79
Suranga Lakmal
c du Plessis b K Maharaj
0
1
Lasith Embuldeniya
c A Markram b D Olivier
4
12
Kasun Rajitha
lbw by K Maharaj
1
10
Vishwa Fernando
not out
6
27
Fall of Wickets:
42-1 (L Thirimanne, 15.5 ov), 42-2 (D Karunarathne, 16.3 ov), 52-3 (K Mendis, 18.5 ov), 110-4 (O Fernando, 37.2 ov), 110-5 (N Dickwella, 37.4 ov), 206-6 (De Silva, 63.1 ov), 206-7 (S Lakmal, 63.2 ov), 215-8 (L Embuldeniya, 66.5 ov), 226-9 (K Rajitha, 69.4 ov)
| Bowling | O | M | R | W | E |
| --- | --- | --- | --- | --- | --- |
| Dale Steyn | 18 | 1 | 71 | 2 | 3.94 |
| Vernon Philander | 8 | 3 | 13 | 1 | 1.63 |
| Keshav Maharaj | 20 | 1 | 71 | 3 | 3.55 |
| Kagiso Rabada | 22.3 | 3 | 97 | 1 | 4.35 |
| Dane Olivier | 16 | 3 | 35 | 2 | 2.19 |
| Aiden Markram | 1 | 0 | 4 | 0 | 4.00 |