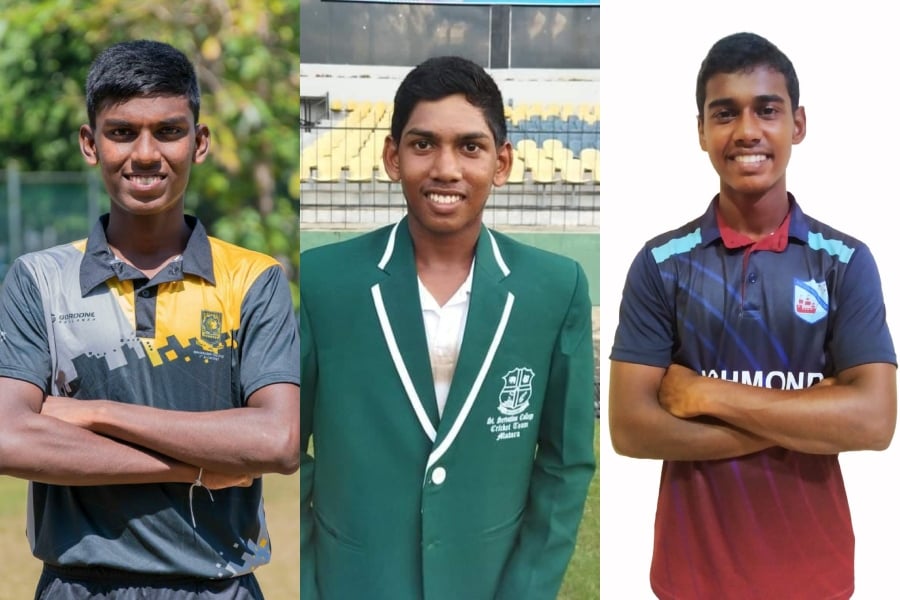 Ten games of the ongoing Schools first-eleven season were worked off today (10).
The St. Servatius' College middle-order batter Diniru Abeywickramasinghe grinded out at the centre to score a brilliant hundred for his school against Moratu Maha Vidyalaya in their traditional fixture. His hundred helped his team to post a mammoth first-innings score of 294 runs which meant they ended the game in a draw while taking back first-innings honours.
On behalf of the Moratuwa school, Deneth Sithumina scored a valiant 88 runs although he did not have enough support to take his team over the line.
Thamindu Pradeeptha of Richmond College also struck another fine hundred for the day to elevate the Richmondites to a comfortable position in this tournament fixture against S. Thomas' College, Mt. Lavinia.
In the same game, Thomian Kavindu Dias bagged six wickets to give some glory to the Thomians on the first day's play.
Dias bowled 21.1 overs for his 6 wickets while giving away 77 runs, with 3 maidens included in the spell.
Thathsara Eshan of Gurukula College (80), Shanikya Deshapriya of Thurstan College (75) and Thenuka Dewapriya of Thurstan College (71) were the other notable performances with the bat, while several other half-centuries were also scored in the games that were played today.
It was an absolute bowlers contest at the BOI grounds in Katunayake as Mahanama College hosted St. Joseph's College in a traditional fixture.
Inuka Karannagoda of Mahanama College ended as the pick of the bowlers in today's games, picking up 7 wickets for 49 runs to curtail a strong batting line up like St. Joseph's College, to 175 runs.
This turned out to be the perfect revenge for the six-wicket-haul of the Josephian bowler, Yenula Dewtusa, who had an excellent day at office, giving away 57 runs with 11 maidens.
Brief Scores
Moratu Maha Vidyalaya 111/10 (45.1 Ov) Sukitha Devthilina 32, Chiran Neththaru 5/23, Viran Chamuditha 3/10

& 207/5 (84 Ov) Deneth Sithumina 88

St. Servatius' College 294/7d (76 Ov) Diniru Abeywickramasinghe 116, Chiran Neththaru 66, Denuwan Pramod 63, Kaviska Oshan 2/39

Match Drawn

Nalanda College 218/10 (61.2 Ov) Senesh Wijesinghe 65, Sajitha Vithanage 48, Vihas Thewmika 3/32, Thenuka Dewapriya 3/34

& 189/4 (54 Ov) Eranga Jayakodi 54*, Sadew Samarasinghe 45, Kushmitha Silva 45, Azeem Mohomad 1/13

Thurstan College 272/10 (83.3 Ov) Shanikya Deshapriya 75, Thenuka Dewapriya 71, Sajitha Vithanage 5/93, Minod Caldera 4/56

Match Drawn

Mahanama College 215/10 (91.1 Ov) Sachira Weliwatta 55, Viranga Yeshan 44, Rashmika Perera 43, Yenula Dewtusa 6/57 

& 136/2 (26.6 Ov) Anjala Bandara 53, Hiran Jayasundara 1/21

St. Joseph's College 175/10 (73.3 Ov) Muditha Dissanayaka 59, Hirun Matheesha 41*, Inuka Karannagoda 7/49 

Match Drawn

St. Anne's College 300/9d (93 Ov) Manaan Muzammil 58, Yomesh Subasinghe 45, Senura Perera 3/55

St. Thomas' College 0/1 (0.5 Ov)

Match Drawn

St. Peter's College 106/1 (23 Ov) Vishen Helambage 60*, Rusanda Gamage 40*

Dharmaraja College

Stumps – Day 1

St. Aloysius' College 114/10 (36.2 Ov) Kalana Pathum 26*, Shehan Hasaranga 4/35, Dhanuja Induwara 3/17, Dinura Kalupahana 3/23 

Mahinda College 162/3 (51 Ov) Tharusha Dilshan 48*, Dinura Kalupahana 41, Savidya Ranmina 38*, Vidura Lakshan 2/27

Stumps – Day 1

D.S. Senanayake College 227/10 (73.1 Ov) Senura Silva 58, Chenul Pinsara 33, Malitha Perera 32, Sandeesh Fernando 4/59 

St. Sebastian's College 24/0 (2.6 Ov) 

Stumps – Day 1

St. Joseph Vaz College 220/10 (66.3 Ov) Dasun Perera 64, Tharindu Eshan 50, Kavindu Kaushalya 3/38 

De Mazenod College 94/4 (31 Ov) Hasith Silva 47, Ravindu Thushara 1/16

Stumps – Day 1

Gurukula College 214/10 (52.3 Ov) Thathsara Eshan 80, Tharusha Dilsara 41, Dimath Abeysinghe 4/64, Gayana Weerasinghe 3/52

Maliyadeva College 144/5 (45 Ov) Gayana Weerasinghe 34, Jayamin Muthukumarana 33, Mohomad Mursad 3/34 

Stumps – Day 1

Richmond College 249/10 (84.1 Ov) Thamindu Pradeeptha 114*, Malsha Tharupathi 55, Kavindu Dias 6/77

S.Thomas' College 15/1 (5 Ov)

Stumps – Day 1