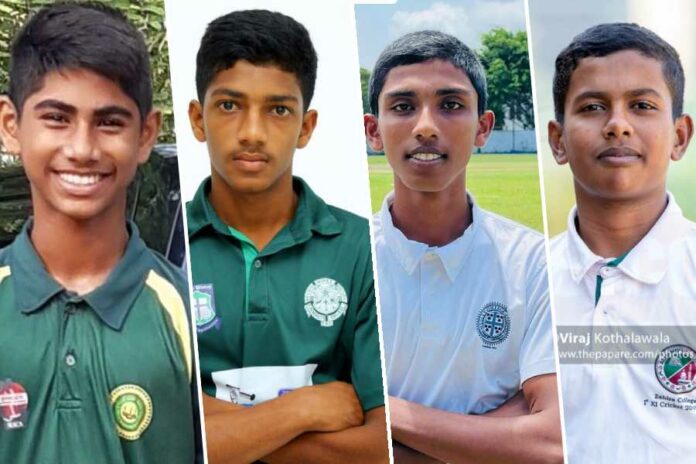 Eight games of the U19 Division I Limited Overs Cricket Tournament 2022/23 worked off today (21st September) in different venues across the island.
Both tiers saw four games each being played today as St. Joseph's College, St. Benedict's College, Wesley College, St. Anthony's College Kandy, Lumbini College, Thurstan College, St. Anthony's College Wattala and Mahinda College claimed wins.
In Group X of Tier A, Sri Lanka U19 cap Shevon Daniel's half-ton and Lahiru Amarasekara's all-round performance helped the Joes continue their unbeaten run by defeating Royal by 3 wickets at Reid Avenue while stylish left-hander Sharujan Shanmuganathan's unbeaten 104 and pacer Vihara Aththanayake's 5-wicket haul helped the Bens record their second win by defeating Prince of Wales by a huge margin of 141 runs.
>> Kushan & Sankalpa star in St. Servatius' success
The spotlight of Tier A Group Y was solely taken by Wesley College as they amassed a mammoth 362 to record their third win beating Gurukula by 180 runs. Sanithu Amarasinghe's 111 and in-form Chamath Gomez's 86 were the highlights of Wesley's win.
All four Tier B games were part of Group Y as the game between Lumbini and Zahira in Maradana took the spotlight. Both teams fighting for their first win were involved in a game where a lot of runs were scored while Lumbini emerged winners eventually by a margin of 25 runs. Nabeel Rajudeen's 112 helped Lumbini put 274 on the board before Zahira fell short in the 47th over despite Raeed Rizwan's 101.
Group toppers Mahinda and Thurstan recorded their third and second wins respectively while left-arm spinner Pathum Vihaga's 6-wicket haul helped St. Anthony's Wattala record their second win.
Tier A – Group X
Royal College, Colombo vs St. Joseph's College, Colombo at Royal College Grounds, Colombo
Royal College – 232/7 (50) Sineth Jayawardena 73, Sandesh Ramanayake 50, Sanvidu Senaratharachchi 36*, Ranuka Malaviarachchi 22*, Yenula Dewthusa 2/34, Lahiru Amarasekara 2/36

St. Joseph's College – 233/7 (46.4) Shevon Daniel 52, Hiran Jayasundara 42*, Sahan Dabare 42, Lahiru Amarasekara 34, Sineth Jayawardena 3/38, Abishek Iddawela 2/48

ST. JOSEPH'S COLLEGE WON BY 3 WICKETS
St. Benedict's College, Colombo vs Prince of Wales College, Moratuwa at St. Benedict's College Grounds, Colombo
St. Benedict's College – 287/6 (50) Sharujan Shanmuganathan 104*, Shenel Samarathunga 65, Sheron Kannangara 47, Chamath Chathurya 28, Prince Fernando 3/46

Prince of Wales College – 146 (34.3) Rivith Jayasuriya 30, Thusindu Deemantha 28, Meshith De Silva 22*, Kenul De Zoysa 20, Vihara Aththanayake 5/27, Mevan Dissanayake 2/11

ST. BENEDICTS COLLEGE WON BY 141 RUNS
Tier A – Group Y
Wesley College, Colombo vs Gurukula College, Kelaniya at Wesley College Grounds, Colombo
Wesley College – 362 (49.3) Sanithu Amarasinghe 111, Chamath Gomez 86, Uvin Perera 47, Linal Subasinghe 27, Anuga Pahansara 23, Hiruna Nimsara 3/46, Janitha Shehan 2/63

Gurukula College – 182 (46.2) Nethan Dishen 43, Wageesha Amantha 26, Denura Demansith 21, Shakesh Minon 4/23, Chamath Gomez 3/22, Nilupul Liyanage 2/39

WESLEY COLLEGE WON BY 180 RUNS
S. Thomas' College, Mt. Lavinia vs St. Anthony's College, Kandy at S. Thomas' College Grounds, Mt. Lavinia
S. Thomas' College – 122 (46.4) Akash Fernando 46, Romesh Mendis 21, Lahiru Abeysinghe 3/27, Thisara Ekanayake 2/20, Traveen Mathew 2/33

St. Anthony's College – 125/5 (34) Thisara Ekanayake 38, Dineth Goonewardene 2/20

ST. ANTHONY'S COLLEGE WON BY 5 WICKETS
Tier B – Group Y
Zahira College, Colombo vs Lumbini College, Colombo at Zahira College Grounds, Colombo
Lumbini College – 274/8 (50) Nabeel Rajudeen 112, Deneth Anjana 92, Dhanitha Sandesh 22, Raeed Rizwan 3/44, Lakshan De Silva 2/60, Venkat Rajendran 2/61

Zahira College – 249 (46.3) Raeed Rizwan 101, Mohamed Yasir 38, Venkat Rajendran 33, Pasindu Mahisha 2/23, Malith Kavindu 2/41, Dumindu Sewmina 2/48

LUMBINI COLLEGE WON BY 25 RUNS
St. Aloysius' College, Galle vs Thurstan College, Colombo at Galle International Cricket Stadium
Thurstan College – 198/8 (47) Thenuka Devapriya 68, Ushan Imesha 59, Azeem Mohomed 20, Kalana Pathum 4/35, Bashana De Silva 2/26

St. Aloysius College – 164 (43.1) Kavidu Amarasinghe 30, Charya Paranawithana 29, Vidura Lakshan 22, Hasitha Suranga 20, Kavinda Prabath 3/24, Thanuga Palihawadana 2/22

THURSTAN COLLEGE WON BY 30 RUNS (PARABOLA METHOD | TARGET 195 FROM 45 OVERS)
St. Anthony's College, Wattala vs Devapathiraja College, Rathgama at St. Anthony's College Grounds, Wattala
St. Anthony's College, Wattala – 219 (49.4) Amitha Sandeepa 53, Pathum Vihaga 22, Vihanga Rashmitha 21, Chaminda Sandaruwan 4/21, Irushka Thimira 2/28

Devapathiraja College, Rathgama – 190 (45.2) Matheesha Saranga 43, Pawan Sandesh 40, Darshaka Sandeep 28, Jeewaka Shasheen 28, Pathum Vihaga 6/33, Shan Aniketh 3/31

ST. ANTHONY'S COLLEGE WON BY 29 RUNS
Mahinda College, Galle vs Dharmaraja College, Kandy at Mahinda College Grounds, Galle
Mahinda College, Galle – 175/8 (42) Chandupa De Silva 68, Hiruna Mandila 35, Nisala Abeyrathne 3/38, Pulindu Perera 3/36

Dharmaraja College, Kandy – 106/9 (42) Onajith De Silva 16, Kaveen Rukshan 2/06, Ranmina Hettiarachchi 2/14, Tharusha Dilshan 2/22

MAHINDA COLLEGE WON BY 69 RUNS
>> More schools cricket news <<