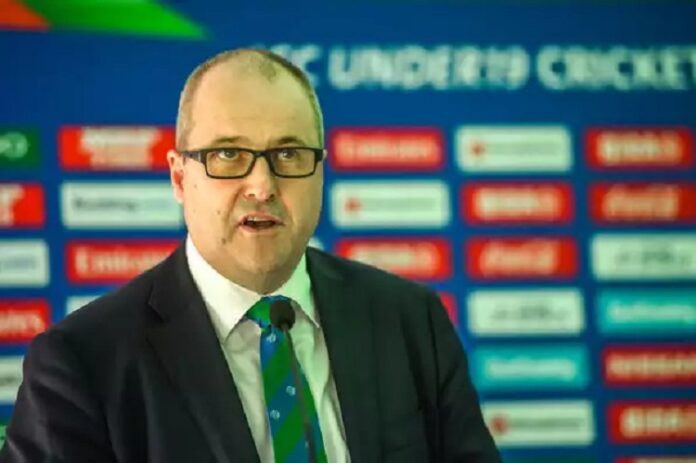 The 'percentage of points won' ranking system for the World Test Championship will continue to remain in force for the 2021-23 cycle, according to ICC's acting CEO Geoff Allardice. The ICC was forced to create a standardised scoring system midway through the inaugural cycle after the Covid-19 pandemic forced the cancellation of several scheduled series.
As per the amendment, the standings were determined on the basis of the percentage of points earned from those they contested for. New Zealand were a beneficiary of this rule change, leapfrogging India, Australia and England to become the first team to qualify for the final. India, who held most points until then, had to take a more scenic route to make the final at Southampton.
Read: Details of WTC prize money announced
Allardice reasoned the standardised method would continue in the next cycle in order to ensure the length of the series didn't influence points available for a Test win. "I think we are going to stick with the percentage of points – one method to rank a team. When we looked at the first 12 months of the competition, you had teams on a number of points, but it was all relative to how many series they played," he said.
"One of the ways to compare teams on an ongoing basis is what proportion of the points that have been available in the matches they played, and if they actually won. And that percentage served us well in the second half of the championship. That is part of the changes.
"The other thing is, if we are using the percentage of points one, we can put a standardised number of points per Test match, so it doesn't matter whether it's a two-Test series or a five-Test series; the same number of points will be available for each match that's played, but every team will be judged on the percentage of those points that it wins and not on the total."
Read: BCCI in talks with SLC to host 2021 T20 World Cup
The 11th hour change of system earned India's scorn as it left them scrambling for qualification despite dominating the league for most parts. Virat Kohli called the method 'confusing' and while Allardice agreed with the criticism, he said the ICC's Cricket Committee had no choice but to account for the fact that not all teams would be able to play all of their allotted six series.
"The principle that we had when we created the competition was that every match in a series that was played as part of the Test Championship should count. The point system was also to try and reflect that a two-match series is worth the same as a five-match series. That was trying to make sure that everyone was playing for the same number of points in total, everyone was playing for the same number of points home and away," he said.
Read: New ICC ODI Structure & Pathway to the 2023 Cricket World Cup
"One of things that happened during this cycle is that it became evident that not everyone was going to complete their six series as a result of some of the postponements due to Covid. So we left the final in the spot in the calendar where it was originally scheduled. But because we are going to have teams playing an uneven number of series we needed to tweak the points system to try and make it as fair as possible and to make sure it reflected the matches that they did play rather than too heavily influenced by what they didn't play."
Allardice also admitted Ravi Shastri's suggestion of playing best of three finals to decide the Test Championship was good but it wasn't realistic. "In a perfect world a three-Test series would be a great way to decide the World Test Championship," Allardice said. "But the reality of the international cricket schedule is we are just not going to have [a situation where] blocking out a month or so for all the teams in the tournament for the final is realistic. That's why the one-match final was decided upon. Why it is quite exciting is because it brings something new. Here we are – we've got a one-off Test match to decide the best team in the world over this two-year cycle."