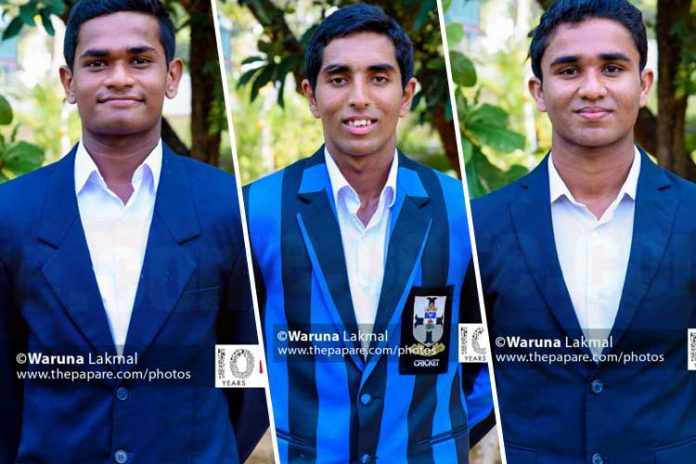 Thomas' College completely dominated day 01 proceedings in the first semi-final of the Singer U19 Division 1 Cricket Tournament 2018/19 against Nalanda College on 3rd of April at Sinhalese Sports Club, Colombo.
Thomas' College, Mount Lavinia vs Nalanda College, Colombo – Semi Final
Thomians won the toss and elected to bat first to replicate their marathon batting effort against Mahinda College in the quarter finals. Nalanda got the better of Thurstan College to seal a spot at the semi-finals.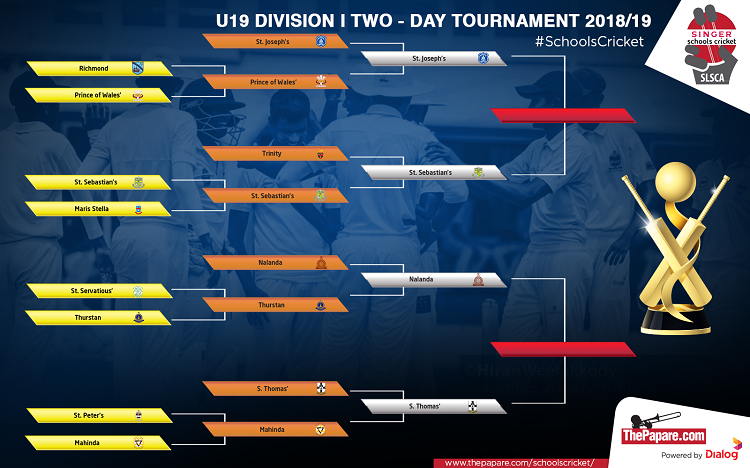 The opening partnership was just limited to 14 runs as skipper Sithara Hapuhinna was caught by Lakshitha Rasanjana off Chamindu Wijesinghe's bowling. The wicket-keeper batsman could only score 6 runs in a 22 ball stay.
The big match sensation Ryan Fernando had a rare failure after his consecutive fifties in recent matches when he had to walk back to the dressing room with only 9 runs to his name.
Nalanda, S. Thomas', Joes and Sebs earn semi-final berths
After Fernando's dismissal, the Nalandians had to take a step back and watch the batting master class by Shalin de Mel & Yohan Perera who added 87 runs for the 3rd wicket. The pair scored 68 & 42 runs respectively.
Shalin De Mel of S. Thomas' College held on to 7 catches and scored 67 runs off 55….
Then, the best batsman of 140th Battle of the Blues, Umayanga Suwaris started to find boundaries early in his innings and continued his red-hot form this season. He and Ravindu de Silva put up an unbeaten 123 run partnership to end the day's play on a high.
The pick of the batsmen was Ravindu de Silva who orchestrated a wonderful century to solidify the Thomian innings with 13 boundaries while Suwaris perfected the art of making half centuries again.
They were on 311 for 4 at stumps and favourites to seal a spot at the final which will be against the winner of the encounter between St. Sebastian's College and St. Joseph's College.
Watch all the action from both semi-finals live on ThePapare.com
The first semi-final in the Singer under 19 division one cricket tournament 2019 will….


Batsmen
R
B
4s
6s
SR
Sithara Hapuhinna
c Lakshitha Manasinghe b Chamindu Wijesinghe
6
22
1
0
27.27
Shalin De Mel
c Thanushka Dilhara Polgampola b Jithesh Wasala
68
122
11
0
55.74
Ryan Fernando
c Raveen De Silva b Jithesh Wasala
9
25
1
0
36.00
Yohan Perera
c Ranindu de Silva b Lakshitha Manasinghe
42
119
4
0
35.29
Ravindu De Silva
b Dineth Samaraweera
213
387
22
1
55.04
Umayanga Suwaris
c Anudha Jithwara b Jithesh Wasala
155
304
17
1
50.99
Kalana Perera
c & b Dineth Samaraweera
9
5
0
0
180.00
Dellon Peiris
c Avishka Perera b Dineth Samaraweera
3
7
0
0
42.86
Kishan Munasinghe
not out
6
12
0
0
50.00
Dilmin Rathnayake
lbw b Dineth Samaraweera
0
1
0
0
0.00
| | |
| --- | --- |
| Extras | 40 (b 17 , lb 9 , nb 8, w 6, pen 0) |
| Total | 551/9 (147.4 Overs, RR: 3.73) |
| Fall of Wickets | 1-14 (8.1) Sithara Hapuhinna, 2-39 (14.4) Ryan Fernando, 3-126 (38.2) Shalin De Mel, 4-188 (57.2) Yohan Perera, |
| Bowling | O | M | R | W | Econ |
| --- | --- | --- | --- | --- | --- |
| Chamindu Wijesinghe | 28 | 4 | 85 | 1 | 3.04 |
| Dineth Samaraweera | 16.4 | 5 | 57 | 4 | 3.48 |
| Jithesh Wasala | 20 | 1 | 76 | 3 | 3.80 |
| Ranindu C de Silva | 5 | 0 | 18 | 0 | 3.60 |
| Lakshitha Manasinghe | 28 | 2 | 96 | 1 | 3.43 |
| Raveen De Silva | 23 | 3 | 78 | 0 | 3.39 |
| Kaveesh Madurapperuma | 20 | 5 | 55 | 0 | 2.75 |
| Mahima Weerakoon | 19 | 3 | 49 | 0 | 2.58 |
| Avishka Perera | 6 | 0 | 13 | 0 | 2.17 |


Batsmen
R
B
4s
6s
SR
Avishka Perera
c Sithara Hapuhinna b Kalana Perera
0
5
0
0
0.00
Lakshitha Manasinghe
b Kalana Perera
14
17
0
0
82.35
Ranindu de Silva
not out
26
59
0
0
44.07
Thanushka Dilhara Polgampola
not out
17
33
0
0
51.52
| | |
| --- | --- |
| Extras | 4 (b 4 , lb 0 , nb 0, w 0, pen 0) |
| Total | 61/2 (19 Overs, RR: 3.21) |
| Bowling | O | M | R | W | Econ |
| --- | --- | --- | --- | --- | --- |
| Kalana Perera | 7 | 1 | 21 | 2 | 3.00 |
| Yohan Perera | 5 | 1 | 26 | 0 | 5.20 |
| Dellon Peiris | 4 | 0 | 7 | 0 | 1.75 |
| Shannon Fernando | 1 | 1 | 0 | 0 | 0.00 |
| Dilmin Rathnayake | 2 | 0 | 4 | 0 | 2.00 |
>>>Click here for more Schools Cricket News<<<