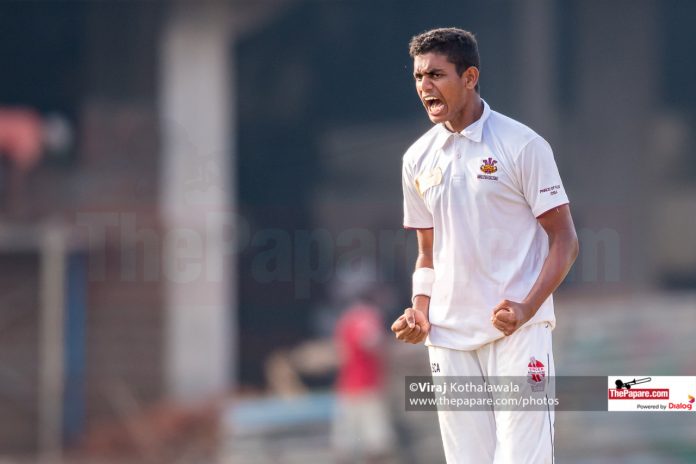 Several games of the Singer U19 Division-One Tournament kick-started today, 19th February, including a quarter-finals play-off while a few came to conclusions.
Prince of Wales College, Moratuwa vs Richmond College, Galle
The first game of the knockout stage of the  Singer U19 Division-One Cricket Tournament got underway at Moratuwa between the Cambrians and the Richmondites. Both teams have had a successful season this year. After winning the toss, Richmond College, undoubtedly, opted to bat first. But little did they know that Kaumal Nanayakkara is an all-new demon in his home conditions. The left-arm spinner ran through the Richmond line-up to add up to their top-order collapse.
One of the Richmondites, Sri Lanka caps and also a very reliable cricketer for Richmond College, Sandun Mendis put his hand up and struck a fighting fifty to hold them in the contest.
Richmond College scored 162 runs for their first-innings.
The Cambrians on the other hand, looked very composed as they firmly made their way close to a first-innings win which would take them to the quarters. They ended the day at 120 for 3 with complete control. Prince Fernando scored 43 runs up the order while the skipper, Suwath Mendis, is at the crease overnight with a score of 33.
Tomorrow is going to be a very exciting day as Prince of Wales will look to cling onto the crease while Richmondites will take the countless number of chances, with nothing left for them to lose.
Brief Scores

Richmond College, Galle 162 (59.2) Sandun Mendis 50, Amshi de Silva 42, Dilum Sudeera 26, Kaumal Nanayakkara 6/89, Lakshan Perera 2/09

Prince of Wales College, Moratuwa 120/3 (45) Prince Fernando 43, Suwath Mendis 33*

STUMPS – DAY 1
So it's a wrap to most of the schools who compete in the Singer U19 Division-One Cricket Tournament…
Moratu Maha Vidyalaya vs Gurukula College, Kelaniya
Following a dominant day-one, Moratu Maha Vidyalaya added 58 more runs to their total before finding themselves at 217 for 9. They declared the innings with a healthy 83-run lead. 4
Coming out to bat their second-innings, Gurukula batsmen still looked doubtful at the crease as Eran Hansamal kept them guessing just as he did in the first-innings. Eventually they toppled off for 149 runs again giving Hansamal 4 more scalps.
Photos: Gurukula College vs Moratu Maha Vidyalaya | U19 Cricket Tournament 2018/19
A simple 66-run target was set for the boys from Moratuwa which they chased down fondly with 8 wickets intact.
Brief Scores

Gurukula College, Kelaniya 134 (48.2) Praveen Nimesh 34, Sithija Chamod 30, Sasitha Ashan 26, Eran Hansamal 5/35, Rashan Kavishka 2/31 & 149 (51.2) Chanaka Ishan 38, Sithija Chamod 33, Praveen Nimesh 31, Nuwan Chanaka 25, Eran Hansamal 4/68, Rashan Kavishka 2/42

Moratu Maha Vidyalaya, Moratuwa 217/9d (62.1) Nishan Madushka 122, Nuwan Chanaka 2/11, Nuwantha Madushan 2/44, Praveen Nimesh 2/85 & 69/2 (10.3) Ashen Adithya 35*, Nishan Madushka 29

MORATU WON BY 8 WICKETS
Here's the roundup of the matches which took place in Singer U19 Division I Cricket Tournament today. Richmond…
St. Peter's College, Colombo vs St. Anthony's College, Kandy
Returning to the crease at 22 for 1, the Antonians were wrapped up for 144 runs by the Peterites against their 246 on day one. The left-arm seamer, Tariq Saboor, was the man in the frontline as he picked up 4 wickets for 29 runs. Thamashana Abeykoon showcased a stubborn inning as he scored 69 runs before running out of partners.
Photos: St.Peter's College vs St.Anthony's College | Singer U19 Cricket Tournament 2018/19
With a 102-run deficit, the visitors were put to bat again. But, this time they were much more composed and showed a lot of temperament. Skipper, Theeksha Gunasinghe held on at one 6end and scored 40 runs. Antonians were at 69 for 3 batting the entire last session of the game as it came to draw.
Brief Scores

St. Peters College, Colombo 246/9d (79.4) Dinith Anjula 91, Ranmith Jayasena 60, Kanishka Fernando 36, Sasith Hirudika 3/45, Nimnaka Jayathilaka 3/65, Thamshana Abeykoon 2/26

St. Anthonys College, Kandy 144 (66) Thamshana Abeykoon 62*, Tariq Saboor 4/29, Wanuja Kumara 2/08 & F/O 69/3 (37.5) Theeksha Gunasinghe 40, Ruvin Senavirathne 2/06

MATCH DRAWN
Three games of Singer U19 division-one tournament were played around the island today, 14th February. St. Peter's…
Ananda College, Colombo vs St. Joseph's College, Colombo
Ananda College won the toss and elected to bat first in their home turf. They managed to score a modest 193 runs for their first-innings. Left-hand entertainer Daminda Reshan and top-order bat Moditha Ranathunga scored 51 runs each to share the top spot of the batting card. Sri Lanka cap and Josephian captain Ashain Daniel bagged 4 wickets for the Joes.
St. Joseph's College accumulated 175 runs losing 6 of their batsmen at the close of play on day one. Vice-captain Johanne de Zilva scored a well-made 59 while the in-form Dineth Jayakody remained at the crease at 50 not-out.
Brief Scores

Ananda College, Colombo 193 (49) Daminda Reshan 51, Moditha Ranathunga 51, Kamesh Nirmal 21, Kalana Vilesiri 27, Ashain Daniel 4/55, Ashan de Alwis 2/33

St. Josephs College, Colombo 175/6 (44) Johanne de Zilva 59, Dineth Jayakody 50*, Sheran Fonseka 31, Saviru Bandara 3/55

STUMPS – DAY 1
>>Click here for more Schools Cricket News<<