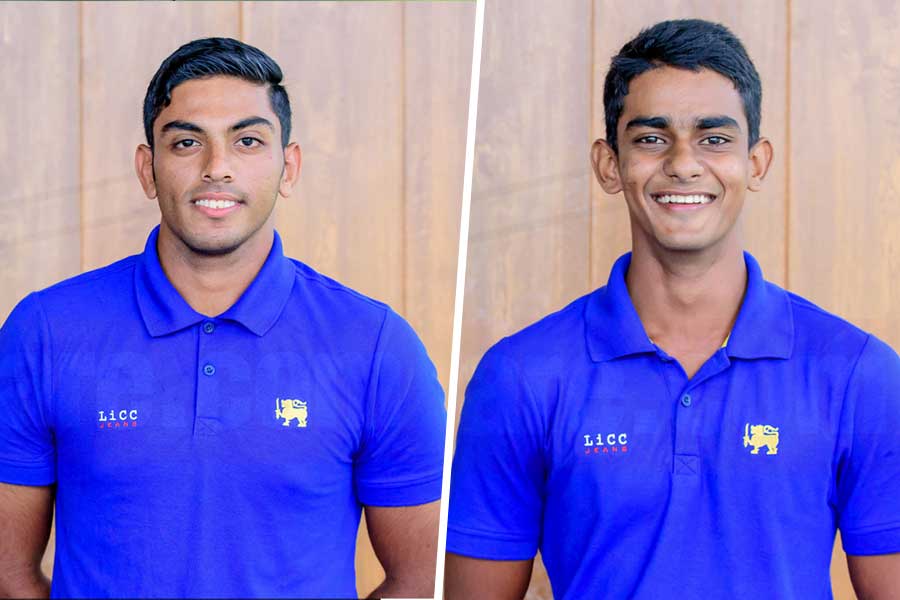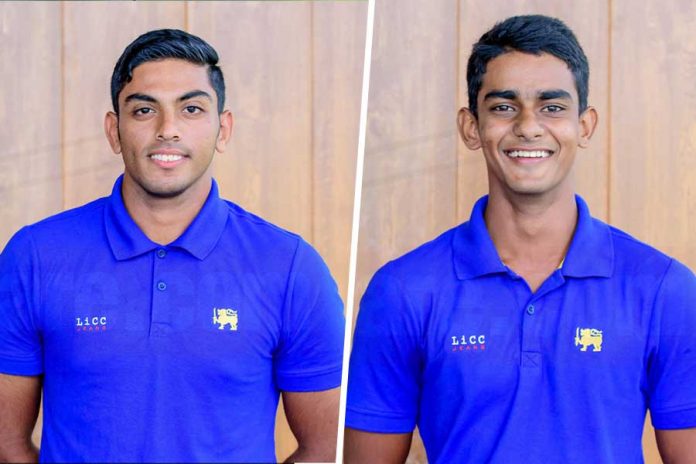 Here's the roundup of the matches which took place in Singer U19 Division I Cricket Tournament today.
Richmond College v St Aloysius College
Richmond College secured a first innings win over St Aloysius College in their traditional encounter at Galle International stadium. The 2nd day resumed with Richmond College having 245 for 7 on board. The last three wickets fell cheaply as they were cleaned up for 267 runs.
In response, St Aloysius College could only make 121 runs with Amshi De Silva, Dilum Sudeera and Sandun Mendis picking up 3 wickets each. With a 146-run lead in favor of them, the Richmond-ites decided to enforce the follow on. The Aloysians were up to the task this time and managed to see off the day with just 4 wickets lost.
Early on Richmond College won the toss and elected to bat first. Thaveesha Abishek's hundred stood out on the first day as Richmond College batted through the day.
Richmond College, Galle 267 (79.1) Thaveesha Abishek 108, Vinuja Kiriella 50, Adithya Siriwardhane 23, Sandun Mendis 20, Niduka Malsith 4/54, Kavindu Dilhara 3/63, Niduk Abisheka 2/70

vs

St. Aloysius College, Galle 121 (60.5) Manushka Samith 38, Amashi Silva 3/21, Dilum Sudeera 3/18 Sandun mendis 3/37  & F/O 102/4 (44) Ravindu Kanchana 43*, Gimhana Ashirwada 20
---
Wesley College v Royal College
Pasindu Sooriyabandara's century helped Royal College put together a dominant performance against Wesley College at the SSC grounds today. The day resumed with Royal College on 51 for no loss. Kamil Mishara who opened the batting went on to make 50 while the other top order batters also got some batting practice in the middle. Sooriyabandara made full use of it as he notched up a century. Royal declared their innings at 265 for 4.
Six games of Singer U19 Division 1 Cricket Tournament 2018/19 were worked off today…
Wesley College in their second innings were down and out with a few quick wickets falling at the top. But, they managed to hold on and deny one of their oldest rivals an outright victory.
Earlier on in the match, Wesley were bowled out for 158 runs with Dimal Wijesekara taking a 5-for.
Wesley College, Colombo 158 (70) Thenuka Perera 38*, Sahil Dias 28, Buddhika Wijesundara 25, Nimthaka Adikari 21, Dimal Wijesekara 5/40, Kishan Balasooriya 3/41  & 95/5 (38) Shehan Dangalla 35, Buddhika Wijesundara 28, Sahil Dias 20, Kishan Balasooriya 2/21, Kamil Mishara 2/41

vs

Royal College, Colombo 265/4d (74.5) Pasindu Sooriyabandara 100*, Ahan Sachinthana 60*, Kamil Mishara 50, Isiwara Dissanayake 41, Sidath Darmasiriwardhana 2/63
---
Zahira College v Kingswood College
Zahira College was bowled out for 189 on day 1 in their match against Kingswood College at the Pallekale grounds. The hosts won the toss and elected to field first. Zahira's top order crumbled but thanks to a few valuables knocks in the middle, they got closer to 200. Lakmal De Silva bagged 4 for 45.
In response, at close of play, Kingswood were 31 for 1 in their first innings.
Zahira College, Colombo 186 (53) M Mahdhi 47, Chatura Dilrukshan 21, Rithmika Nimesh 20, Lakmal de Silva 4/45, Harshana Wikramasinghe 3/45, Deegayu Bandara 2/22

vs

Kingswood College, Kandy 31/1 (10) Dumindu Damishka 21*
---
Trinity College v S Thomas' College
The Thomians took first innings honors against Trinity College at Mount Lavinia today. The hosts were 92 for 4 at the resumption of play on day 2. Kishan Munasinghe who was unbeaten on 43, notched up a half century. However, it was Dellon Pieris's 40 which pushed them over the Trinity total at the end.
Trinity managed to see off the remainder of the day with Umair Raizan scoring an unbeaten 50.
Trinity College were cleaned up for 182 on day 1 after deciding to bat first. Kalana Perera picked up a 6-for for the hosts.
Trinity College, Kandy 182 (53) Chanuka Kumarasinghe 74, Kavishka Senadeera 48, Dineth Siriwardhane 23, Kalana Perera 6/41, S Fernando 2/36  & 153/8d (45.1) Umair Raizan 50*, Chanuka Kumarasinghe 21, Dellon Peiries 3/41, Kalana Perera 3/43

vs

S. Thomas College, Mount Lavinia 183/8d (80.5) Kishan Munasinghe 52, Dellon Peiries 40, Deon Fernando 28, Abishek Anandakumar 2/22, Avishka Senadeera 2/23, Kavishka Senadeera 2/57
---
St Joseph's College v St Benedict's College
St Joseph's secured much needed first innings points in their last game in Group A against St Benedict's College at Maradana. The day resumed with the hosts on 244 for 5. Their strong middle order managed to propel them over 300. Dunith Wellalage remained unbeaten on 40.
In reply, the Bens were bowled out for just 120 runs with Shalinda Senevirathne taking 4 scalps. The Josephians didn't enforce the follow on and at stumps were 106 for 3 in their second innings.
Earlier on in the game, the hosts won the toss and elected to bat first. Top order batsmen Shevon Daniel and Sheran Fonseka's half centuries got them to a commanding position at stumps on Day 1.
St. Joseph's College, Colombo 301/7d (89) Shevon Daniel 80, Sheran Fonseka 75, Dunith Wellage 40*, Dineth Jayakodi 25, Dinal Anuradha 23, Lakshan Gamage 25, Kaveesha Jaythilaka 3/89, Malinda Perera 2/38, Onila Pathirana 2/46  & 106/3 (30) Dunith Wellage 29*, Lakshan Gamage 27*, Maheesh Theekshana 2/36

vs

St. Benedict's College, Colombo 120 (53.4) Shehan Fernando 31, Pasan Suwahas 23, Aveesha Jayathilake 20*, Shalinda Senavirathne 4/37, Ashian Daniel 2/35
---
Nalanda College v Maliyadeva College
Nalanda College secured yet another first innings win over Maliyadeva College at the Nalanda Grounds today. Maliyadeva were in a good position at the resumption but their last 7 wickets fell for just 63 runs in the morning session. Madurapperuma bagged 5 wickets for the hosts.
Nalanda came out to bat for their second innings and Chamidu Wijesinghe and Raveen De Silva managed to score half centuries as Nalanda posted 210 for 7 at stumps on Day 2.
Nalanda College, Colombo 237 (51.2) Ranidu de Silva 40, Chamindu Wijesinghe 38, Avishka Perera 36, Lakshitha Rasanjana 26, Jithesh Wasala 25, Maduranga Naveen 5/90  & 210/7 (62) Chamindu Wijesinghe 67, Raveen de Silva 53, Dilhara Polgampala 36, Avishka Perera 27, Maduranga Naveen 4/63, Gayantha Wikramarachchi 3/32

vs

Maliyadewa College, Kurunegala 167 (66.5) Vidath Batepola 54, Muditha Premadasa 43, K Madurapperuma 5/29, Maheema Weerakon 2/04, Lakshitha Rasanjana 2/42
>>for more Schools Cricket News Click here<<