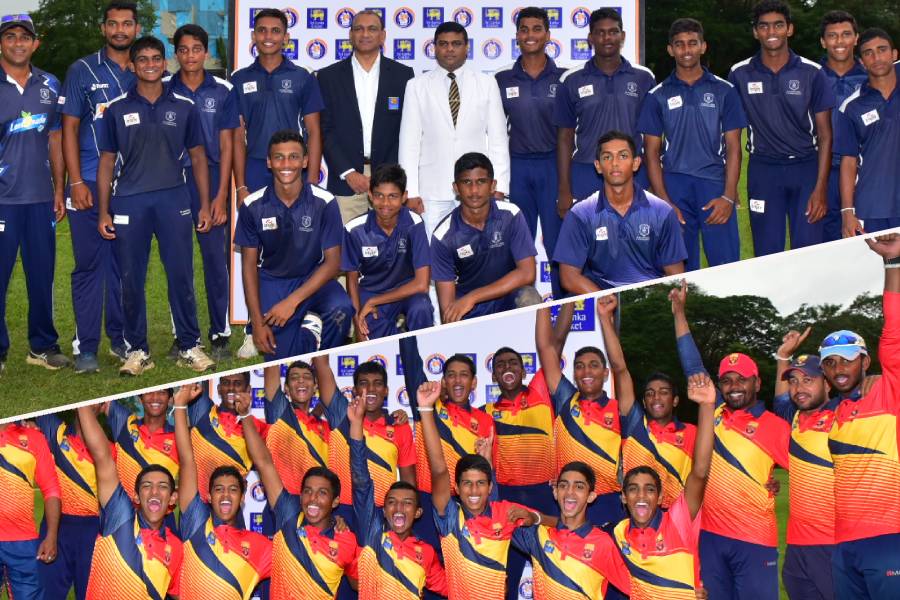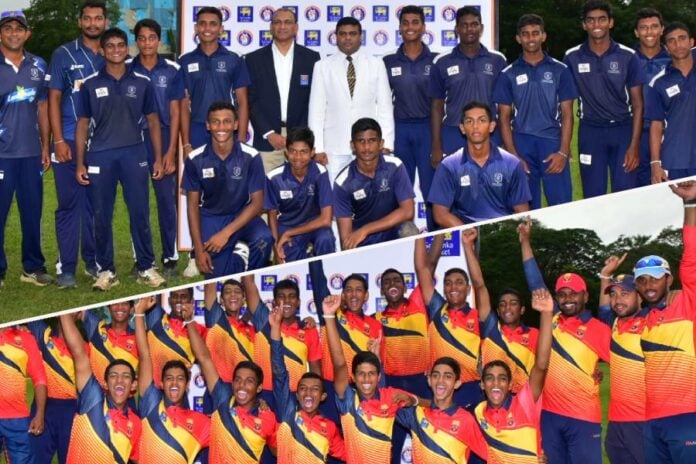 Trinity College, Kandy crowned champions of U19 Division 1 Tier A Inter-Schools Limited Overs Tournament 2023/24 as they beat St. Joseph's College, Colombo by 2 wickets in the final worked off today (21st November) at Thurstan College Grounds.  
Trinity College's skipper Manula Kularatne won the toss and asked St. Joseph's College to bat first. The Joes had a terrible start to the innings as they lost half of their side for just 57 runs.  
Maanasa Madubashana and Lahiru Amarasekara gave some impetus to the innings, adding 44-run stand for the 7th wicket, but lack of resistance from the tail-enders restricted them to just 135 runs. 
Tharana Wimaladarma was the pick of the bowers for Trinity College as he grabbed 3 scalps for 22 runs. Dinuka Tennakoon and Malith Rathnayake also impressed with the ball, picking up 2 wickets each. 
The boys from Kandy also didn't have the greatest of starts with the bat as they lost four top order wickets for just 43 runs. However, Supun Waduge and skipper Kularatne steadied the innings, adding a vital 56-run partnership for the fifth wicket which sets the tone for a hard-fought win. 
Waduge played a match-winning knock of 60 runs off 84 balls with 6 fours and a six as Trinity College crossed over the line in the 40th over with 2 wickets in hand. Trinity College, the last year's champions managed to defend their crown with this thrilling win.  


Batsmen
R
B
4s
6s
SR
Abishek Jayaweera
c Dinusha Peiris b Manula Kularathne
5
21
0
0
23.81
Hirun Matheesha Kapurubandara
lbw b Malith Rathnayake
18
34
2
0
52.94
Nushan Perera
c Dinusha Peiris b Dinuka Tennakon
1
7
0
0
14.29
Aveesha Samash
b Tharana Wimaladarma
20
41
1
1
48.78
Hiran Jaysundara
c Rajindu Thilakarathne b Jayavi Liyanagama
13
35
0
0
37.14
Rishma Amarasinghe
c Dinusha Peiris b Malith Rathnayake
5
12
0
0
41.67
Maanasa Madubashana
not out
37
84
1
1
44.05
Lahiru Amarasekara
c Supun Waduge b Tharana Wimaladarma
21
39
1
0
53.85
Dunick Perera
c Dinusha Peiris b Dinuka Tennakon
0
5
0
0
0.00
Yenula Dewthusa
c Jayavi Liyanagama b Tharana Wimaladarma
8
18
0
0
44.44
Demion De Silva
run out ()
1
4
0
0
25.00
| | |
| --- | --- |
| Extras | 6 (b 0 , lb 0 , nb 0, w 6, pen 0) |
| Total | 135/10 (50 Overs, RR: 2.7) |
| Bowling | O | M | R | W | Econ |
| --- | --- | --- | --- | --- | --- |
| Manula Kularathne | 7 | 1 | 19 | 1 | 2.71 |
| Dinuka Tennakoon | 10 | 1 | 36 | 2 | 3.60 |
| Tharana Wimaladarma | 9 | 1 | 22 | 3 | 2.44 |
| Jayavi Liyanagama | 10 | 1 | 24 | 1 | 2.40 |
| Malith Rathnayake | 10 | 0 | 26 | 2 | 2.60 |
| Rajindu Thilakarathne | 4 | 1 | 8 | 0 | 2.00 |


Batsmen
R
B
4s
6s
SR
Viduka Dhammage
lbw b Nushan Perera
0
1
0
0
0.00
Wathila Udara
c Lahiru Amarasekara b Dunick Perera
14
14
2
0
100.00
Supun Waduge
c Aveesha Samash b Yenula Dewthusa
60
84
6
1
71.43
Janith Ravishka
lbw b Yenula Dewthusa
2
9
0
0
22.22
Dinusha Peiris
c Demion De Silva b Maanasa Madubashana
10
13
2
0
76.92
Manula Kularathne
c Hirun Kapurubandara b Dinal Anuradha
14
64
0
0
21.88
Jayavi Liyanagama
not out
16
22
1
0
72.73
Rajindu Thilakarathne
b Yenula Dewthusa
0
2
0
0
0.00
Tharana Wimaladarma
b Demion De Silva
11
26
2
0
42.31
Dinuka Tennakoon
not out
6
2
0
0
300.00
| | |
| --- | --- |
| Extras | 6 (b 0 , lb 0 , nb 0, w 6, pen 0) |
| Total | 139/8 (39.3 Overs, RR: 3.52) |
| Bowling | O | M | R | W | Econ |
| --- | --- | --- | --- | --- | --- |
| Nushan Perera | 7 | 0 | 25 | 2 | 3.57 |
| Dunick Perera | 6 | 0 | 23 | 1 | 3.83 |
| Yenula Dewthusa | 10 | 1 | 32 | 3 | 3.20 |
| Nipun Sumanasinghe | 2 | 0 | 7 | 1 | 3.50 |
| Lahiru Amarasekara | 10 | 0 | 31 | 0 | 3.10 |
| Demion De Silva | 4.3 | 0 | 21 | 1 | 4.88 |