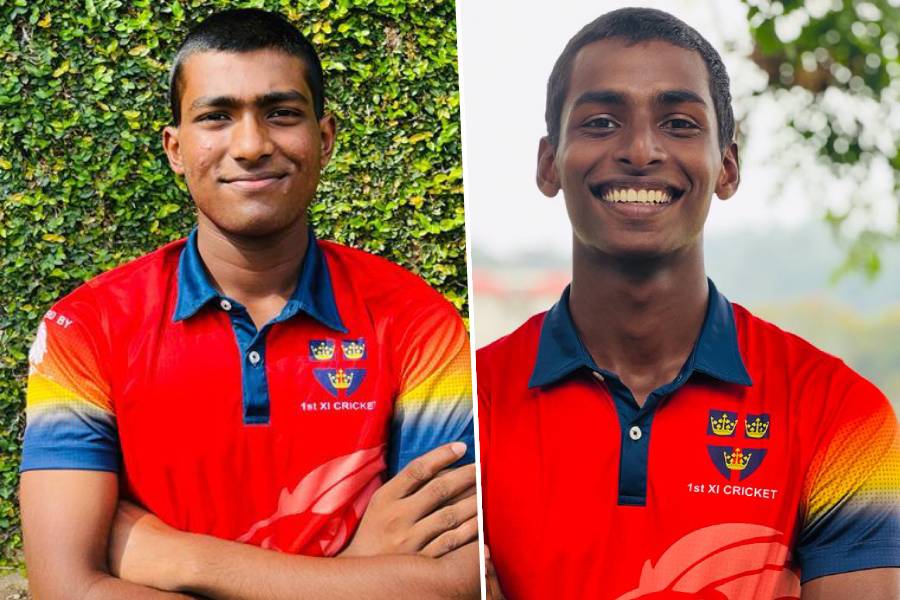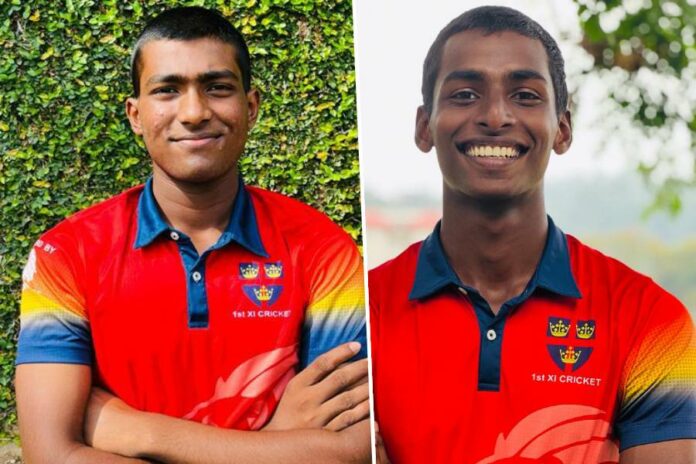 Trinity College, Kandy, qualified for the final of U19 Division 1 Tier A Inter-Schools Limited Overs Tournament 2023/24 as they beat Royal College, Colombo, by 10 runs (DLS) in the Semi-Final encounter worked off today (19th November) at Maggona.
Royal College's skipper Sineth Jayawardene won the toss and invited Trinity College to bat first. The boys from Kandy were pushed onto the backfoot early in the innings as they lost 4 top-order wickets for 92 runs.
However, Supun Waduge and Manula Kularathna revived Trinity's innings, adding a 120-run stand for the fifth wicket. Waduge top scored for Trinity College with a brilliant century – 101 runs off 135 balls with 9 fours
Kularathna also contributed with a vital knock worth 51 runs as Trinity College posted 236 runs on the board. Sineth Jayawardana was the pick of the bowlers for Royal College as he bagged 3 wickets for 34 runs.
In reply, Royal College got off to a shocking start as they lost the skipper Jayawardene for duck in the second over of the innings. The opening batter, Rehan Peiris and No. 3 batter, Ovina Ambanpola rescued the innings building a 73-run partnership for the second wicket.
When Royal College were 80/2 at the end of 20 overs, the rain stopped play at Maggona. Since there was no resumption of play thereafter, the match officials awarded the win to Trinity College as they were 10 runs ahead of DLS score.


Batsmen
R
B
4s
6s
SR
Viduka Dhammage
c Udantha Gangewatte b Bulan Weerathunga
18
37
1
0
48.65
Wathila Udara
b Ranuka Malaviarachchi
19
15
3
0
126.67
Supun Waduge
run out (Ramiru Perera)
101
135
9
0
74.81
Dinusha Peiris
c Anush Polonnowita b Ramiru Perera
15
17
0
1
88.24
Janith Ravishka
c Ovina Ambanpola b Ramiru Perera
2
6
0
0
33.33
Manula Kularathne
lbw b Sineth Jayawardena
51
72
4
0
70.83
Jayavi Liyanagama
obstructing the field b
14
12
2
0
116.67
Dinuka Tennakon
c Ovina Ambanpola b Sineth Jayawardena
0
1
0
0
0.00
Tharana Wimaladarma
b Ranuka Malaviarachchi
2
3
0
0
66.67
Rajindu Thilakarathne
c Ovina Ambanpola b Sineth Jayawardena
2
2
0
0
100.00
Malith Rathnayake
not out
0
1
0
0
0.00
| | |
| --- | --- |
| Extras | 12 (b 2 , lb 2 , nb 5, w 3, pen 0) |
| Total | 236/10 (49.2 Overs, RR: 4.78) |
| Bowling | O | M | R | W | Econ |
| --- | --- | --- | --- | --- | --- |
| Anush Polonnowita | 3 | 0 | 18 | 0 | 6.00 |
| Thamod Yasodhya | 9 | 0 | 47 | 0 | 5.22 |
| Sineth Jayawardena | 8 | 0 | 34 | 3 | 4.25 |
| Ranuka Malaviarachchi | 9.2 | 1 | 43 | 2 | 4.67 |
| Bulan Weerathunga | 4 | 0 | 20 | 1 | 5.00 |
| Nethwin Dharmarathne | 6 | 0 | 33 | 0 | 5.50 |
| Ramiru Perera | 10 | 1 | 37 | 2 | 3.70 |


Batsmen
R
B
4s
6s
SR
Rehan Peris
not out
41
58
4
0
70.69
Sineth Jayawardena
c Manula Kularathne b Tharana Wimaladarma
0
6
0
0
0.00
Ovina Ambanpola
run out (Rajindu Thilakarathne)
30
51
5
0
58.82
Ramiru Perera
not out
2
5
0
0
40.00
| | |
| --- | --- |
| Extras | 7 (b 0 , lb 0 , nb 0, w 7, pen 0) |
| Total | 80/2 (20 Overs, RR: 4) |
| Bowling | O | M | R | W | Econ |
| --- | --- | --- | --- | --- | --- |
| Manula Kularathne | 6 | 2 | 15 | 0 | 2.50 |
| Tharana Wimaladarma | 3 | 0 | 10 | 1 | 3.33 |
| Dinuka Tennakoon | 7 | 2 | 26 | 0 | 3.71 |
| Jayavi Liyanagama | 2 | 0 | 12 | 0 | 6.00 |
| Malith Rathnayake | 2 | 0 | 17 | 0 | 8.50 |