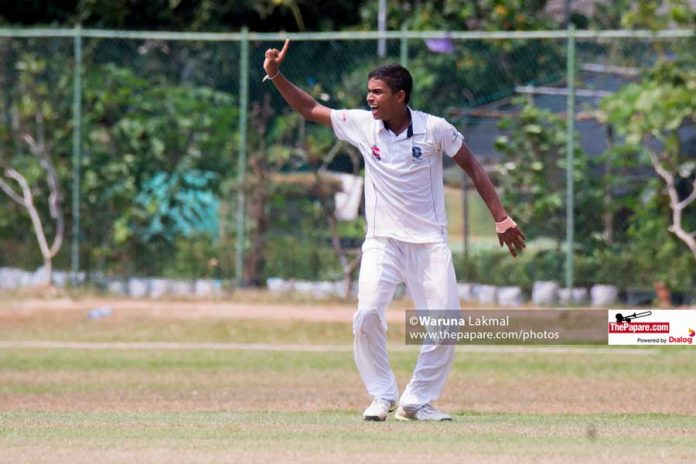 The pendulum kept swinging both ways in the Singer Schools U19 Division 1 two-day final, but St. Joseph's had their noses slightly ahead when stumps were drawn on day 1.
The Thomians won the toss and opted to bat first as their skipper Sithara Hapuhinna himself decided to enjoy excellent batting conditions.
Read More: Joes hammer Sebs through to the final
Hapuhinna hit the ball to all parts of the Royal College grounds in Colombo, as he raced to a century in the opening session.
The Thomians who had made scores in excess of 500 in their quarterfinal and semifinal, had set themselves up for another massive score against the Josephians.
The Josephian skipper Ashian Daniel got one to turn and bounce out of no where right after the break to have Hapuhinna caught at slip for 117 off just 127 balls, as the flood gates all of a sudden opened for the Thomians.
They lost their last 8 wickets from their on for just 49 runs, as the Josephians made a grand comeback into the match.
Photos: S. Thomas' College vs St. Joseph's College | U19 Div I Two Day Cricket Tournament 2018/19 – Final – Day 1
The chief tormentor was Dunith Wellalage who strangled the Thomians with his left arm spin, while he got good support from fellow spinners Daniel and Shalinda Senenviratne who capture two wickets apiece. Wellalage ended with figures of 5/40 after conceding 19 runs off his first two overs.
The Josephians lost Johanne De Zylwa early on in their reply before Dinal Anuradha and Sheran Fonseka steadied the ship to take the Josephians to 49/1.
A mix-up between the duo ended the stand as the Josephians lost 3/11 to be precariously placed at 60/4.
Dineth Jayakody and Dunith Wellalage made sure the Josephians had no further hiccups as they put on an unbroken stand of 60* runs, to take the Josephians to 120/4 at close – 96 runs away from the Thomians' first innings score.
216/10 (59.1) & 67/2 (12.2)


Batsmen
R
B
4s
6s
SR
Sithara Hapuhinna
c Lakshan Gamage b Ashen Daniel
117
127
21
1
92.13
Shalin De Mel
c Johanne De Zilva b Shalinda Senevirathne
12
29
2
0
41.38
Ryan Fernando
c Sheran Fonseka b Lakshan Gamage
24
45
3
0
53.33
Yohan Perera
c Sachintha Ravindu b Ashen Daniel
14
50
2
0
28.00
Ravindu De Silva
b Dunith Wellalage
19
33
3
0
57.58
Kishan Munasinghe
lbw b Dunith Wellalage
1
6
0
0
16.67
Umayanga Suwaris
b Dunith Wellalage
5
11
1
0
45.45
Kalana Perera
c Yesith Rupasinghe b Dunith Wellalage
0
1
0
0
0.00
Dellon Peiris
c Johanne De Zilva b Shalinda Senevirathne
21
40
4
0
52.50
Thevin Bimsara Eriyagama
lbw b Dunith Wellalage
0
1
0
0
0.00
Shannon Fernando
not out
0
13
0
0
0.00
| | |
| --- | --- |
| Extras | 3 (b 0 , lb 1 , nb 1, w 1, pen 0) |
| Total | 216/10 (59.1 Overs, RR: 3.65) |
| Fall of Wickets | 1-58 (13.1) Shalin De Mel, 2-123 (26.5) Ryan Fernando, 3-167 (39.3) Sithara Hapuhinna, 4-174 (43.1) Yohan Perera, 5-175 (44.1) Kishan Munasinghe, 6-181 (46.5) Umayanga Suwaris, 7-181 (47) Kalana Perera, 8-198 (54.4) Ravindu De Silva, 9-198 (54.5) Thevin Bimsara Eriyagama, 10-216 (59.1) Dellon Peiris, |
| Bowling | O | M | R | W | Econ |
| --- | --- | --- | --- | --- | --- |
| Lakshan Gamage | 9 | 4 | 28 | 1 | 3.11 |
| Johanne De Zilva | 7 | 1 | 47 | 0 | 6.71 |
| Ashen Daniel | 20 | 1 | 61 | 2 | 3.05 |
| Shalinda Senevirathne | 8.1 | 0 | 34 | 2 | 4.20 |
| Dunith Wellalage | 15 | 3 | 45 | 5 | 3.00 |


Batsmen
R
B
4s
6s
SR
Johanne De Zilva
c & b Thevin Bimsara Eriyagama
12
24
1
0
50.00
Sheran Fonseka
c Sithara Hapuhinna b Kalana Perera
17
54
1
0
31.48
Dinal Anuradha
run out (Shalin De Mel)
18
44
3
0
40.91
Dineth Jayakody
c Dellon Peiris b Kalana Perera
44
65
4
0
67.69
Dilesh Perera
lbw Kishan Munasinghe b Shannon Fernando
4
7
1
0
57.14
Dunith Wellalage
c Kalana Perera b Thevin Bimsara Eriyagama
88
104
10
1
84.62
Sachintha Ravindu
c & b Shannon Fernando
34
51
5
0
66.67
Lakshan Gamage
b Kalana Perera
10
19
0
0
52.63
Yesith Rupasinghe
b Dellon Peiris
23
41
4
0
56.10
Ashen Daniel
not out
11
20
1
0
55.00
Shalinda Senevirathne
b Dellon Peiris
0
1
0
0
0.00
| | |
| --- | --- |
| Extras | 8 (b 0 , lb 3 , nb 3, w 2, pen 0) |
| Total | 269/10 (72 Overs, RR: 3.74) |
| Fall of Wickets | 1-22 (8.1) Johanne De Zilva, 2-49 (19.2) Dinal Anuradha, 3-55 (22.1) Sheran Fonseka, 4-60 (23.5) Dilesh Perera, 5-130 (38.5) Dineth Jayakody, 6-192 (52.4) Sachintha Ravindu, 7-218 (58.5) Lakshan Gamage, 8-243 (64.4) Dunith Wellalage, 9-269 (71.3) Yesith Rupasinghe, 10-269 (71.3) Ashen Daniel, |
| Bowling | O | M | R | W | Econ |
| --- | --- | --- | --- | --- | --- |
| Kalana Perera | 20 | 1 | 97 | 3 | 4.85 |
| Shalin De Mel | 2 | 0 | 4 | 0 | 2.00 |
| Thevin Bimsara Eriyagama | 6 | 0 | 26 | 2 | 4.33 |
| Yohan Perera | 1 | 0 | 2 | 0 | 2.00 |
| Shannon Fernando | 18 | 1 | 49 | 2 | 2.72 |
| Dellon Peiris | 11 | 2 | 44 | 2 | 4.00 |
| Kishan Munasinghe | 3 | 1 | 7 | 0 | 2.33 |
| Umayanga Suwaris | 11 | 0 | 37 | 0 | 3.36 |


Batsmen
R
B
4s
6s
SR
Sithara Hapuhinna
c Sachintha Ravindu b Dunith Wellalage
38
41
2
1
92.68
Shalin De Mel
c Lakshan Gamage b Ashan De Alwis
24
27
2
0
88.89
Ravindu De Silva
not out
4
5
0
0
80.00
| | |
| --- | --- |
| Extras | 1 (b 0 , lb 0 , nb 1, w 0, pen 0) |
| Total | 67/2 (12.2 Overs, RR: 5.43) |
| Fall of Wickets | 1-49 (9.2) Shalin De Mel, 2-38 (12.1) Sithara Hapuhinna, |
| Bowling | O | M | R | W | Econ |
| --- | --- | --- | --- | --- | --- |
| Lakshan Gamage | 1 | 0 | 8 | 0 | 8.00 |
| Ashan De Alwis | 6 | 1 | 18 | 1 | 3.00 |
| Yesith Rupasinghe | 2 | 0 | 17 | 0 | 8.50 |
| Dunith Wellalage | 3.2 | 0 | 24 | 1 | 7.50 |