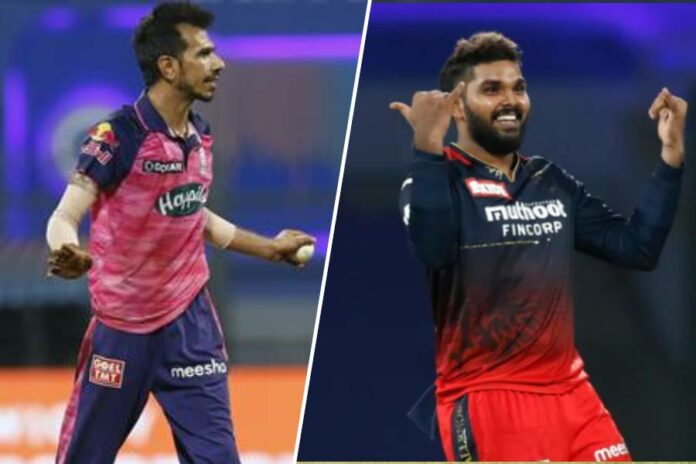 You may have watched countless fictional battles such as the Battle of Hogwarts, the Battle of Bastards and the battle between the Avengers and Thanos, but all of them are incomparable to a real-life Cricketing battle currently happening in India. This battle is not between two enemies and there is no hero or villain: in fact, both parties are heroes, as this is a battle between two of the very best leg spinners in the Cricketing world. What exactly are they fighting for? They are fighting for a cap – a cap which is purple in color and worn by only the best of the best in the business.
Read More : Rajapaksa, Hasaranga, Chameera & Theekshana bring Sri Lankan flavor back to IPL
If you have been following the T20 Extravaganza of the year, the Indian Premier League, you probably already know who these two leg spinners are. One is a local boy for the IPL, Yuzvendra Chahal, playing for Rajasthan Royals, and the other is a 24-year-old Sri Lankan hailing from Galle named Wanindu Hasaranga de Silva, playing for Royal Challengers Bangalore.
These two spinners are setting the IPL stage on fire with an interesting toe-to-toe encounter to become the highest wicket taker of the tournament. Chahal, also known as as Yuzi by his teammates, and Wanindu, nicknamed Waniya by his teammates, were teammates at RCB last year, which was also the 1st season for the latter. RCB was like home to Yuzi, initially being picked by the franchise back in 2014 and quickly becoming their trump card, staying with them for 8 seasons before he was finally released for the mega auction this year. Wanindu joined RCB last season during the 2nd half of the tournament as a replacement for Australian leg spinner Adam Zampa, and after having two below-average matches, he was dropped from the side and then released before the mega auction.
Then came the 12th of February this year, which was the first day of the IPL Mega Auction. Wanindu, who was the number 2 T20I bowler back then (after being ranked number 1), was bought by RCB for a massive amount of 10.75 Cr after a tough fight with Punjab Kings. However, as a result, it was quite evident that Yuzi was no longer in their plans. He was picked by Royals for 6.50 Cr and the stage was set for a mouthwatering clash between the two leg spinners. Yuzi was a loyal member of the RCB family who won them a lot of matches, and replacing him was quite a big task for the youngster from Sri Lanka.
Read : Hasaranga becomes most expensive Sri Lankan in IPL history
After 60 matches in the IPL league stage this year, these two spin maestros are currently on 23 wickets and right at the top of the highest wicket takers list. Seen below is a little statistical comparison on their performances so far to see who has the upper hand.
| | | |
| --- | --- | --- |
| Wanindu | Statistic | Chahal |
| | | |
| 23 | Wickets | 23 |
| 45 | Overs | 48 |
| 14.65 | Average  | 15.73 |
| 11.73 | Strike Rate | 12.52 |
| 7.45 | Economy  | 7.48 |
| 1/1 | 4W/5W  | 1/1 |
| 120 | Dot Balls | 105 |
| 44.44 | Dot Ball Percentage  | 36.45 |
| 1 | Maidens | 0 |
| 5/18 | Best Bowling  | 5/40 |
The statistics reveal that nearly all these numbers are quite close to each other. However, Wanindu has managed to do at least slightly better than Yuzi or on par with him, in every aspect. For a 24-year-old spinner from Sri Lanka, it is fair to say he has answered all his critics with this season's performance. He was also able to validate the trust  placed in him by the RCB management, because picking him over Yuzi was not a popular decision among the RCB fandom, but at the end of the day he became a beloved player of the Play Bold fanbase thanks to his handwork and consistency.
This battle between Yuzi and Wanindu is far from over as they have 2 matches and 1 match left respectively. Lasith Malinga is the only Sri Lankan bowler to win the Purple Cap before, so will Wanindu become the 2nd Sri Lanka to achieve this feat, or will Yuzi clinch the Cap thanks to the extra match he has left? We will find out very soon!
>>Click Here For More Cricket News<<