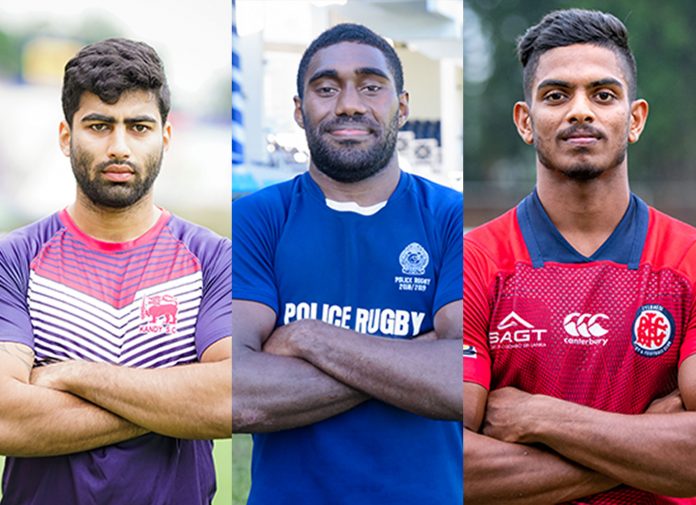 So after 14 long weeks of a very one sided league, it's now time to finalize the top XV of the league. In the last 'What the Ruck' episode, Inshaf Caffoor, Saajid Nazmi and I, along with the opinions of a few other journalists, brainstormed and chose the best fits to compile this year's 'Team of the League'. 
The Gutsy Front-Row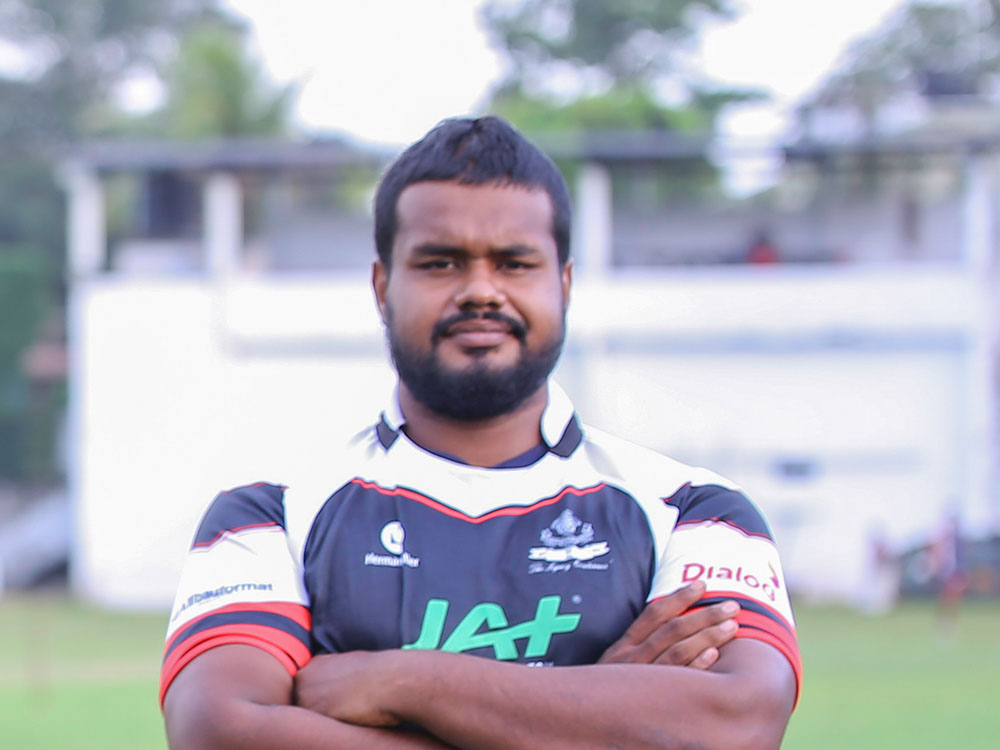 #1 – Sathya Ranathunga (CH)
Although CH & FC had a failed run in the league, there was one man who consistently performed throughout the whole tournament. Standing tall, gaining ground, keeping the scrums steady and also scoring tries, this man did it all – and that's exactly why Sathya Ranathunga secures his spot as the tight-head in this team. 
#2 – Rasith Silva (Police)
The real underdogs and the league runners-up Police SC had the almost perfect team – and playing an integral part in that team was Rasith Silva, the former skipper of Police, who had a fabulous year with the lineouts, scrums, ball carrying and scoring tries. His all-round performance secured him a spot in this team as the Hooker.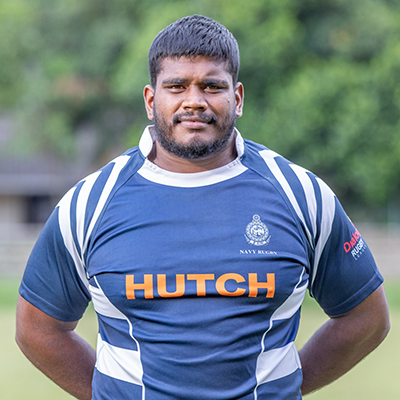 #3 – Charith Silva (Navy)
Another team that underperformed are the Sailors, but in their rollercoaster like ride, a few players showed their true potential. Charith Silva, is one of them – his power, agility, speed and endurance, out shined his team on many occasions. And that's exactly why this team could use a running loose-head prop like Silva. 
The Skyscrapers – 2nd Rows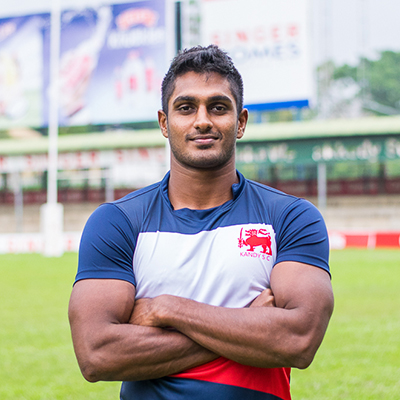 #4 – Jason Dissanayake (Kandy)
Skill? Check. Attack? Check. Defence? Check. Physique? Check-Check. Speed? Check-Check- Check! Jason Dissanayake, was in top form with his supporting lines, ball handling, and finishing skills. Ending up as the 5th top try scorer in the tournament while playing in a team like Kandy (where everybody scores) is quite an achievement being a forward. But it's all because of his dedication – hence, he gets his deserved spot at number four.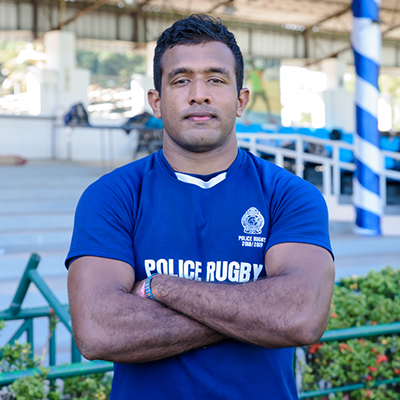 #5 – Mohan Wimalaratne (Police)
Staying true to his team, playing with sheer grit and having a never-give-up attitude was the main reason Mohan Wimalaratne secures his spot as the other second-row. From making sure the lineout is won to steering a rolling maul all the way over to the try line, and standing tall in defence, Wimalaratne did it all. He's another up and coming potential star for Sri Lanka Rugby. 
The Bulldozers! – Loose Forwards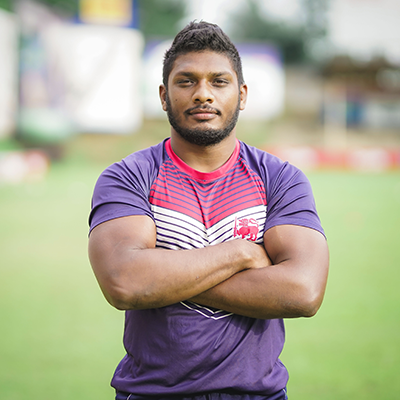 #6 – Tharindu Chathuranga (Kandy) 
Tharindu Chathuranga won enough and more 'Player of the Match' trophies to fill his cabinet for the next year as well – and that says a lot about his performance. He's a pocket rocket. He can barge through a defence line like a forward and then step his way over to the try line like a back. But nothing can beat his technique, reliability, and strength in defence.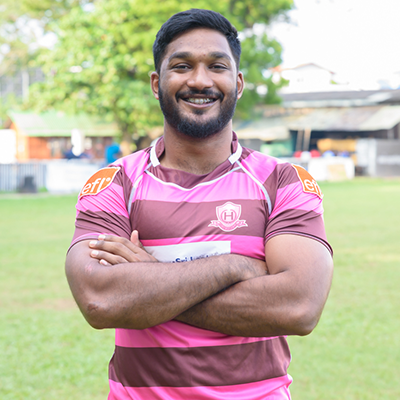 #7 – Shawket Lahir (Havelock) 
Although his team underperformed, Shawket Lahir made sure they could keep their heads-up and face the upcoming league with higher hopes. Similar to Chathuranga, Lahir is a work horse in attack and a brick wall in defence. Courtesy of his hunger to score, Lahir ended up as the 4th highest try scorer of the league. If anybody wants to know what a flanker should be like, ask him to look up Shawket Lahir. 
#8 – Buwaneka Udangamuwa (Kandy) 
'The Bulldozing Buwa' – you could hear all the spectators chant that when Buwaneka Udangamuwa picks the ball up from the back of a scrum or breaks off a maul. He's just unstoppable once he gets going, and his power, bursts and ruthlessness is unmatched. The real beast of the league. 
The Maestros – Scrum-half & Fly-Half 
#9 – Roshan Weerarathne (Kandy) 
A senior campaigner of the league, proved match after match that he's still got it. Roshan Weerarathne's distribution played a vital role in the Kandy game patterns and how he managed to play the game at their own pace was a task no other Scrum-half has mastered yet.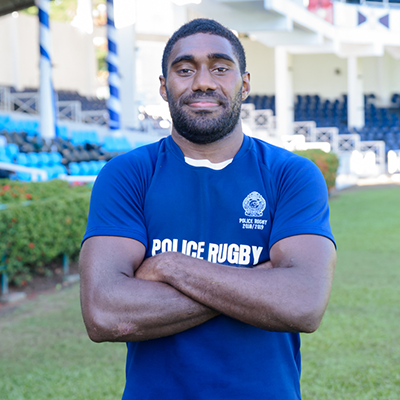 #10 – Emosi Vunivosa (Police) 
The sole reason the Police backline was considered 'the best' in the league was the efforts of this man. From initiating tries, scoring tries to stopping tries, Emosi Vunivosa just did it all. He brought the real Fijian flare with him and his team mates clicked with it extremely well. His eye for space, ability to kick, long cut out passes and game awareness is what got him the spot in this team and without any doubt, his execution will be the same. Because that's how consistent Vunivosa was, week-in week out. 
The Great Wall – Centres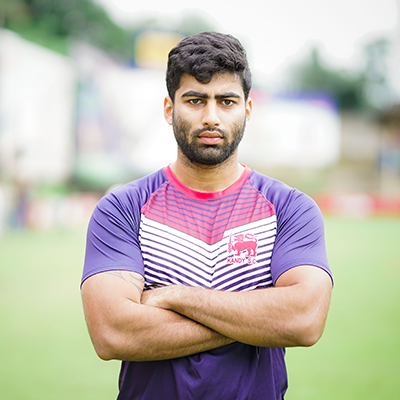 #12 – Tarinda Ratwatte (Kandy) 
Arguably the best player of the league, Tarinda Ratwatte orchestrated, finished, created and kicked Kandy to yet another memorable year in the Dialog Rugby League. He was the difference between other teams and Kandy. Scoring 123 points and ending up as the league's top scorer, Tarinda made the #12 position his own . His game awareness, control and the way he handled pressure were a few reasons he's been chosen to play in this team. Tarinda also adds versatility to the team as he can also play at #10 and even #15 if needed.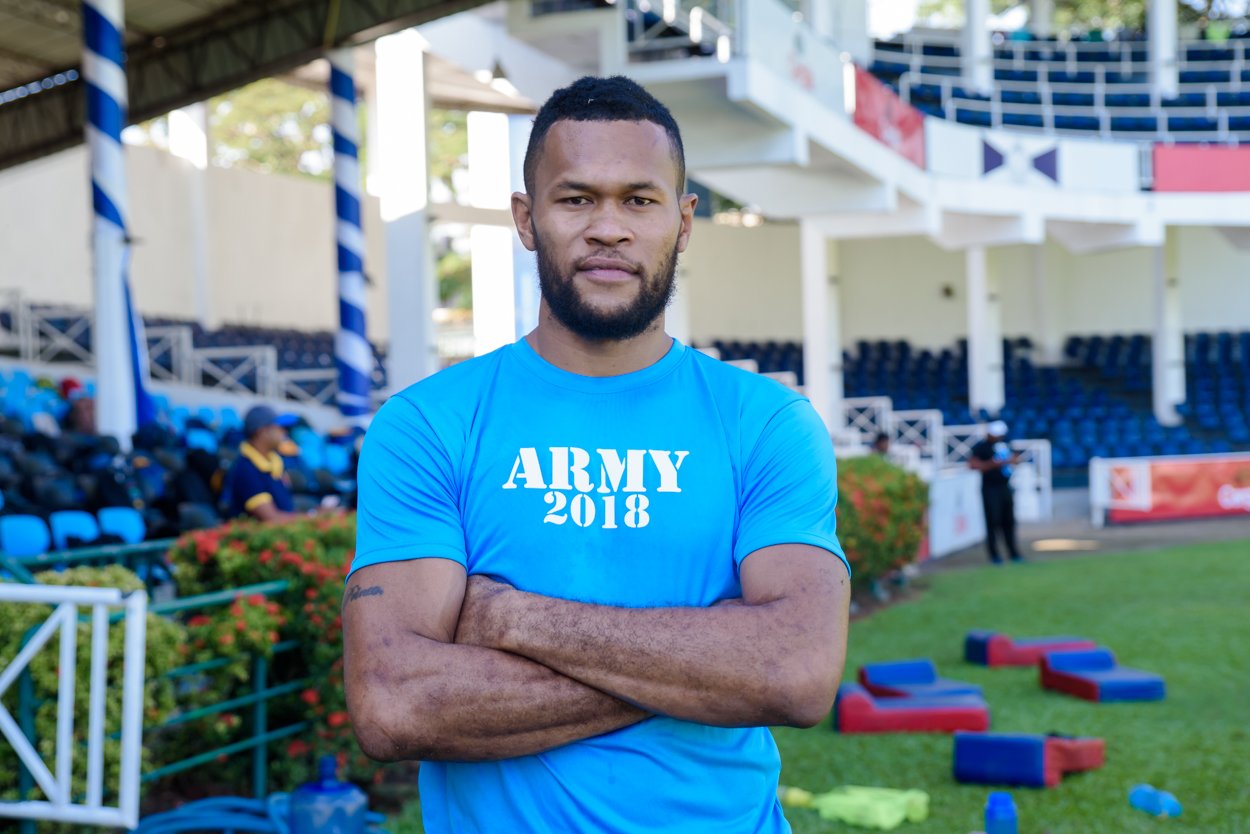 #13 – Tomasi Ravouvou (Army) 
A not so gentle giant is the perfect definition for Tomasi, his brute force and physicality allows him to just fend off defenders almost effortlessly. And doing so exactly, Tomasi managed to score 12 brilliant tries and end his run in the league as the second highest Try scorer. He has also got a big boot – when he gets going, he can easily find touch near the 5 meter line from the centre mark. Oh and also, don't think of getting past him when he defends. 
The Road-Runners – Back Line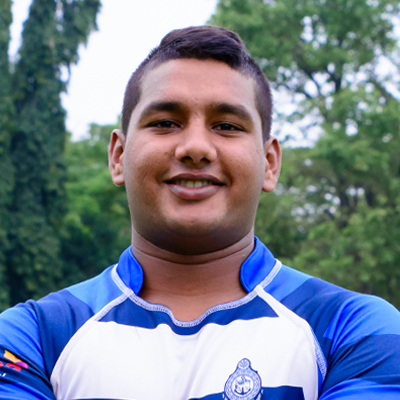 #11 – Chathura Senevirathna (Navy)
Though he's fairly new to playing at blind wing, Chathura undoubtedly fits the criteria. He tends to bump oncoming defenders, open space inside by sucking in defenders and then putting in a risky offload, and also most importantly scoring tries. We saw him score some fabulous tries which reserved him the spot in this team.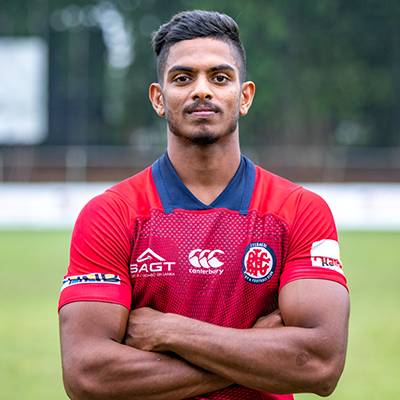 #14 – Janidu Dilshan (CR) 
Courtesy of his awareness, speed and strength Janidu ended his second-ever club rugby league as the 4th Highest points scorer and the Top Try scorer with 13 tries under his belt and 65 points to his name in the span of 12 games. Janidu couldn't make the cut as a Centre, but fortunately for him, he worked his way into the team as a wing and is now an integral part of CR's backline. His kick and chase game was the best in the league as he scored more tries after chasing kicks. And in a team like this with many able kickers, Janidu is the ideal pick to play as the open side wing three quarter.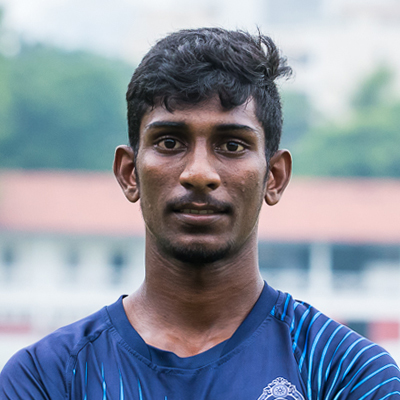 #15 – Sachith Silva (Police)
His speed, agility, stepping and kicking game always came in handy for Police. Silva's injection at the back gave confidence to his mates at Police because he knew when to run and when to kick from inside their '22. His composure under pressure and reliability under the highball are other key factors for his inclusion in this team. 
So that's how our pick on the Team of the League 2019/20 – if you're wondering what we missed, there's no Captain to this team!! Comment your thought on who should captain and why. 
Stay home, stay safe and stay logged to ThePapare.com for more interesting news.