Sri Lanka won their first Test match in the ICC World Test Championship 2019-21, defeating the Kiwis by 6 wickets to gain 60 points in the league table. The Test match kept swinging back and forth between the two teams until the end of the 3rd innings from where the hosts completely dominated proceedings on a deteriorating Galle pitch.
Read : Karunaratne leads Sri Lanka to historic Galle Test win
This win may not mean anything special to the casual fan, 'New Zealand – can't play spin, Sri Lanka – can only play spin, Galle – why don't you just award the victory to Sri Lanka?'. But if you check look into the nuts and bolts of it all, you'll realize that it's a pretty impressive achievement.
Recently, New Zealand have been winning everything, from bilateral series to people's hearts, but unfortunately, no world titles. They have been sublime in Test cricket for the past 3 years, losing only 2 Test matches from 19 within the last 34 months. 8 series wins out of 9 in this period have propelled them into the 2nd spot in the ICC Test rankings, just behind India.
Sri Lanka faced an embarrassing defeat against England in their last home series *spin friendly*, losing 3-0 while New Zealand tasted Champagne in UAE *spin friendly*, defeating Pakistan 2-1. Sri Lanka even had to chase a record target in Galle on a day 5 pitch, where the highest successful run-chase was 99. They chased 268! 
Highest successful chases in Galle in 

Test Cricket

SL [v NZ – 2019]

268/4

SL [v Pak – 2014]

99/3

SL [v Ind – 2010]

96/0 

SL [v NZ – 2012]

93/0

Pak [v SL – 2015]

92/0
Scoring 250 in the 4th innings and winning is a rare combination in Test Cricket. How rare? It has occurred roughly once in every 37 Test matches in 142 years of Test cricket. 
However, this Sri Lanka team has achieved this feat 3 times in the last 3 years. In their most recent attempt, they didn't even seem troubled, just strolled through the day 5 pitch, registered a few records here and there and voila! Job done.
Sri Lanka's highest successful chases in

 Test Cricket

Opposition
Score

Vs Zimbabwe (2017)

391/6

Vs South Africa (2006)

352/9

Vs Zimbabwe (1998)

326/5

Vs South Africa (2019)

304/9

Vs New Zealand (2019)

268/4
Commonly, A team's true potential is measured in the way they perform in away series. Here's what the island nation has accomplished in foreign lands in the last 3 years.
| | | |
| --- | --- | --- |
| Tour | Matches | Result |
| 2016 Zimbabwe  | 2 | Sri Lanka 2-0 |
| 2016-2017 South Africa  | 3 | South Africa 3-0 |
| 2017 Pakistan  | 2 | Sri Lanka 2-0 |
| 2017 India  | 3 | India 1-0 |
| 2018 Bangladesh  | 2 | Sri Lanka 1-0 |
| 2018 West Indies  | 3 | Drawn 1-1 |
| 2018-2019 New Zealand  | 2 | New Zealand 1-0 |
| 2019 Australia  | 2 | Australia 2-0 |
| 2019 South Africa  | 2 | Sri Lanka 2-0 |
The last UAE series, where Sri Lanka whitewashed Pakistan, was one of the most thrilling series in the recent past. Sri Lanka conquered the desert, becoming the first team to defeat Pakistan in their adopted home in seven years.
The next series to India, where Sri Lanka had no Test wins to boast of, ended up 1-0 favoring India, but Sri Lanka earned 2 draws by battling the World no. 1 Test team in their own backyard. Not a win, but a series result that Sri Lanka could be satisfied with.
Aus 1-2 (4) | SL 0-1 (3) | Eng 0-4 (5) | SA 0-3 (4) | NZ 0-3 (3)|  WI 0-2 (2) | Ban 0-1 (1) | Afg 0-1 (1)
All teams (except for Australia) have done much worse in India than Sri Lanka 
The forgotten Test series in Caribbean showed that Sri Lanka is not all about spin. Lively, seamer friendly pitches reminded Lahiru Kumara, Suranga Lakmal and Kasun Rajitha that they can outperform spinners in a Test match. Though the series was much less talked about, either because they were playing when the majority of cricket fans were dreaming or the fans felt like dreaming when the visitors fought back in foreign conditions, the whole series was a gem.
If not for a blunder by the Sri Lanka skipper in the 2nd Test, Sri Lanka could have gone on to win the series 2-1. They did pull off a remarkable win to close off the series becoming the first Asian team to win at Bridgetown.
Obviously, Sri Lanka's best achievement materialized in South Africa when they vanquished the hosts to everyone's amazement. The series will be remembered for Kusal Perera's heroics in the first Test, but the most satisfying win came in the next one, when Sri Lanka answered the critics in style who called it a 'one off win', beating the Proteas comprehensively by 8 wickets. 
Read: A series made in heaven – Cricket's David vs Goliath story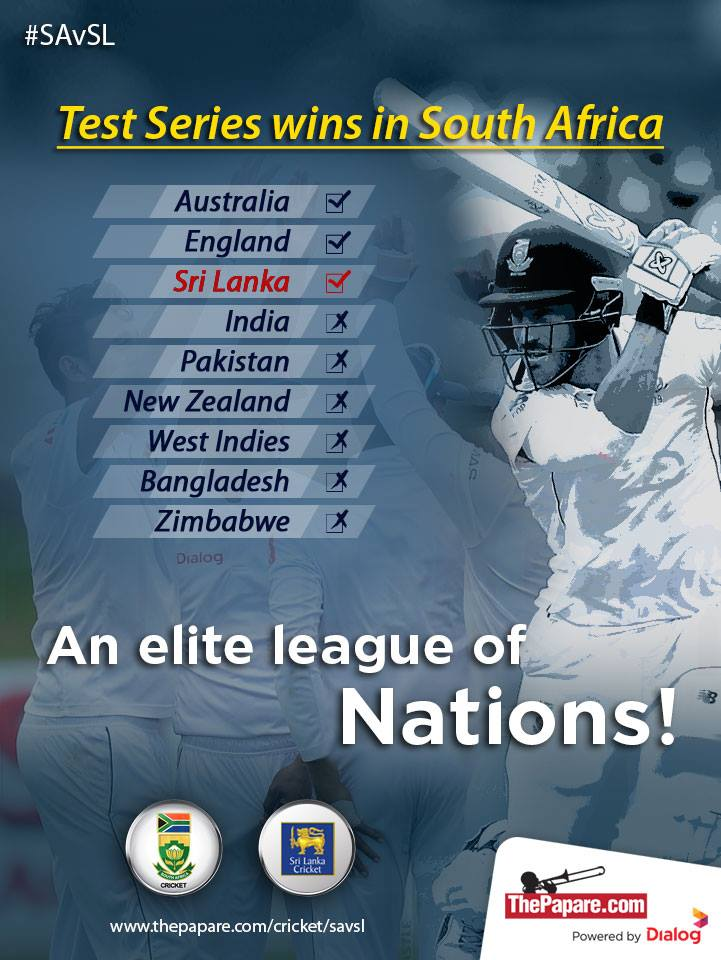 These victories have come between heavy defeats, and they have been inconsistent from time to time [2018 Eng 3-0 (home), 2017 Ind 3-0 (home)]. So, the win record is not as glamourous as Sanath Jayasuriya's consecutive 9 Test match winning streak or Mahela Jayawardene's Sri Lanka in 2006-2009. This team does not possess the super stars in the caliber of Sangakkara, Jayawardene or Herath who the Sri Lanka team was built around in the past. But the likes of the quiet Lakmals, hard-working Karunaratnes and ice-cold Mathews are doing their bit and this team has broken ground which their predecessors could not breach.
No super stars, but they're winning. This is new, this is strange, but it's exciting.